Last Updated on May 17, 2023 by Kayla Berman
If you're in the market for a simple make-ahead breakfast recipe, you're going to love these irresistible Peanut Butter Banana Oatmeal Bars with Chocolate Chips—an effortless culinary masterpiece that will revolutionize your grab-and-go snack game.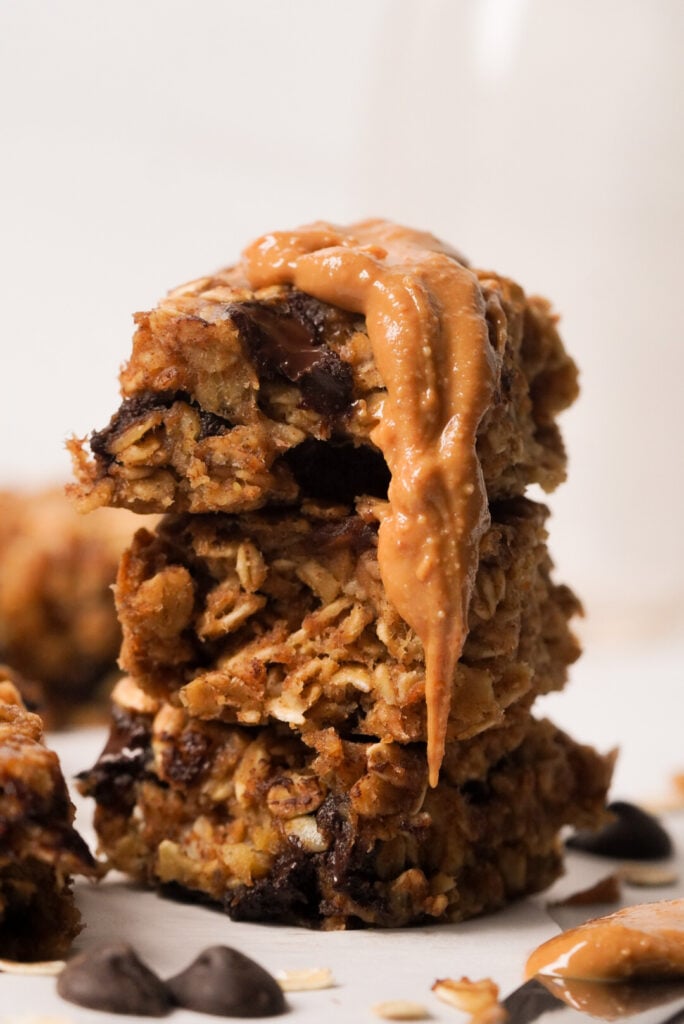 With only 10 simple ingredients and just 5 minutes of active prep, this banana breakfast bar recipe combines the creamy richness of protein-packed peanut butter, the natural sweetness of ripe fruit, and the wholesome goodness of oats. And let's not forget the heavenly addition of chocolate chips that melt in your mouth with every delectable bite — because chocolate for breakfast is always a good thing!
Why You'll Love This Recipe
You're going to flip for this easy recipe that promises to be your new go-to for breakfast, snack, or dessert. Take my word for it: these chocolate peanut butter bars with oatmeal and bananas will captivate your tastebuds with every delightful bite.
Crafted with just 10 simple ingredients, this recipe is a testament to the beauty of simplicity. In a mere 5 minutes of preparation, you can effortlessly whip up a batch of these banana cookie bars to enjoy all week long. No fuss, no hassle — just mix and bake.
But it's not just the ease of preparation that'll win you over. The soft, chewy, and moist texture of these banana peanut butter oatmeal bars is the ideal thing to sink your teeth into when you feel a case of the hangries coming on.
What makes these banana breakfast bars even more appealing is the fact that they are made with healthy, recognizable, good-for-you ingredients. The combination of creamy peanut butter, ripe bananas, and beneficial oats ensures that every morsel is packed with nourishment and flavor.
Whether you enjoy them as a quick breakfast on busy mornings, a satiating post-workout snack, or a delightful dessert to end a satisfying meal, these oatmeal chocolate chip peanut butter bars are the perfect treat for any occasion.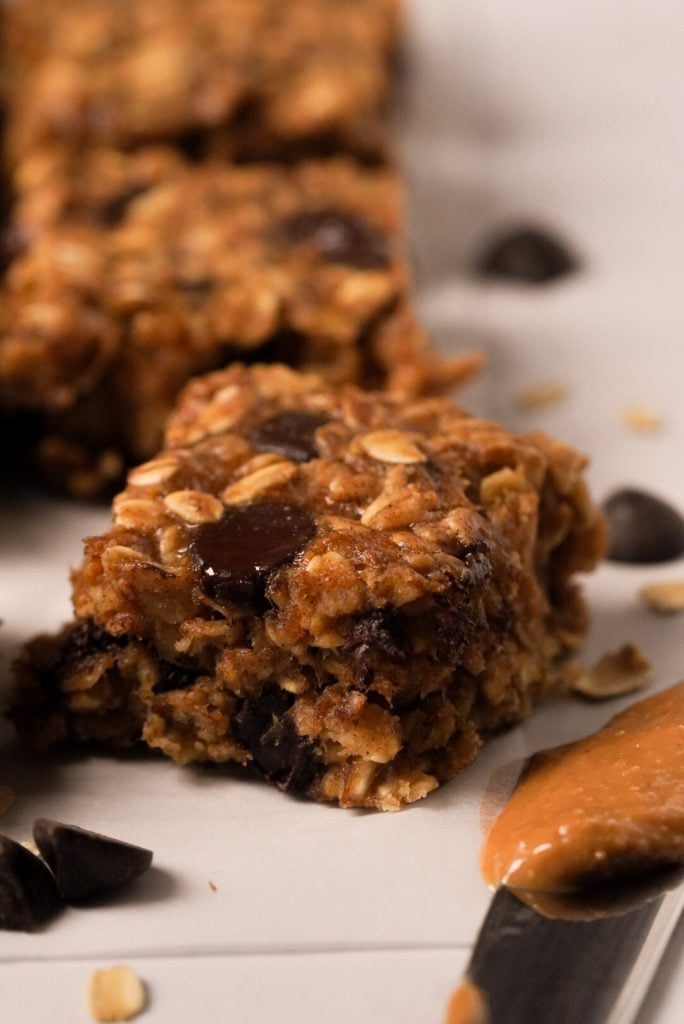 Ingredients & Substitutions
As promised, you only need a few simple ingredients to make these chocolate chip peanut butter oatmeal bars. Here's what to grab:
Bananas – This is one instance where the browner your bananas are, the better! While I recommend measuring out the banana to make sure your ratios are correct, you can count on needing about 3.
Natural Peanut Butter – Opt for a brand that has just peanuts and salt as the ingredients. Avoiding the added sugar and hydrogenated oils from conventional peanut butter keeps these banana oatmeal bars virtuous. You could alternatively use almond butter or cashew butter!
Pure Maple Syrup – Don't reach for Aunt Jemima or Log Cabin — those maple-flavored syrup blends are primarily corn syrup. Instead, reach for the real stuff that comes from trees so you can reap all the health benefits.
Vanilla Extract – While "vanilla" is often used to describe things that are boring or blase, true vanilla flavor is anything but. With gorgeous complexity and deep warmth, this single ingredient takes these banana peanut butter bars over the top. Feel free to swap in an equal amount of vanilla paste or vanilla powder, or use half as much ground vanilla bean instead.
Egg – For binding the banana oatmeal breakfast bar batter. Make sure to let your egg come to room temperature so it's easier to mix into the batter.
Old-Fashioned Oats – Also known as "rolled oats," these delicious whole grains add a chewy, toothsome quality that is absolutely crave-worthy. Better yet, the added fiber and nutrients help to keep you feeling powered up for your day! Quick oats should work too.
Cinnamon – For a touch of warmth that evokes banana bread vibes. Feel free to experiment with other warming spices like ginger, cardamom, allspice, clove, or pumpkin pie spice.
Baking Powder – This powdered raising agent gives these healthy chocolate chip oatmeal bars the perfect tender-crumbed consistency. Note that it begins to work as soon as it touches liquid, so don't mix up your batter before preheating the oven or you'll miss out on some of the leavening power.
Salt – Strange though it may seem, salt can help enhance the sweet flavors of your favorite desserts.
Dark Chocolate Chips – I prefer reaching for 70% cocoa or above for the greatest nutritional benefits.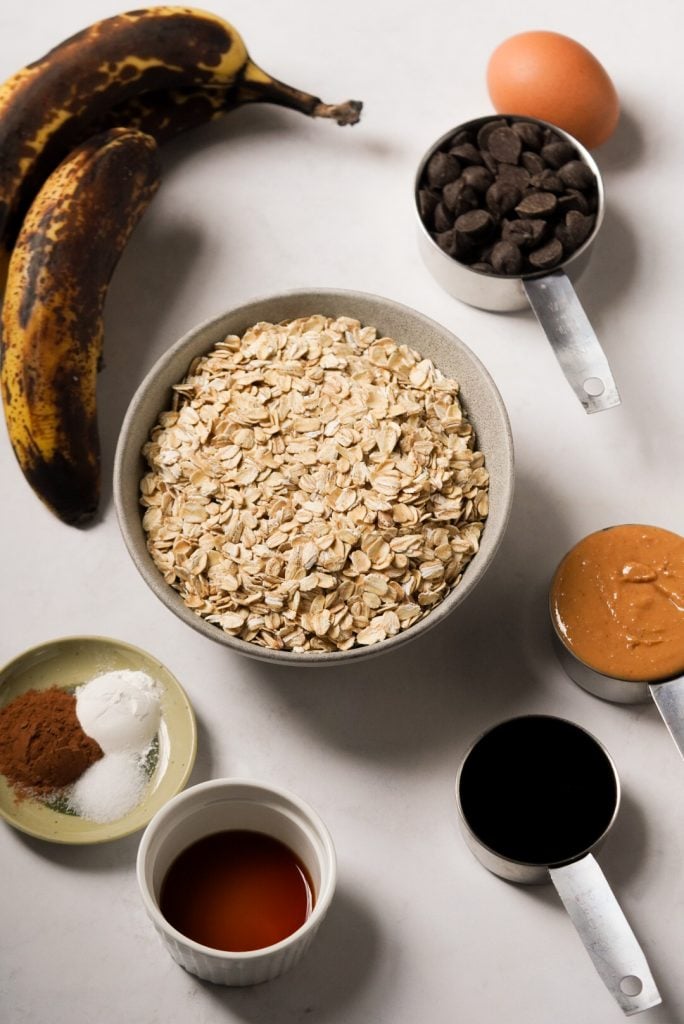 Equipment
As if a short ingredient list weren't enough to love, you also only need a few basic pieces of kitchen equipment to make my peanut butter oatmeal banana bars. Here's what to grab:
Measuring Cups & Spoons – Baking is all about precision. Make sure you get consistently delicious results by measuring everything before adding it!
Silicone Spatula – Or any flexible scraper to help you get every last drop of peanut butter banana goodness into the baking tin.
Parchment Paper – Using parchment paper to line your baking tin ensures your peanut butter banana bars come out of the tin without leaving any yumminess behind.
8×8 Baking Tin – You can also use a 9" round cake tin if you prefer serving them in wedges instead of squares.
Cooling Rack – If you don't have an assigned cooling rack, you can always pull the rack from your toaster oven.
Chef's Knife – Or a knife that's sharp and long enough to cut your peanut butter chocolate oatmeal bars into grab-and-go portions.
How To Make Healthy Peanut Butter Oatmeal Bars
This easy peanut butter oatmeal bars recipe comes together in a flash. Here's how:
Step 1: Prep. Preheat the oven and line an 8×8" baking tin with parchment paper and non-stick cooking spray. Set aside.
Step 2: Wet Ingredients. Add the mashed banana, peanut butter, maple syrup, vanilla extract, and egg to a mixing bowl. Combine thoroughly.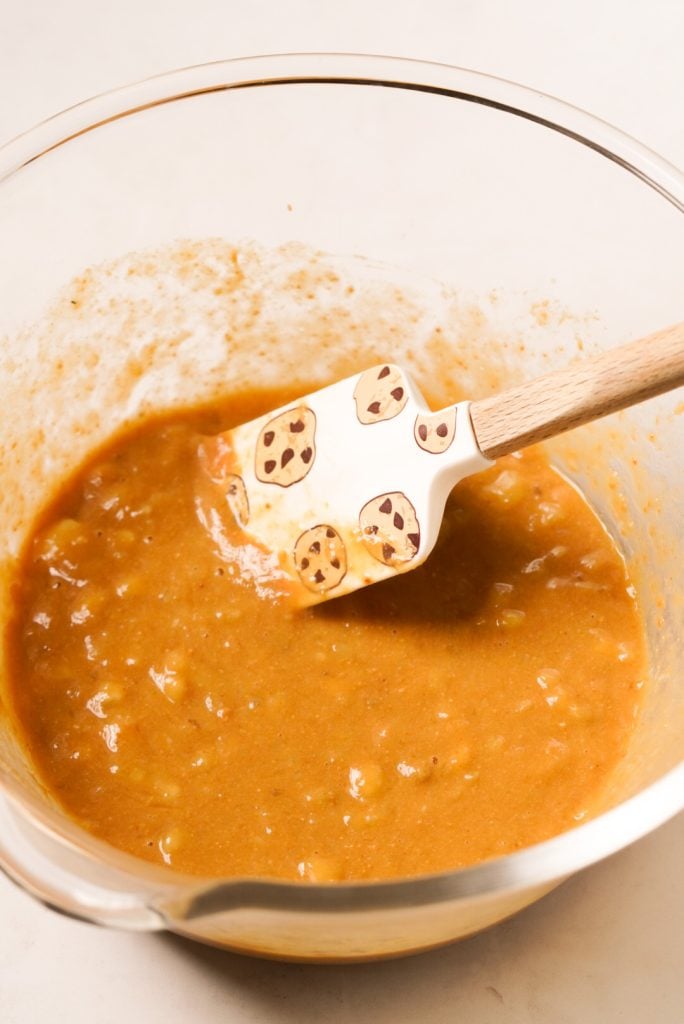 Step 3: Dry Ingredients. Add the oats, cinnamon, baking powder, and salt to the bowl with the wet ingredients. Combine thoroughly.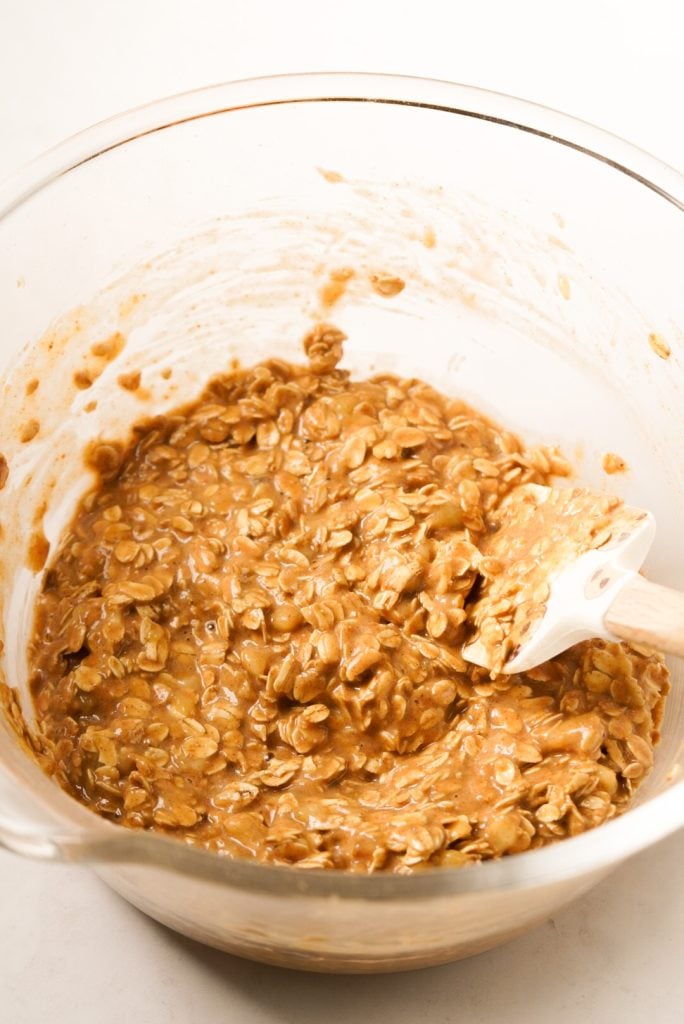 Step 4: Fold in the dark chocolate chips.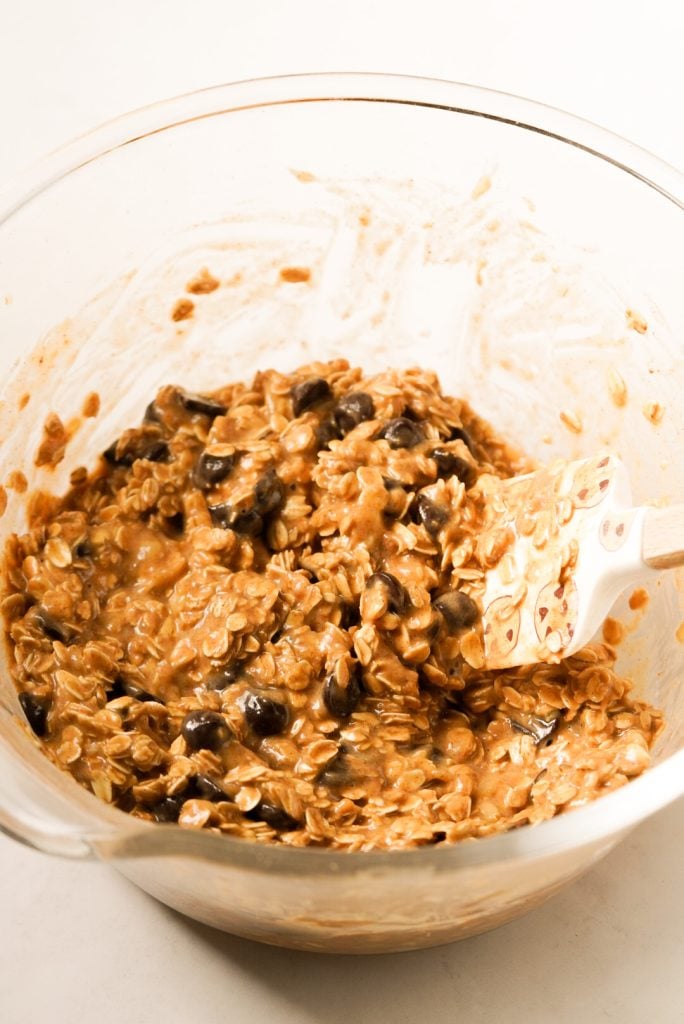 Step 5: Bake. Transfer the mixture to your prepared baking dish. Bake for 25-30 minutes, until the top of the oatmeal bars are solid to the touch.
Step 6: Cool & Slice. Remove from the oven and let cool for at least 20 minutes before cutting into squares. You can do 9 or 16 bars.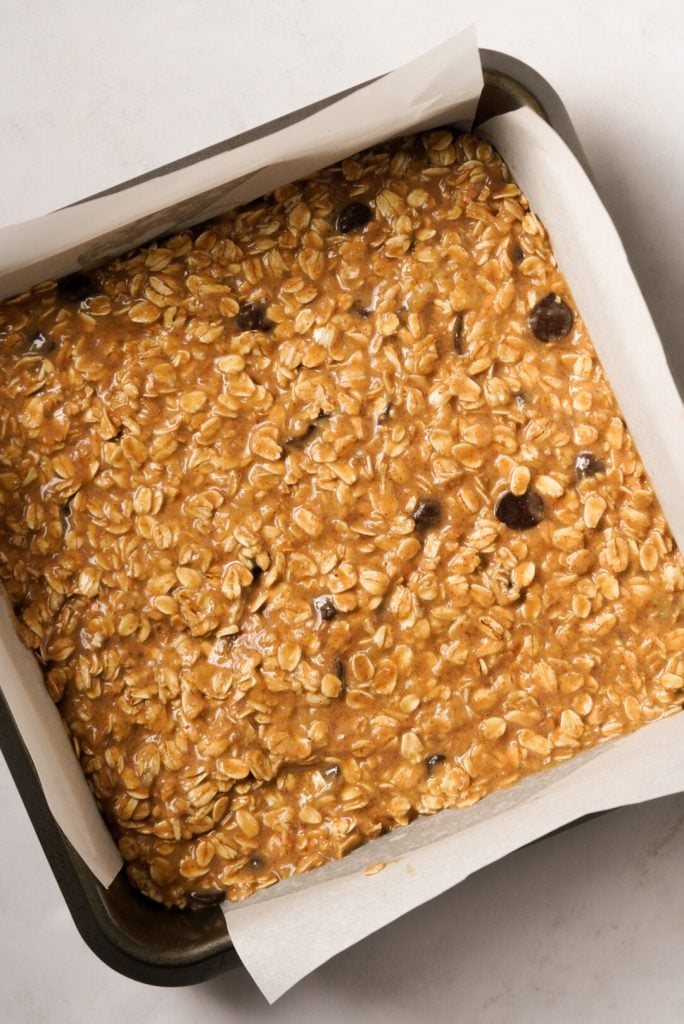 Optional Variations & Dietary Adaptations
As much as I love these naturally sweetened peanut butter chocolate chip oatmeal bars just the way they're written, you're welcome to tinker with the recipe to make it work for you. Here are a few variations worth considering:
Gluten-Free – To make these oat chocolate peanut butter bars celiac-friendly, make sure to reach for certified gluten-free rolled oats.
Nut-Free – Love the concept of these breakfast oat bars, but can't do nuts? No worries! You can easily swap in sunflower seed butter or tahini for the peanut butter. If seeds are also a no-no, consider using less healthy (but wildly delicious) cookie butter or granola butter instead.
Banana-Free – Don't love bananas, or don't have any on hand? Feel free to swap in canned pumpkin purée or plain mashed sweet potatoes. You can also help fill out the recipe (say, if you only have 2 ripe bananas) by making up the difference with unsweetened applesauce.
Vegan – You're welcome to use a flax egg (1 Tablespoon Flax Seed or Flax Meal + 3 Tablespoons Water + Stir + 10 Minute Rest) to make vegan-friendly peanut butter oatmeal chocolate chip bars.
Different Mix-Ins – Don't feel like you have to add chocolate chips just because I'm a chocoholic. Try swapping in other yummy add-ins like chewy chopped dates, crunchy toasted nuts, or plain roasted cacao nibs instead.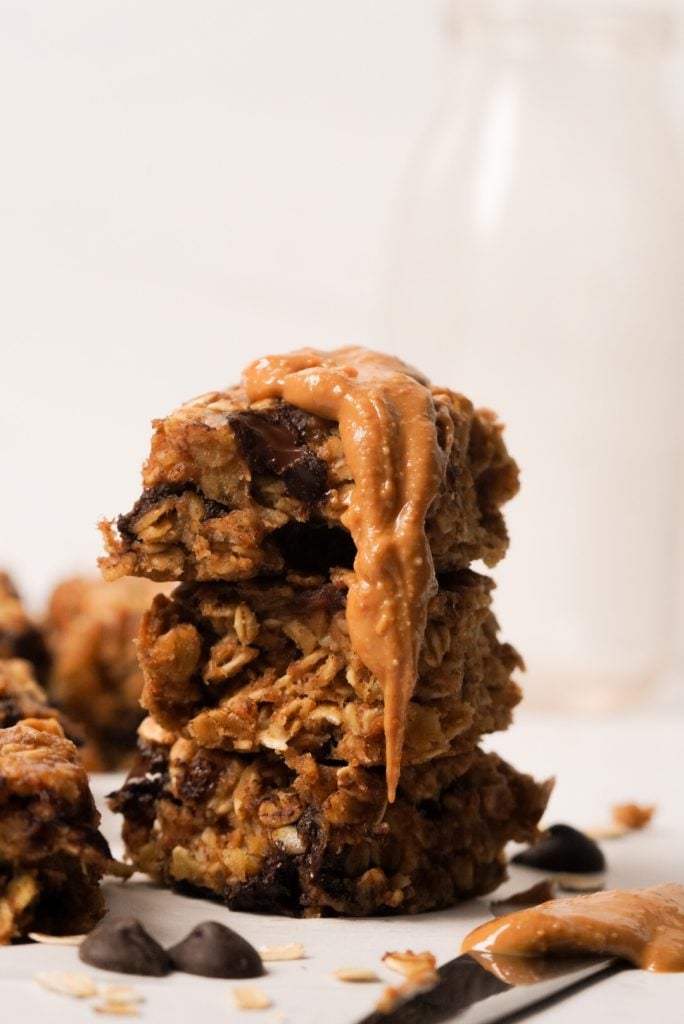 Expert Tips
Patience is a virtue. Allow the banana oatmeal breakfast bars to cool before cutting into them so they don't fall apart.
Use natural peanut butter so you get all the nutritional benefits without any added sugars or hydrogenated fats. Classic peanut butter also has a different make-up and consistency than natural peanut butter, so it will bake differently and the results may not be the same.
Opt for the ripest, spottiest bananas you can find for the best flavor. This will add the most delicious natural sweetness.
Don't have ripe bananas on hand? No problem! One of my favorite food, baking, and cooking hacks is oven ripening my bananas. All you have to do is place the bananas, unpeeled, on a parchment paper or aluminum foil lined baking tray. Bake in the oven at 300 degrees for 20-30 minutes until the bananas are a dark brown, black color and the juices are oozing out. Let the bananas cool, peel and mash, and then you're good to go!
Serving Suggestions
My favorite thing about these banana oatmeal bars is that they are delicious enough for dessert, but nutritious enough for breakfast. Plus they are quick enough for an easy snack! Now that is versatility.
Whichever way you enjoy one of these banana bars – as an afternoon snack, sweet breakfast, or healthy dessert – I can guarantee it will be delicious.
You can enjoy at room temperature, warmed up in the microwave, or a little chilled straight from the fridge. My favorite way to serve them though is warm with a delicious smear of creamy peanut butter on top. So yummy!
FAQs
How long do peanut butter banana oatmeal bars last? What's the best way to store them?
These healthy peanut butter bars with oatmeal will keep in an airtight container at room temp for 1-2 days. If you'd like to extend their shelf life to about a week, move them to the fridge.

Alternatively, they can also be frozen for up to 6 weeks.
How are these banana oatmeal chocolate chip bars healthy?
They are low in refined sugars, provide essential nutrients, and offer a balanced combination of healthy fats, fiber, and protein. 

First and foremost, we have bananas. These starchy fruits are rich in essential vitamins and minerals, add natural sweetness to the bars without the need for excessive amounts of refined sugar, plus provide dietary fiber.

Next up, we have peanut butter, which adds a dose of healthy fats to the recipe.  Additionally, peanut butter is a good source of plant-based protein, which helps to keep you fueled up till lunchtime.

Rolled oats are another nutritional powerhouse. They are a great source of complex carbohydrates and dietary fiber, and are also known for their cholesterol-lowering properties. They also happen to be rich in vitamins, minerals, and antioxidants.

As far as sugar is concerned we add just a touch of maple syrup for sweetness, which is a natural alternative to refined sugars.

Finally, let's not forget about the dark chocolate chips! Dark chocolate contains higher amounts of cocoa and less added sugar compared to milk chocolate. It is packed with antioxidants that can potentially improve heart health and boost mood.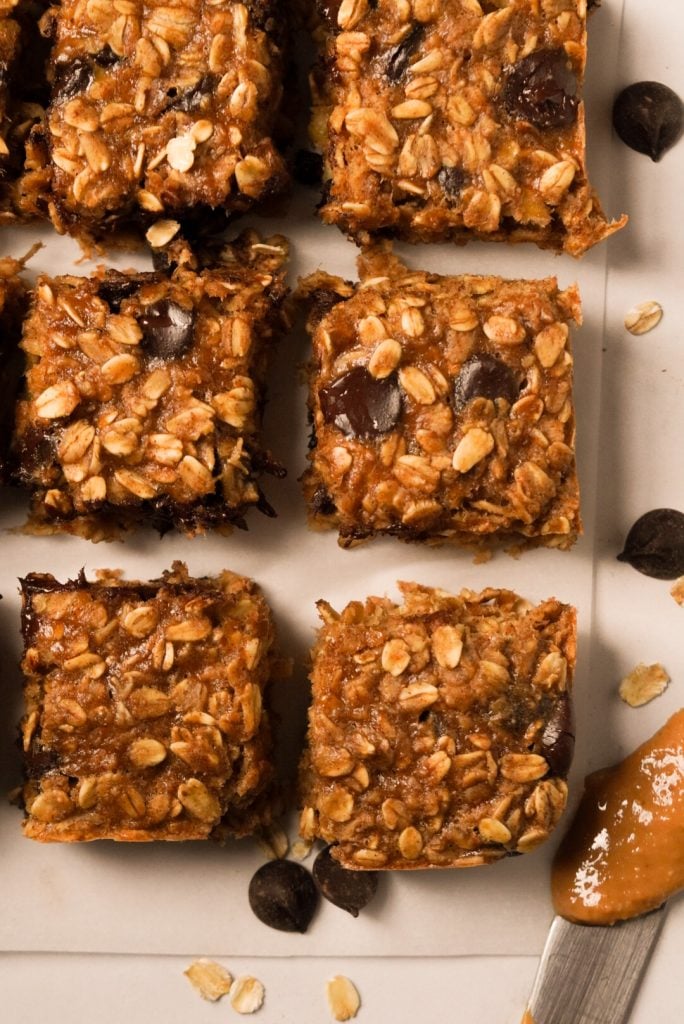 Related Recipes
More Healthy Desserts
More Oatmeal Breakfasts
Connect With Me!
If you make this oatmeal bar recipe or any of my other recipes, I would absolutely love to know! Tag me @wellnessbykay on Instagram so I can see and share your recreations.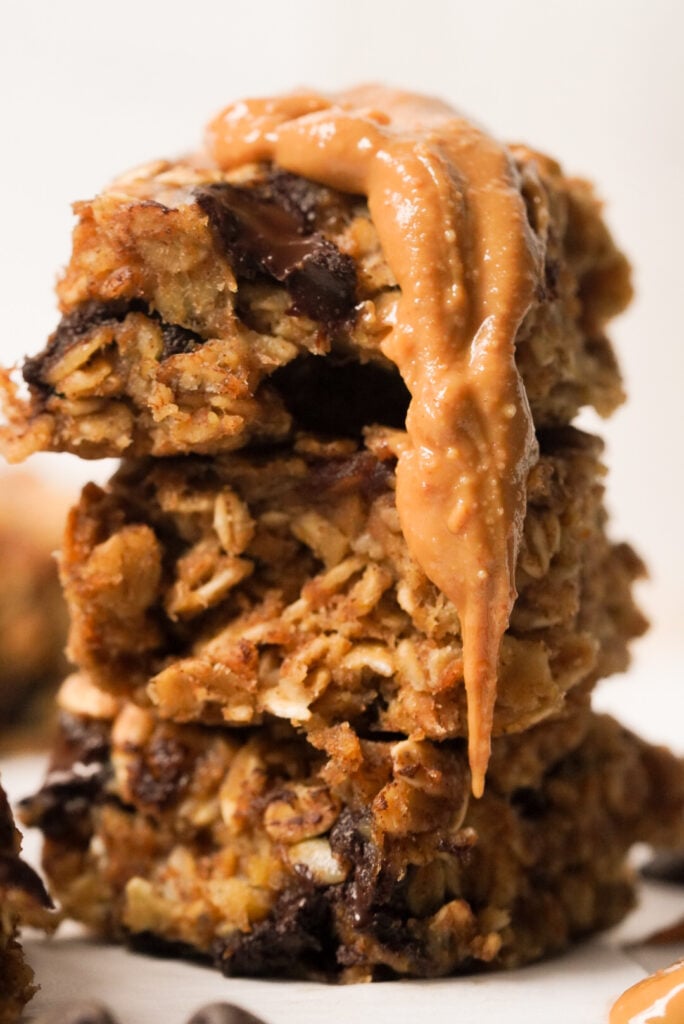 Love this recipe? Leave a comment and a rating! I love to see and it helps me continue to develop delicious recipes for this blog.
Print
Peanut Butter Banana Oatmeal Bars (Healthy)
If you're in the market for a simple make-ahead breakfast recipe, you're going to love these irresistible Peanut Butter Banana Oatmeal Bars with Chocolate Chips. With only 10 simple ingredients and just 5 minutes of active prep, this recipe combines the creamy richness of protein-packed peanut butter, the natural sweetness of ripe fruit, and the wholesome goodness of oats. They are the perfect grab & go snack or healthy dessert too!
Author:
Prep Time:

5 Minutes

Cook Time:

25 Minutea

Total Time:

30 minute

Yield:

9

–

16

Bars

1

x
Category:

Breakfast / Dessert

Method:

Baked
1 cup

mashed banana, 3 bananas

⅓ cup

natural peanut butter

¼ cup

pure maple syrup

2 tsp

vanilla extract

1

egg

2 cups

old fashioned oats

1 tsp

cinnamon

1 tsp

baking powder

¼ tsp

salt

½ cup

dark chocolate chips
Instructions
Set the oven to 350 degrees.
Add the wet ingredients to a large mixing bowl – mashed banana, peanut butter, maple syrup, vanilla extract, and egg. Combine thoroughly.
Add the dry ingredients to the bowl – oats, cinnamon, baking powder, and salt. Combine thoroughly.
Stir in the dark chocolate chips.
Transfer the mixture to a greased or parchment paper lined 8×8 baking dish.
Bake for 25-30 minutes, until the top of the oatmeal bars is solid to the touch.
Remove from the oven and let cool before cutting into squares. You can do 9 or 16 bars.
Enjoy!
Keywords: peanut butter banana oatmeal bars, banana peanut butter oatmeal bars, oatmeal banana peanut butter bars, banana oatmeal peanut butter bars
This post may contain affiliate links, which if a product is purchased through I may recieve a small compensation. I only recommend products I love and use in my life and cooking! Thank you for supporting wellnessbykay.