Last Updated on March 2, 2023 by Kayla Berman
Cottage Cheese Toast is a 5 minute breakfast, lunch, or snack recipe! Made with plain cottage cheese, toasted bread, and your favorite toppings … this quick & easy meal can be sweet or savory. Plus it is high protein, low calorie, and full of nutrients!
Love cottage cheese? Check out the Viral Cottage Cheese Ice Cream or High Protein Cottage Cheese Bark.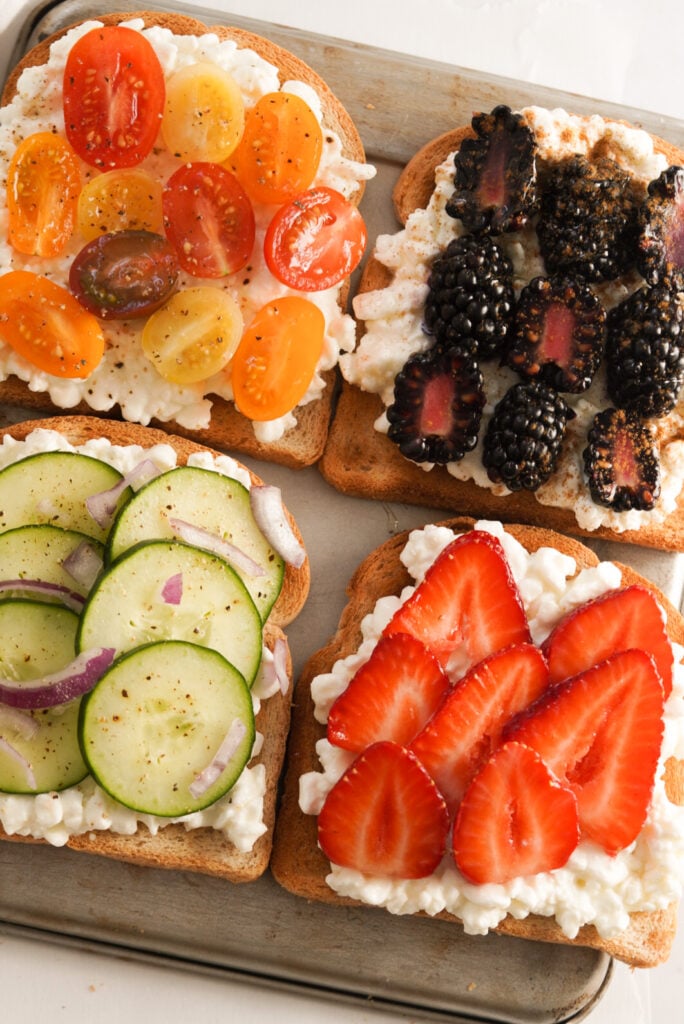 5 Minute Breakfast, Lunch, or Snack
Cottage cheese toast is my new favorite thing. I'm obsessed!
First of all, it is perfect for any time of day. You could enjoy a sweet version for a satisfying breakfast or healthy dessert and a savory version for an afternoon snack or 5 minute lunch.
Second of all, it is a combination of my two favorite things … carbs and cheese. But in a way that supports weight loss and muscle gain!
See! I don't care what any cottage cheese haters say … this quick and easy meal is simply perfect.
Toast with cottage cheese is high protein (about 15 grams of protein per serving), low calorie, and packed with nutrients. Not to mention super customizable! The topping ideas are endless.
All I know is that this simple recipe has definitely entered my list of favorite meals!
Looking for some similar recipes? Check out my Whipped Ricotta Crostini and Goat Cheese Bruschetta.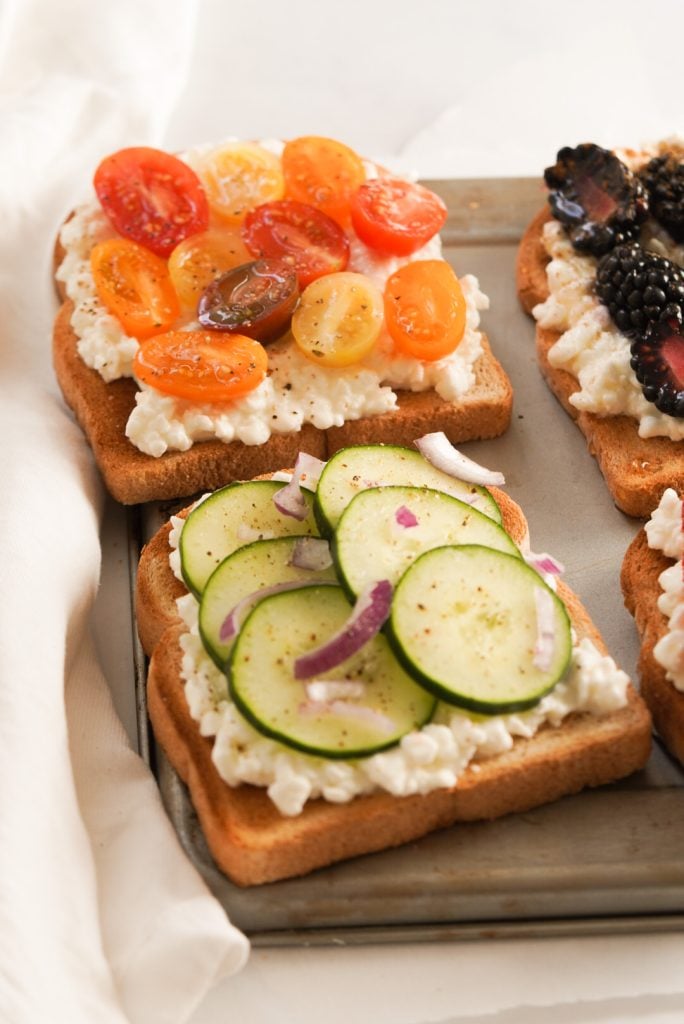 Ingredients
This easy breakfast, snack, or lunch really only requires 2 simple ingredients! The rest is up to you.
Ingredient Notes
Cottage Cheese: Cottage cheese is obviously the star here! For 2 servings of this toast you will need 1 cup of regular cottage cheese. I find 1/4 cup to be the perfect amount to spread on each slice of bread.
Bread: This recipe calls for 4 slices of bread! You can use any type you'd like – anything from sourdough to whole grain to rustic bread should do the job.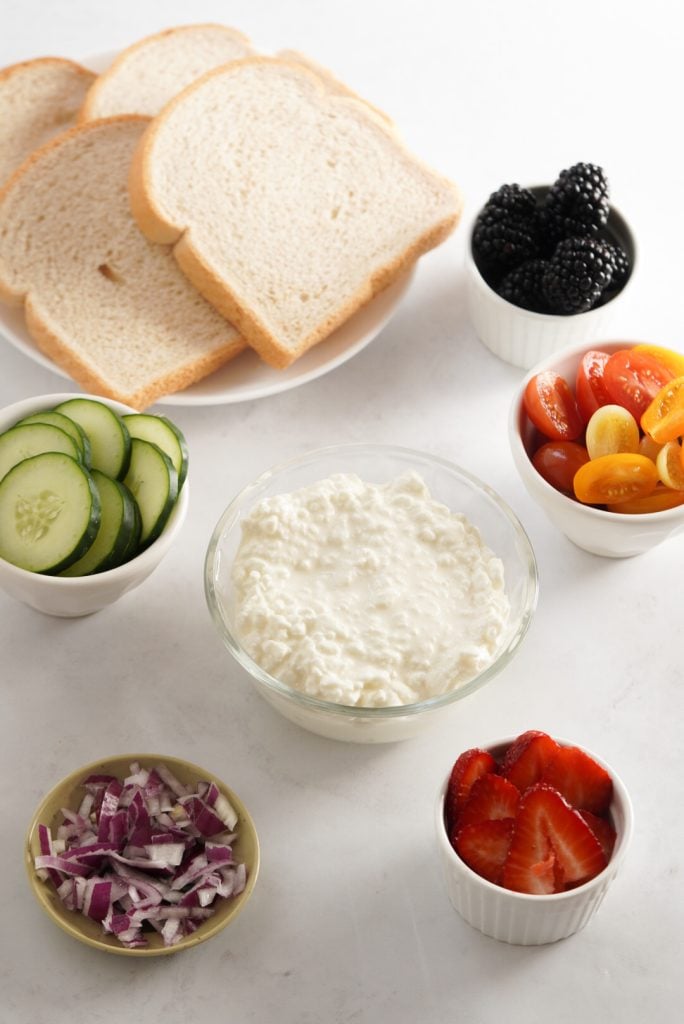 Topping Ideas
Now for the fun part of this recipe … the toppings! From savory to sweet, the options are truly endless.
Savory Toppings
Vegetables: Fresh avocados, cucumber slices, radish, red onion, fresh tomatoes
Fresh Herbs: Fresh basil would be fantastic with tomatoes
Bacon & Eggs: Make it a full breakfast toast
Olive oil
Balsamic glaze
Pesto
Hot honey or hot sauce
Sea salt and pepper
Sweet Toppings
Fresh Fruit: Berries, peach slices, banana, pineapple, melon
Sweeteners: Honey, maple syrup, brown sugar
Jam
Cinnamon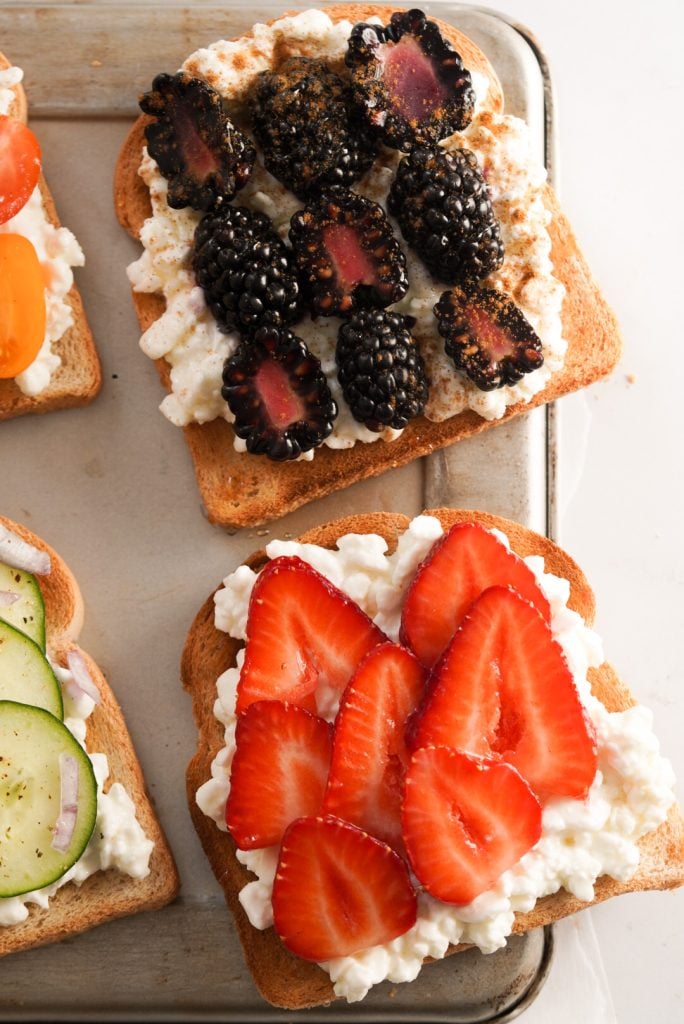 Kitchen Tools
This post contains affiliate links. As an Amazon Associate, I earn from qualifying purchases.
How To Make This Recipe
Cottage cheese on toast is a no recipe kind of recipe! It doesn't really require many instructions – you simply toast, add cottage cheese, and add toppings.
The process takes about 5 minutes in total. Making it the perfect easy lunch idea or healthy breakfast on a busy morning!
Step By Step Instructions
Step 1: First toast the bread slices.
Step 2: Add 1/4 cup of plain cottage cheese to each slice of toast. Spread evenly.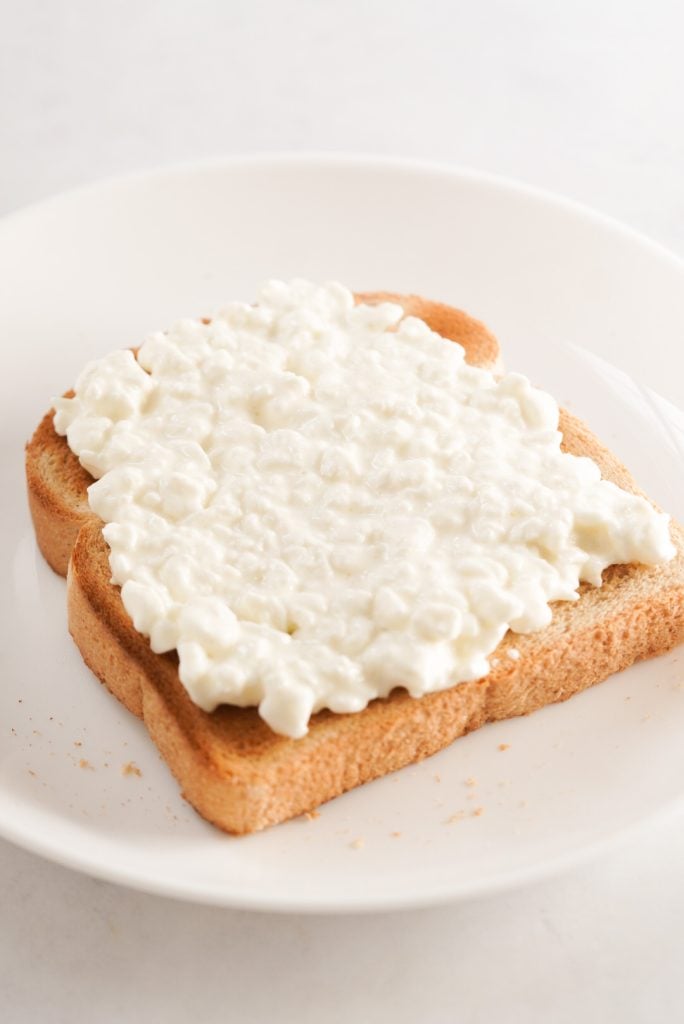 Step 3: Add your favorite toppings on top of the cottage cheese. Shown here are:
Cucumber slices, red onion, salt, and black pepper
Cherry tomatoes, salt, and black pepper
Blackberries, honey, and cinnamon
Strawberries, honey
Step 4: Enjoy!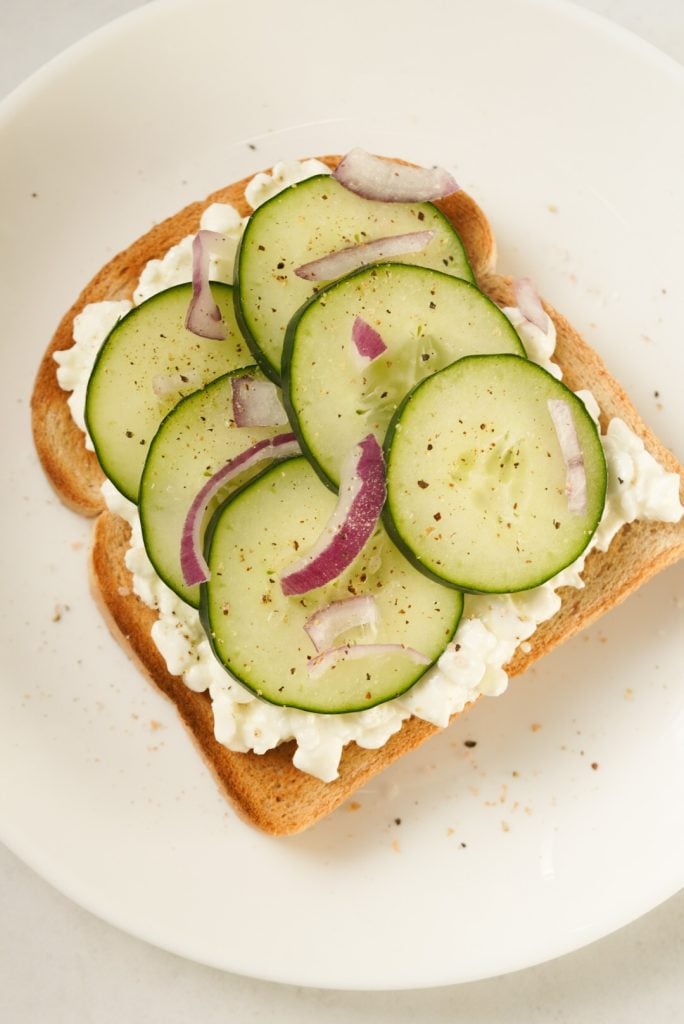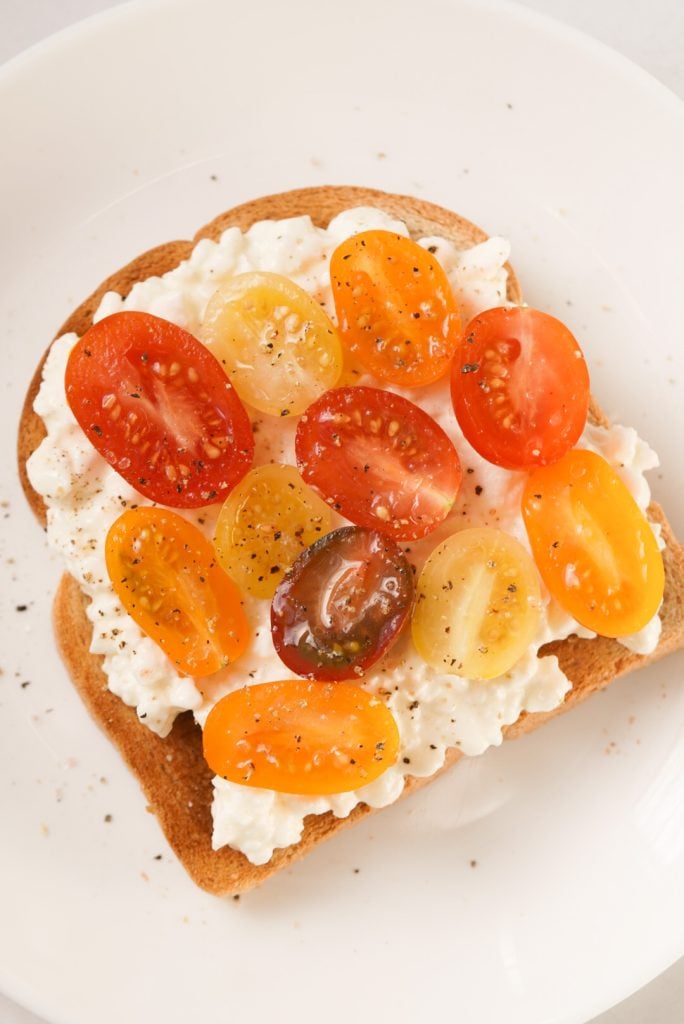 Expert Tips
Use thick, crusty bread to hold all the delicious ingredients on top of these toasts.
If you don't like the texture of cottage cheese, blend it up in a food processor or blender. This will get rid of the curds and create a smooth, creamy cottage cheese!
Not a fan of cottage cheese? Follow this recipe, but with cream cheese or ricotta cheese instead.
Season the savory toasts thoroughly with salt and pepper.
Enjoy the toasts as soon as prepared. Since you are loading the slices of bread up with all the goods, they might get soggy if you wait too long to eat them!
Frequently Asked Questions
Is cottage cheese good for you?
I am not a nutritionist or dietician, but in my opinion cottage cheese is super good for you!

It is actually one of the healthiest cheeses there is. It is a great, low calorie source of protein to enjoy at any time of day! It's a good source of vitamin B and calcium too.

Overall cottage cheese is a highly nutritious food that can help to support weight loss and muscle gain.
What kind of cottage cheese should I use?
You can use any kind of cottage cheese you find in the grocery store! I prefer to use low fat plain cottage cheese.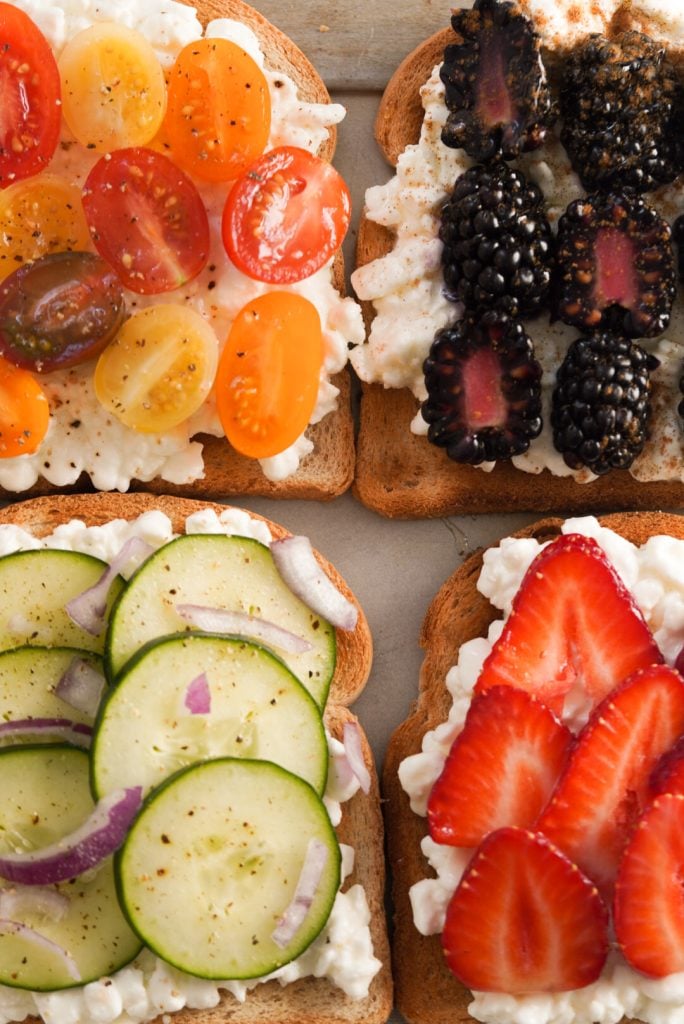 Love this recipe? Check out some more delicious recipes below…
Breakfast Recipes
Lunch Recipes
Connect With Me!
If you make this recipe or any of my other recipes, I would absolutely love to know! Tag me @wellnessbykay on Instagram so I can see and share your recreations.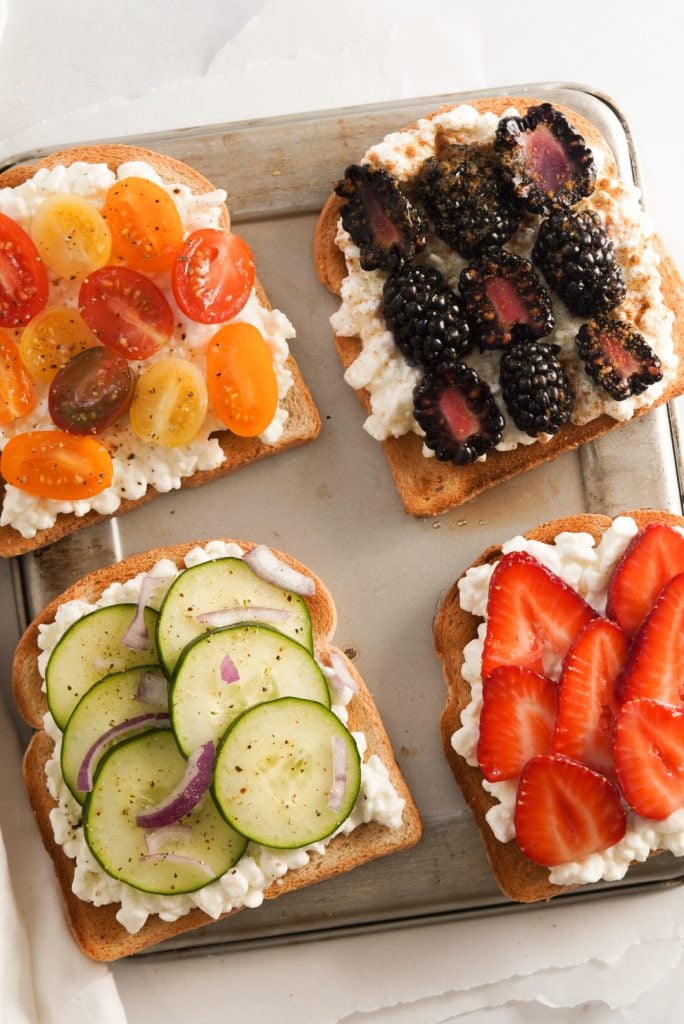 Love this recipe? Leave a comment and a rating! I love to see and it helps me continue to develop delicious recipes for this blog.
Print
Cottage Cheese Toast
Author:
Prep Time:

10 Minutes

Total Time:

10 minutes

Yield:

2

Servings

1

x
4

slices of bread

1 cup

plain cottage cheese
Toppings: Cucumber, red onion, cherry tomatoes, olive oil, salt, pepper, blackberries, strawberries, honey, cinnamon, etc.
Instructions
First toast the bread slices.
Next add 1/4 cup of plain cottage cheese to each slice of toast.  Spread evenly.
Then add your desired toppings on top of the cottage cheese.  Shown here are:

Cucumber slices, red onion, salt, and pepper
Cherry tomatoes, salt, and pepper
Blackberries, honey, and cinnamon
Strawberries, honey

Enjoy!
Keywords: cottage cheese on toast, cottage cheese toast, cottage cheese toast ideas, cottage cheese and toast
This post may contain affiliate links, which if a product is purchased through I may recieve a small compensation. I only recommend products I love and use in my life and cooking! Thank you for supporting wellnessbykay.