Last Updated on June 8, 2023 by Kayla Berman
Celebrate warmer weather in style with my quick & easy recipe for Burrata Caprese Salad with Cherry Tomatoes! Made with just 5 simple ingredients in just 15 minutes, this fancy caprese salad recipe is going to be playing on repeat at my house all summer long.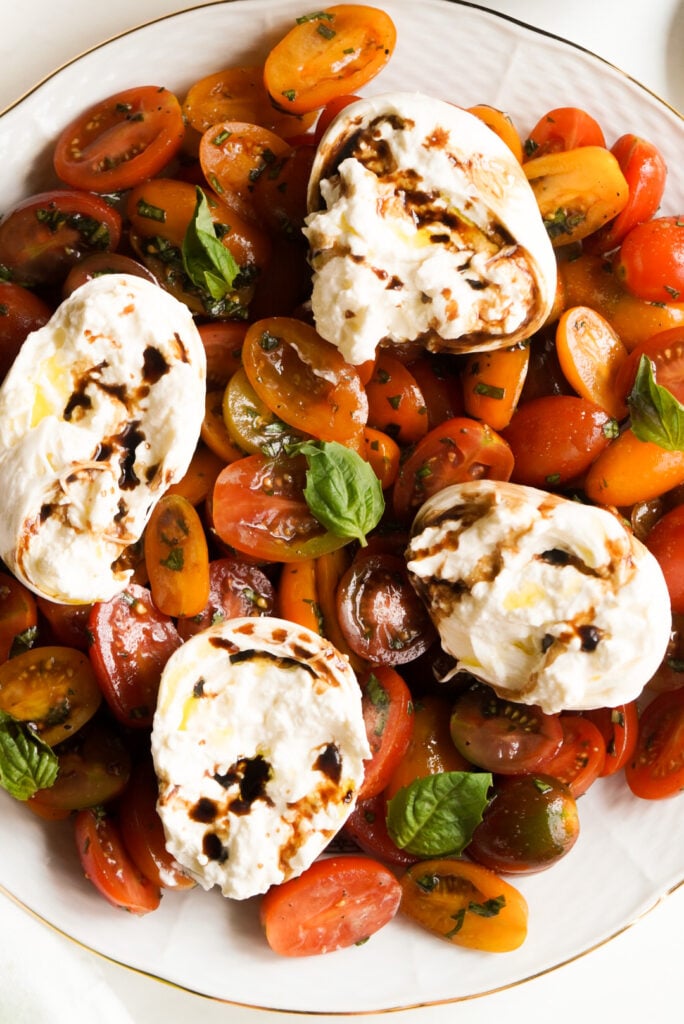 What is Caprese Salad?
Picture a refreshing and colorful dish that embodies the flavors of Italy while repping the Italian flag 🇮🇹 —voilà, you have a caprese salad! This salad is a delightful combination of simple yet delicious ingredients that come together to create a dish that is unimpeachably elegant.
At its core, a caprese salad typically consists of three main ingredients: garden fresh tomatoes, creamy mozzarella cheese, and fresh basil leaves. It's all about celebrating the vibrant flavors of each element.
First, you have juicy, ripe tomatoes. Opt for the most fragrant, ripest ones you can find. If possible, try to use multicolored tomatoes for an even more stunning presentation! The tomatoes provide a burst of sweetness and tanginess that's essential to the caprese salad's character.
Next comes the cheese. Traditionally, you'll find fresh mozzarella in a classic caprese salad, but today, we're using ethereally creamy burrata. This soft, mild cheese is like mozzarella's big brother, boasting an ooey gooey cream-filled center. YUM.
Since no Italian meal is complete without EVOO, a hefty drizzle of the green-gold oil is a must.
Lastly, we have fresh basil, which brings a fragrant and colorful element to the salad. The herbaceous notes of basil add a touch of freshness that completes the caprese experience.
Many folks also like to add a balsamic dressing or reduction to their caprese salad (me included!). This adds a tangy sweetness that pairs beautifully with the other ingredients. However, this is a matter of personal preference, and you can enjoy your caprese salad with or without the balsamic touch.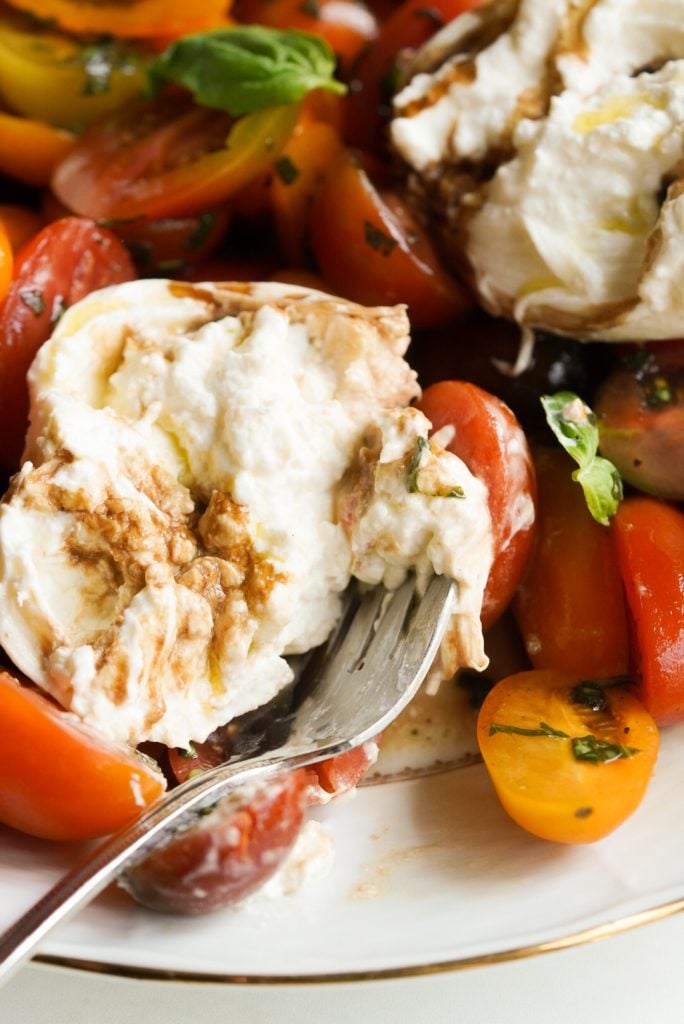 Why You'll Love This Recipe For Caprese Salad
When it comes to summer salads, there are so many good ones to choose from! From my orzo pesto pasta salad and deliciously light La Scala-style chopped salad to heartier entrée salads like my burger salad with special sauce and BBQ chicken ranch salad, eating your veggies is way more fun in the sun.
However, even with all the delectable options, it's hard to beat this tomato burrata salad recipe. Aside from embodying the very essence of summer, this salad is also:
Quick & Easy – Just wash, slice, toss, and serve! It couldn't be easier if it tried.
Made With Only 5 Ingredients – When you're showcasing garden fresh tomatoes and creamy burrata cheese, you don't need much else.
Simply Elegant – Upgrading your tomato caprese with fresh burrata in place of typical buffalo mozzarella is so simple, but the results are truly noteworthy. This is the kind of salad you'd pay top dollar for in a fancy restaurant, but it takes mere minutes to prepare! If you've got a dinner party coming up, this is just the app to kick it all off.
PLUS, There's No Cooking Needed – When it's approximately 5 million degrees outside and I've already taken my second cold shower of the day, turning on the oven or standing over a hot grill is the absolute last thing I want to do. Luckily, this cherry tomato caprese salad with burrata requires exactly ZERO heat.
Love all things caprese? Me too. That's why I've come up with recipes for Chicken Caprese Pasta, Hasselback Caprese Salad, and Tortellini Caprese Salad!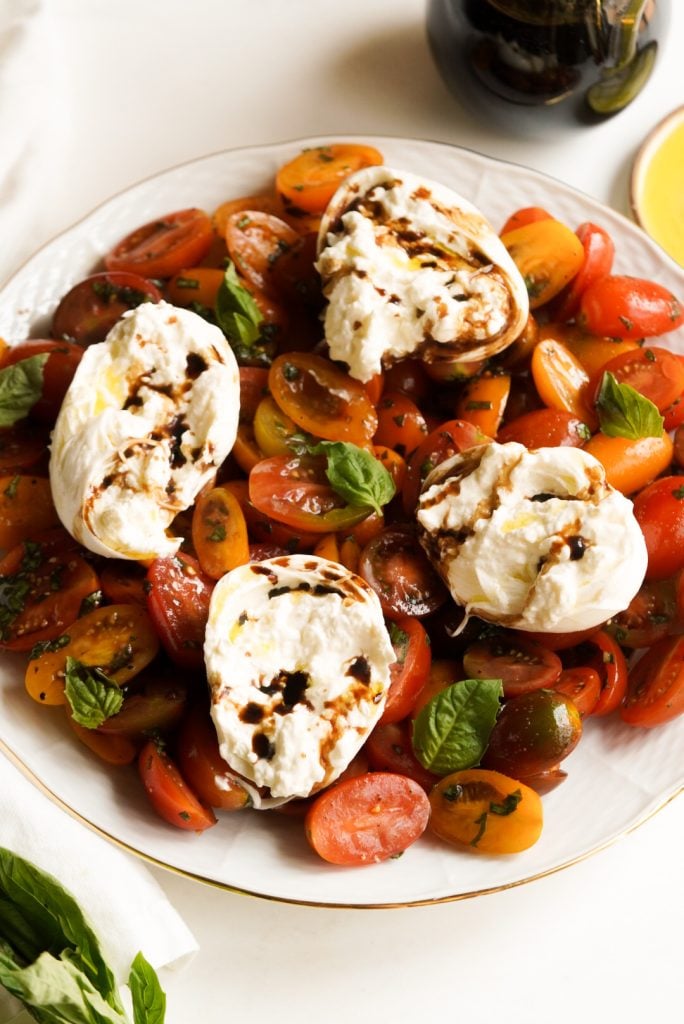 Ingredients & Substitutions
As promised, you only need a handful of ingredients to make this burrata caprese salad. Here's what to grab:
Cherry Tomatoes – While you're welcome to swap in chopped heirloom tomatoes, I find that these adorable little orbs are perfectly sized and have the right balance of meatiness and juiciness. Plus, since they're greenhouse grown all year long, you can make this Insta-worthy salad whenever the craving strikes!
Burrata Cheese – Move over, fresh mozzarella. There's a new sheriff in town! Burrata cheese is the sensuous, ooey gooey, cream-filled (!!!) upgrade to plain mozz. If you're a fan of dairy, you're gonna love this stuff. Find it in the refrigerated cheese aisle in small tubs of water near the bocconcini.
Extra Virgin Olive Oil – If you have it, now's the time to bust out your fancy, cold-pressed finishing oil.
Balsamic Vinegar – If possible, opt for a brand that clearly states "Aceto Balsamico Tradizionale" on the label. These traditionally made vinegars are typically more expensive but worth the investment. If you're on a budget or looking for something more accessible, go for a bottle labeled "Balsamic Vinegar of Modena." This variety is still delicious and versatile, but it might not have undergone the same lengthy aging process as the traditional ones. Nonetheless, you can find excellent options within this category. Next, check the ingredients list. Authentic balsamic vinegar should contain only grape must (cooked grape juice) and perhaps some wine vinegar. Avoid brands that include additives, caramel, or thickening agents.
Fresh Basil – For bright, herbaceous flavor that cuts through the acidity of the vinegar, sweetness of the tomatoes, and creaminess of the burrata and olive oil. Look for deep green leaves with no bruising or damage.
Kosher Salt & Black Pepper – If you were counting, you caught me. These are ingredients #6-7. That said, I assume everyone has these basics in their kitchen! If possible, opt for freshly cracked black peppercorns to get the best, boldest flavor.
Equipment
You'll only need the basics to make this stunning burrata and tomato salad: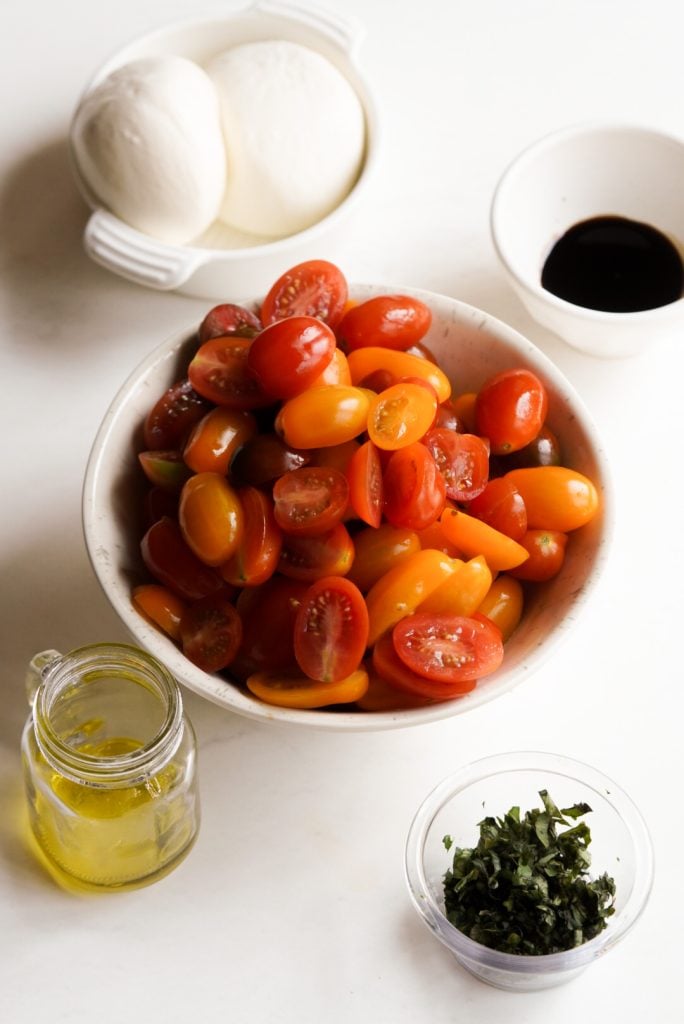 How To Make The Best Caprese Salad, Ever!
This delightful Cherry tomato caprese salad recipe comes together in just a few simple steps:
Step 1: Combine the cherry tomatoes, olive oil, balsamic vinegar, and chopped fresh basil in a large bowl. Season with salt and pepper to taste.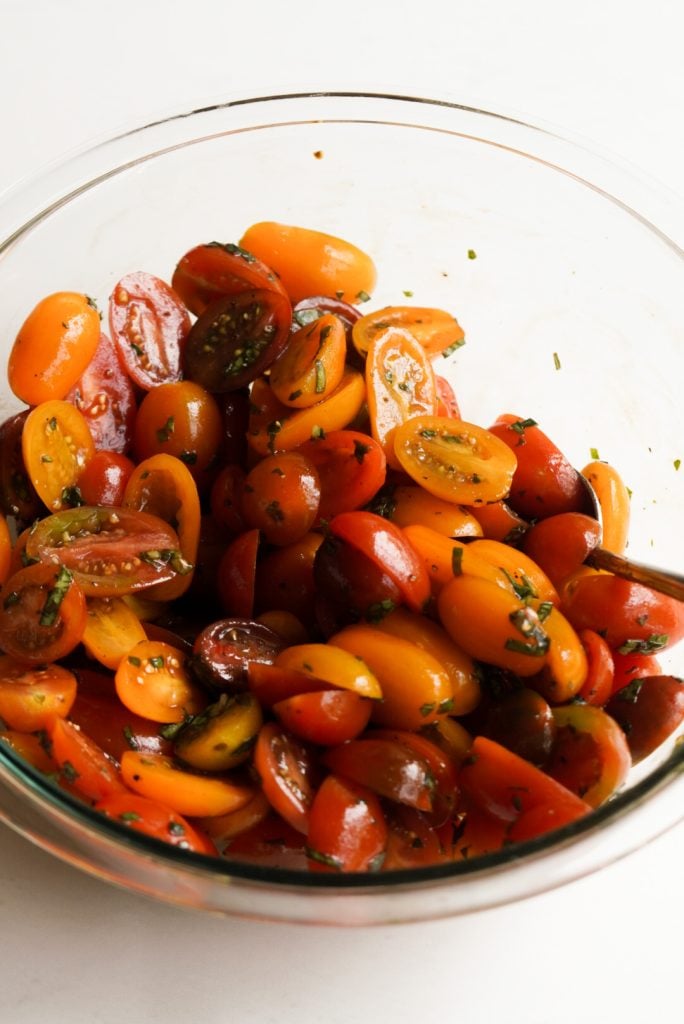 Step 2: Spread the tomato mixture out into a large shallow bowl or large serving platter.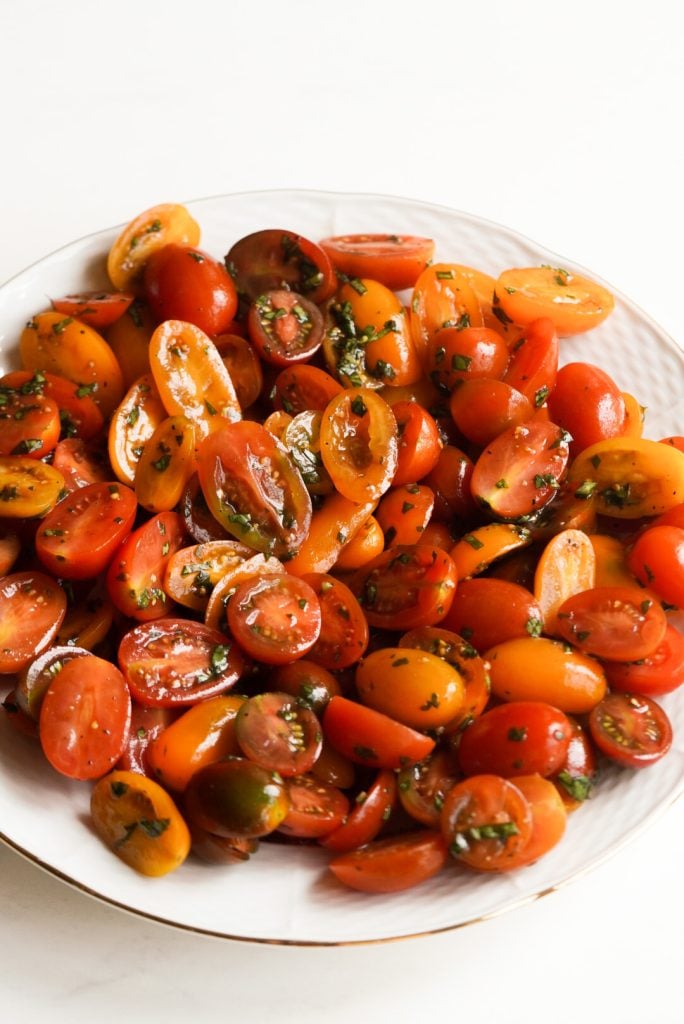 Step 3: Place halved cheese pieces on top of the tomatoes with the creamy center facing up. YUM!
Step 4: Garnish the salad with extra balsamic vinegar, olive oil, fresh basil leaves, and cracked black pepper.
Step 5: Serve & Enjoy!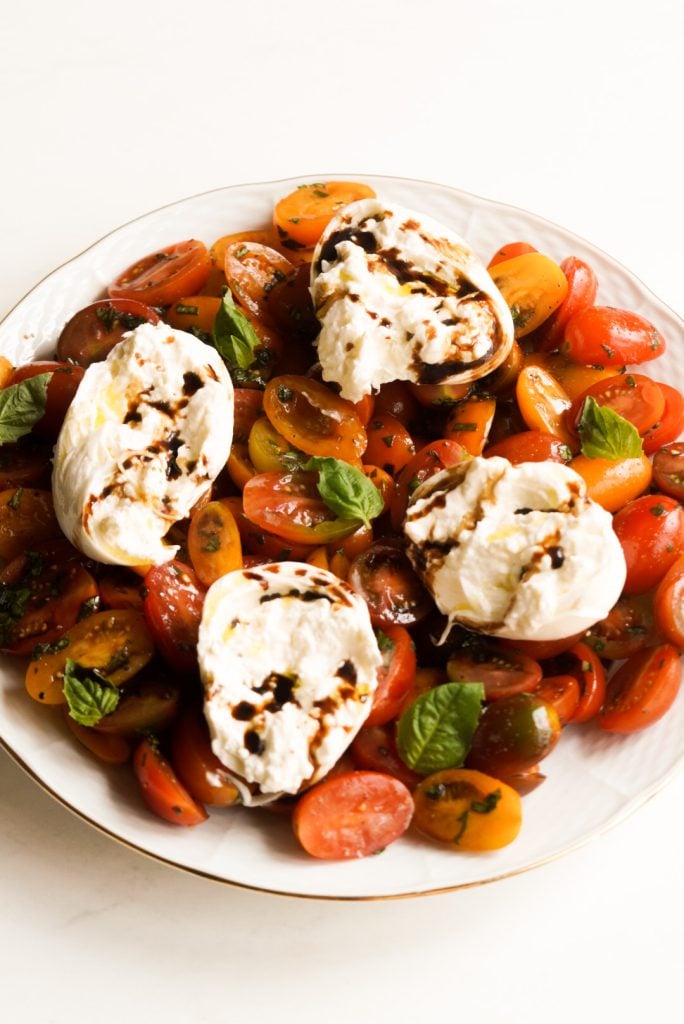 Optional Variations & Dietary Adaptations
As much as I think this is the best caprese salad recipe around, I want you to love it just as much. With that in mind, here are some fun ways you can customize this burrata tomato salad:
Add some grilled or poached chicken for a healthy, well-rounded dinner. It also pairs beautifully with flaky white fish like swordfish or cod.
Bulk it up with some peppery arugula or tender baby spinach.
Make some buttery croutons to help soak up all the juicy goodness, sort of like a panzanella.
Drizzle on some homemade pesto sauce for an added pop of basil flavor.
Use reduced balsamic or a balsamic glaze for a stickier, sweeter, more viscous dressing.
Add ooey-gooey burrata cheese to my Summer Stone Fruit Salad for a sweet version of this caprese.
Expert Tips
The quickest way to halve cherry tomatoes is by using two delitainer lids.
The fastest way to cut fresh basil is by using the chiffonade method.
Don't store basil in the fridge! The dainty leaves don't like the cold. Instead, cut off the bottom of the stems (a fresh cut helps them soak up water), then store like a bouquet of flowers on your countertop.
Opt for the best balsamic vinegar and olive oil you can afford. As I mentioned earlier, Aceto Balsamico Tradizionale is the highest quality balsamic around and cold-pressed finishing olive oil will have the most robust flavor.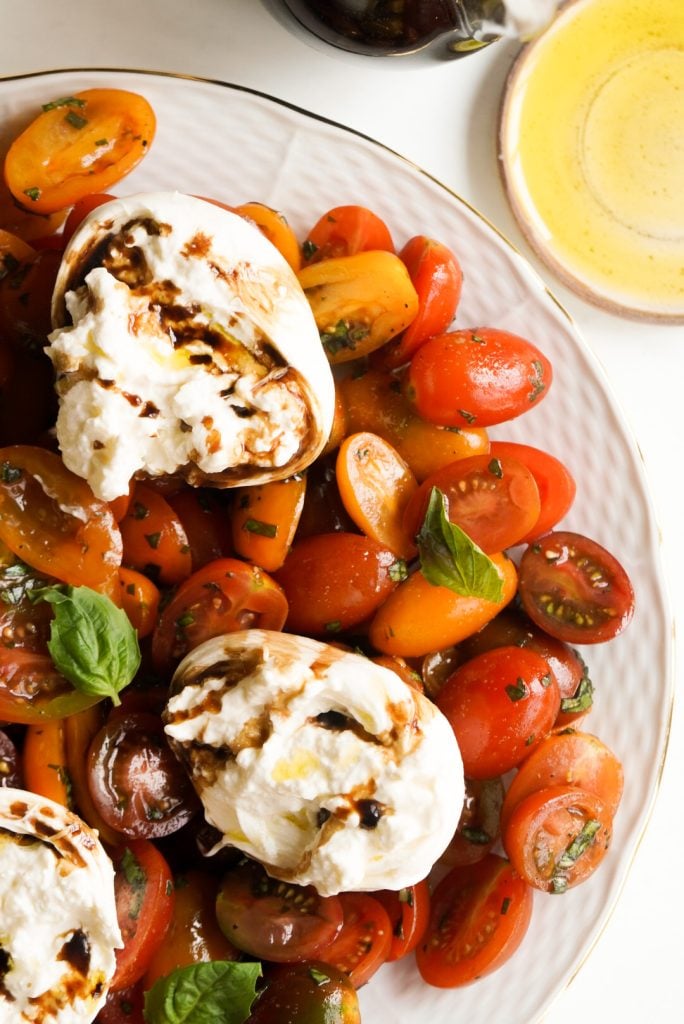 Serving Suggestions
Whether you're looking for a colorful summer appetizer for barbecues and cookouts, a fancy salad course for your al fresco dinner parties, or just a big pile of yummy summer veggies for your mid-week meal, this tomato and fresh burrata cheese salad has you covered. It's my go-to for just about everything when tomatoes are in season!
Wondering what to eat with caprese salad? Not to worry, you have TONS of options: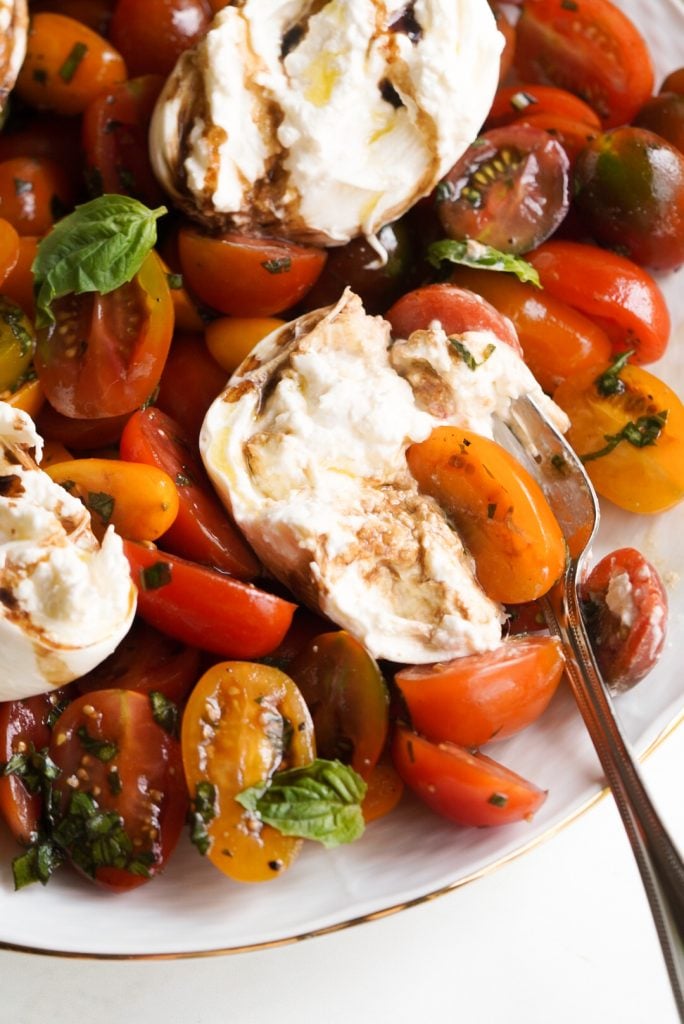 FAQs
What is burrata cheese? 
Burrata is a semi-soft, fresh Italian cheese! It comes in a ball shape with an outside shell of mozzarella cheese filled with a mixture of cream and more mozzarella.  This filling is called stracciatella.

When cut open, the center of a ball of burrata cheese has a gooey, creamy texture.  Overall it has a similar taste to mozzarella, though more rich and flavorful due to the cream.

Burrata is often enjoyed on it's own with a drizzle of good olive oil and a side of crusty bread. It also makes for a fabulous pizza or pasta topping!

It is often enjoyed similarly to how mozzarella is too! Like with the fresh tomatoes, fragrant basil, and sweet balsamic in this salad.

Wanting to enjoy burrata cheese in more delicious ways? Check out my Burrata Pasta with Summer Vegetables!
How to store leftovers?
Leftover burrata salad can be stored in an airtight container in the refrigerator.  It will keep best for 1-2 days!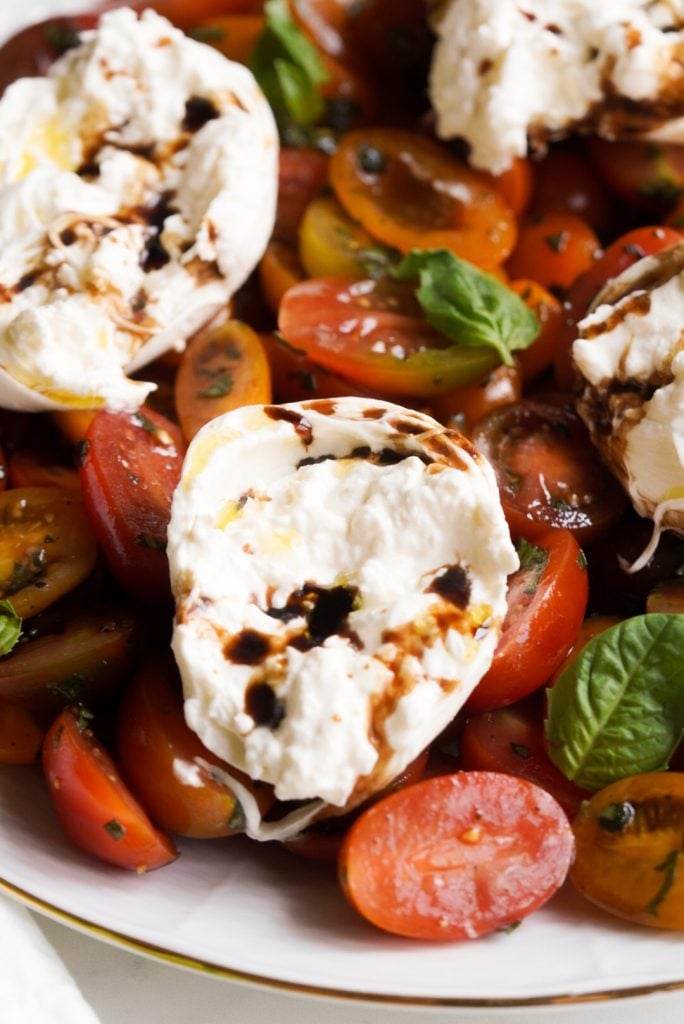 Related Recipes
Appetizer Recipes
Summer Recipes
Connect With Me!
If you make this caprese salad with burrata cheese recipe or any of my other recipes, I would absolutely love to know! Tag me @wellnessbykay on Instagram so I can see and share your recreations.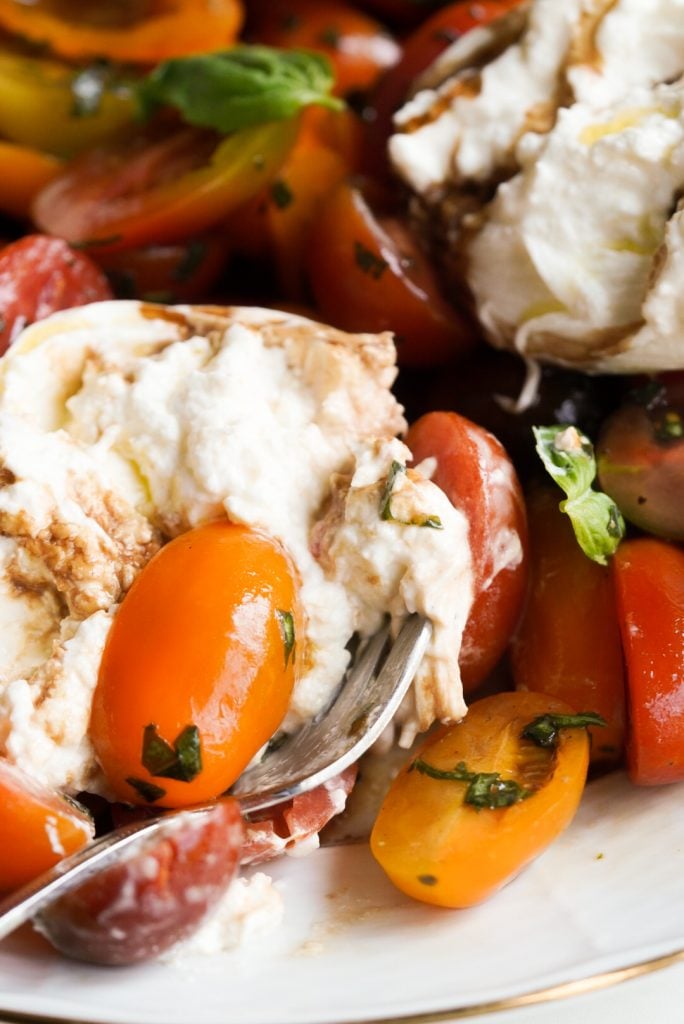 Love this recipe? Leave a comment and a rating! I love to see and it helps me continue to develop delicious recipes for this blog.
Print
Burrata Caprese Salad with Cherry Tomatoes
Celebrate warmer weather in style with my quick & easy recipe for Burrata Caprese Salad with Cherry Tomatoes! It's made with just 5 simple ingredients – colorful tomatoes, creamy burrata, fresh basil, balsamic vinegar, and extra virgin olive oil – in just 15 minutes. This simple, yet fancy and flavorful caprese salad recipe is going to be playing on repeat at my house all summer long.
Author:
Prep Time:

15 Minutes

Total Time:

15 minutes

Yield:

4

–

6

Servings

1

x
Category:

Appetizer / Side Dish

Method:

No Cook

Cuisine:

Italian
1.5

lb cherry tomatoes, halved

8 oz

burrata cheese

1 tbsp

extra virgin olive oil

1 tbsp

balsamic vinegar, high quality

1 tbsp

chopped fresh basil
Salt, to taste
Black pepper, to taste
Instructions
Add the cherry tomatoes, olive oil, balsamic vinegar, and chopped fresh basil to a large mixing bowl.  Combine thoroughly. Season with salt and black pepper to taste.
Transfer the  tomato mixture to a large shallow bowl or large platter.  Spread them evenly. 
Break the burrata cheese into four pieces. Place the cheese pieces on top of the tomatoes with the creamy center facing up.
Garnish the salad with extra balsamic vinegar, olive oil, fresh basil leaves, and cracked black pepper.
Serve and enjoy!
Keywords: burrata caprese, caprese burrata, burrata caprese salad, tomato caprese with fresh burrata
This post may contain affiliate links, which if a product is purchased through I may recieve a small compensation. I only recommend products I love and use in my life and cooking! Thank you for supporting wellnessbykay.