Last Updated on July 26, 2023 by Kayla Berman
My tantalizing Stone Fruit Salad features a medley of succulent peaches, plums, and nectarines, juicy berries, fresh mint, and a luscious honey lemon vanilla dressing. Welcome to the delightful world of summer flavors!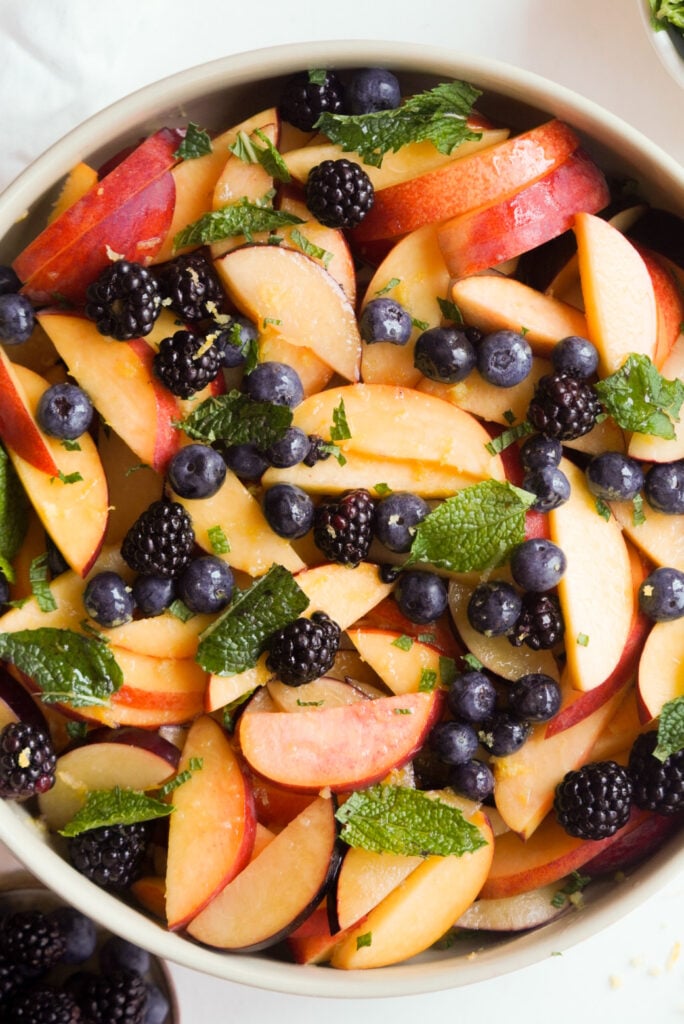 About/Why You'll Love This Recipe
Summer is the time to gather your friends, set up a picnic blanket, and dive into an irresistible fruit salad with peaches and plums. Get ready to experience a bowlful of colorful deliciousness, the perfect balance of sweetness and tang, all crowned with the fragrant freshness of mint.
Oh, and don't forget that honey lemon vanilla dressing – it's the golden drizzle of pure bliss that ties everything together! Aside from being a bright, colorful celebration on a plate, my peach nectarine plum salad recipe is also:
Quick & No-Cook. This sweet and juicy stonefruit salad recipe requires no cooking whatsoever and will be ready in just 15 minutes. It's a lifesaver for those scorching hot days when the thought of turning on the stove seems unbearable. 🥵
Perfect For Any Warm Weather Occasion. Whether you're planning a lively BBQ, a relaxed cookout, or a pool party, this refreshingly lemony, minty fruit salad is your go-to companion during the glorious stone fruit season.
Light & Lovely. Not only is this peach, plum, & nectarine salad a delightful addition to your festive spread, but it also doubles as a perfectly light, guilt-free stone fruit dessert option that won't leave you feeling weighed down. It's time to savor the flavors of summer while nourishing your body with the goodness it deserves!
Make-Ahead-Friendly – Unlike some other fruit salads, this tasty little number is perfect for assembling ahead of time. It's a great meal prep-friendly way to enjoy these sturdy summer fruits!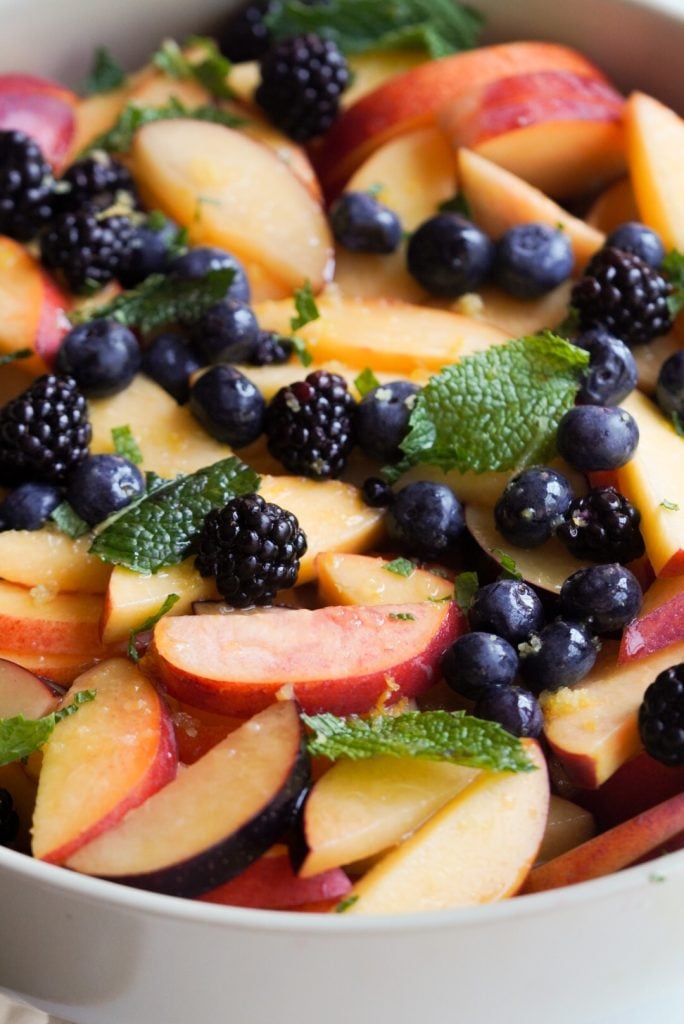 What is stone fruit? What are the different types of stone fruit?
Stone fruits are a delightful category of fruits that have a fleshy exterior surrounding a hard "stone" or pit at their core. These pits encase the seeds of the fruit. They are known for their juicy, sweet, and often tangy flavors, making them a true summer sensation.
Here are some of the most popular types of stone fruits for this salad recipe:
Peaches: Ah, the beloved peach! With its velvety skin and juicy, golden flesh, peaches are a summer staple. They come in various varieties, such as clingstone (where the flesh clings to the pit) or freestone (where the pit easily separates from the flesh). Peaches are incredibly versatile and lend a luscious sweetness to any dish.
Plums: Plums are little gems in the fruit world. They can range in color from deep purple to vibrant red, and even golden yellow. They have a slightly tart skin that encases sweet, juicy flesh. Some popular varieties include Santa Rosa, Black Beauty, and Damson plums.
Nectarines: Often mistaken for peaches, nectarines are a smooth-skinned variety that shares a similar taste profile. Their flesh is firm, succulent, and slightly tangy, making them a delightful addition to any stone fruit salad. The main difference is the absence of peach fuzz, making nectarines an excellent choice for those who prefer a smoother eating experience.
Cherries: Don't let their small size fool you – cherries pack a punch of flavor! These tiny stone fruits come in both sweet and tart varieties. I suggest reaching for sweet cherry varieties like golden Ranier or deep red Bing. Also, if you love eating cherries as much as I do, consider investing in a cherry pitter. 🍒
Apricots: Apricots are gorgeous little golden nuggets. With their velvety skin and delicate flavor, they are a true delight. These small, round stone fruits have a sweet and slightly tart taste. Apricots are often enjoyed fresh, but they can also be dried or used in baking and preserves.
While the following stone fruits might not be commonly used in this salad, they are still worth mentioning as they are still delicious and in the same family:
Mangoes: Known for their tropical appeal, mangoes are a juicy and luscious stone fruit with creamy, fibrous flesh and a rich, sweet flavor that adds a burst of exotic taste to any recipe.
Lychees: These small, translucent fruits are native to tropical regions and are adored for their fragrant aroma and juicy, slightly sweet flesh.
Dates: These chewy brown treats are essentially nature's candy. They're soft, sweet, and sticky, making them perfect for adding to cookies or blitzing into sauces for added sweetness.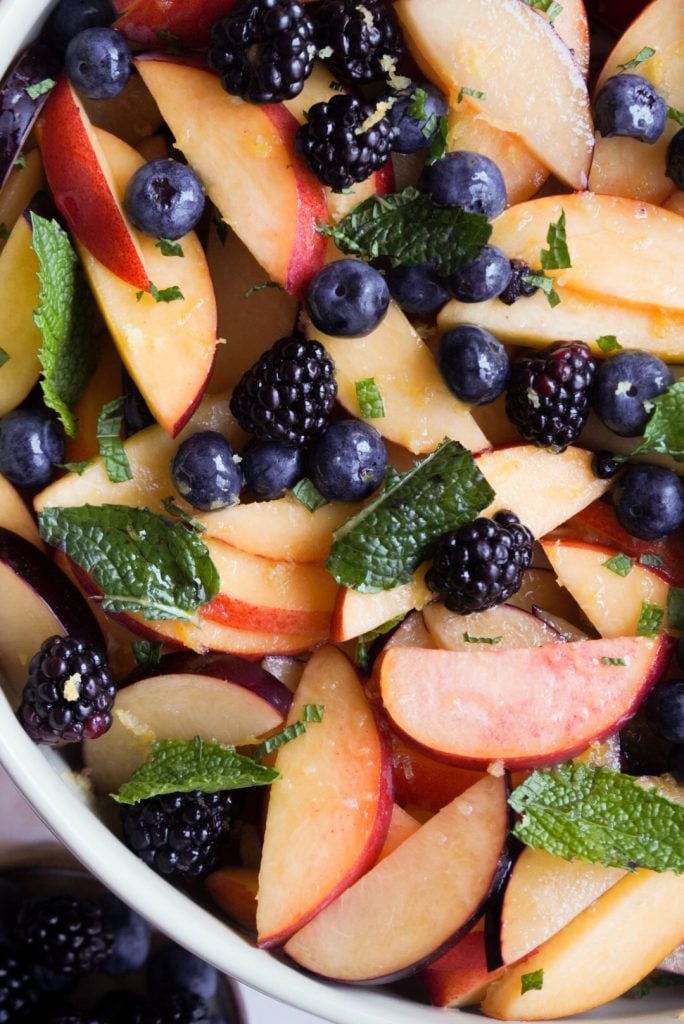 Ingredients & Substitutions
You need little more than fruit to make this bright and beautiful summer fruit salad! Here's what to grab:
Peaches, Plums, & Nectarines – I wait eagerly for this – the warmly hued fruit trifecta all year long. Feel free to swap out anything you don't like for more of what you DO like, peel your peaches if you can't handle the fuzz, or add any other stone fruit (like cherries) or non-stone fruit (like grapes) that you like! 
Berries – Use whatever calls to you at the market. Blueberries, blackberries, boysenberries, strawberries…. ALL. THE. BERRIES. (And/or cherries, which are technically a stone fruit.) 🍒 🫐 🍓 ✨
Fresh Mint Leaves – Mint definitely screams summer to me. Plus, it's SO EASY to grow, so I always have some on hand. (Seriously. I learned you have to keep it in a pot or it can take over your whole garden — it grows like crazy!)
Warm Water – The warm is what's important here — if you add something cold to honey, it has a tendency to seize up. Make sure to whisk them together before adding your lemon juice.
Honey – If possible, buy local! You'd be amazed at the different tastes you can get from bees who feed from different flowers.
Lemon – You'll want the juice and the zest for the perfect puckery 1-2 punch. After you've gotten all the juice out, use the spent lemon rind to clean your wooden cutting boards, deodorize your garbage disposal, or chuck them in a pitcher with your leftover mint stems and cool water for an instant (& free!) water upgrade. 
Vanilla Extract – For a touch of warmth. Feel free to swap in almond extract here — almonds and stonefruit are good buddies.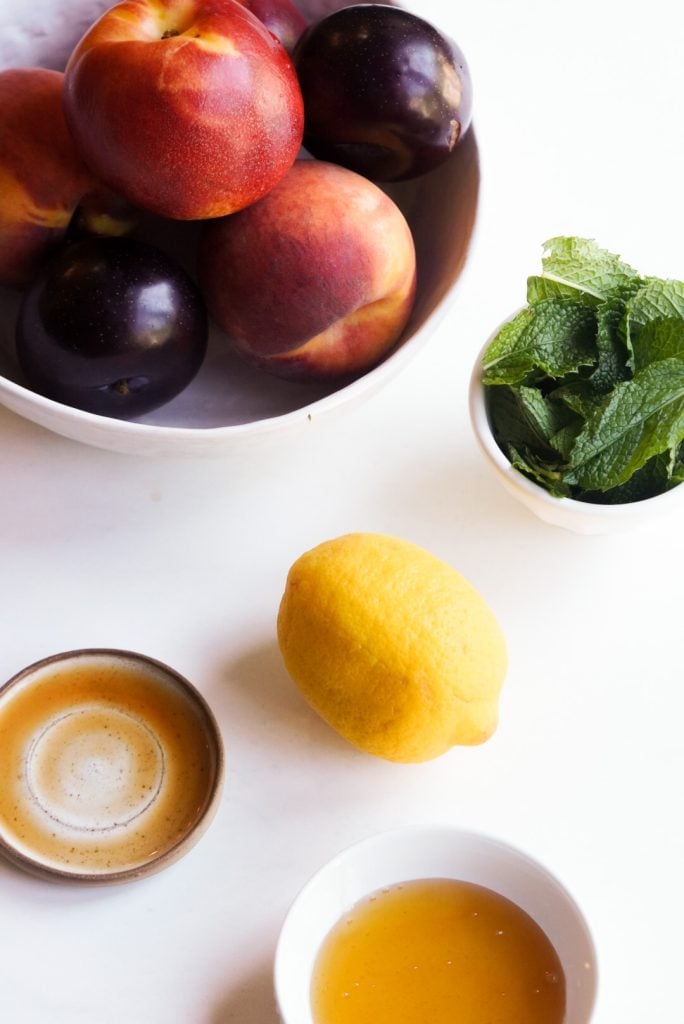 Equipment
How To Make Summer Stone Fruit Salad
This fruit mint salad comes together in just a few simple steps:
Step 1: Add the peach slices, plum slices, and nectarine slices to a large serving bowl.  Combine thoroughly.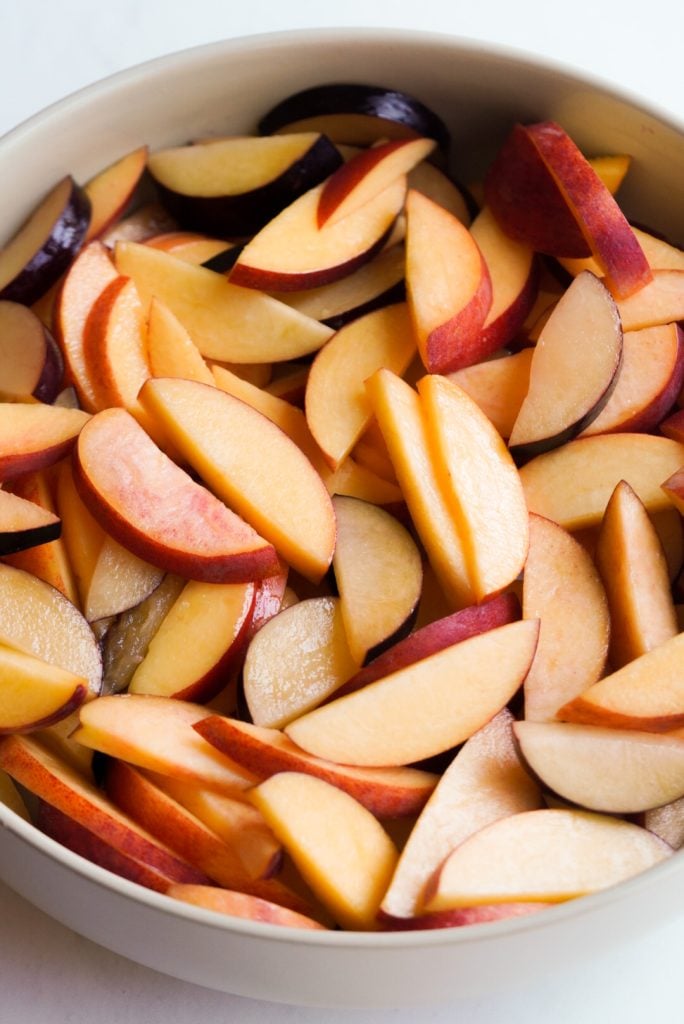 Step 2: Arrange the berries and fresh mint leaves on top of the fruit.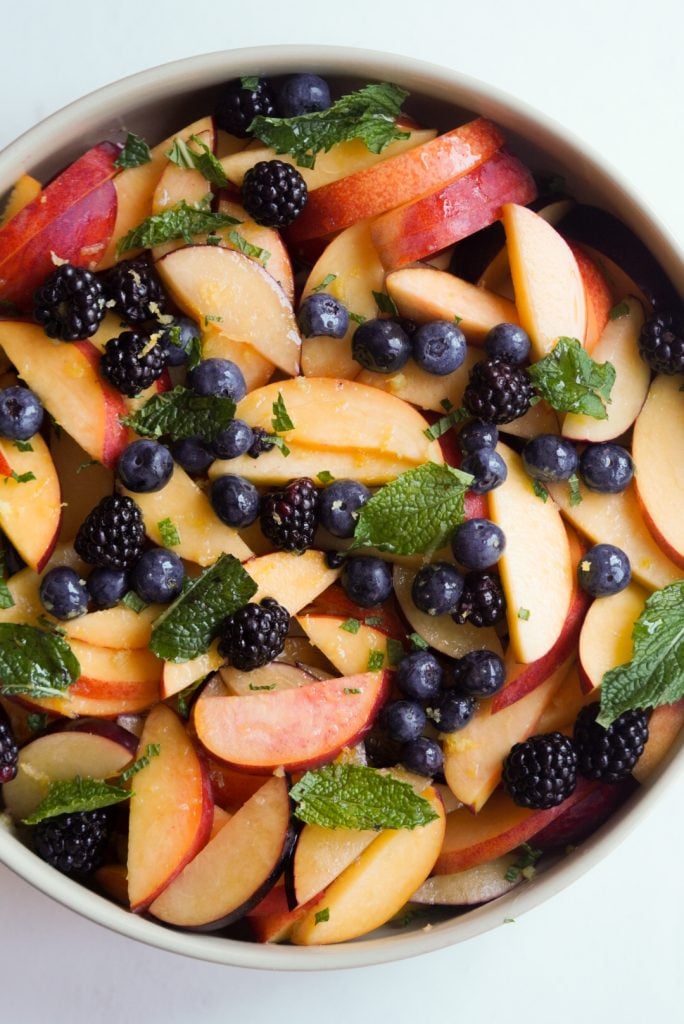 Step 3: Add the warm water, honey, fresh lemon juice, lemon zest, and vanilla extract to a separate small bowl.  Combine thoroughly.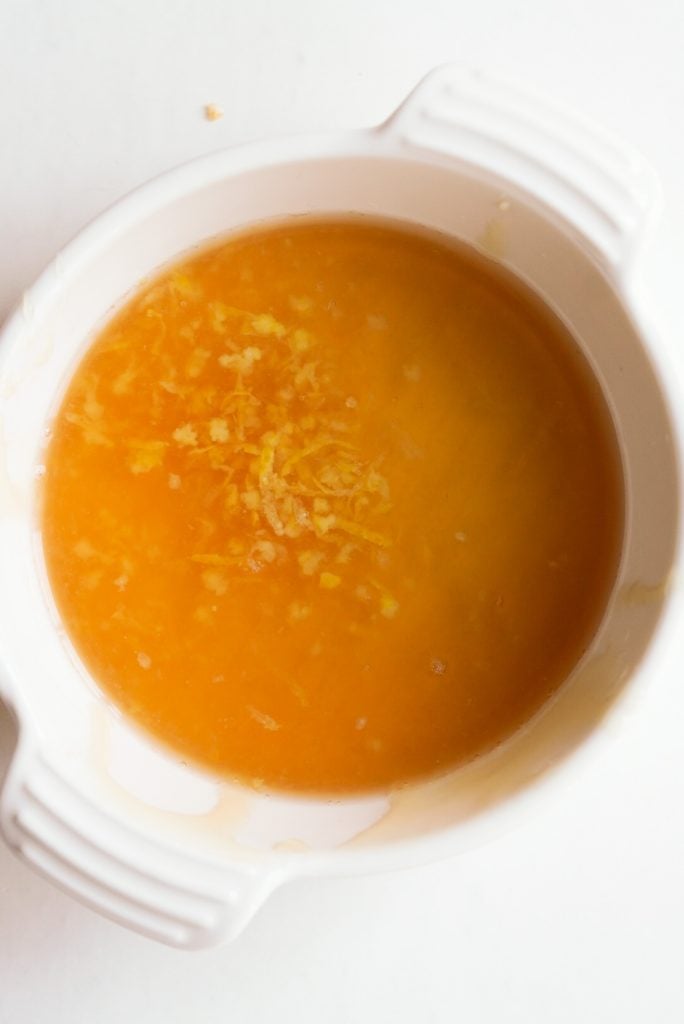 Step 4: Drizzle the honey lemon mixture on top of the fruit salad. Garnish with extra chopped fresh mint and lemon zest.
Step 5: Serve and enjoy! Or, store for up to 2-3 days in the fridge!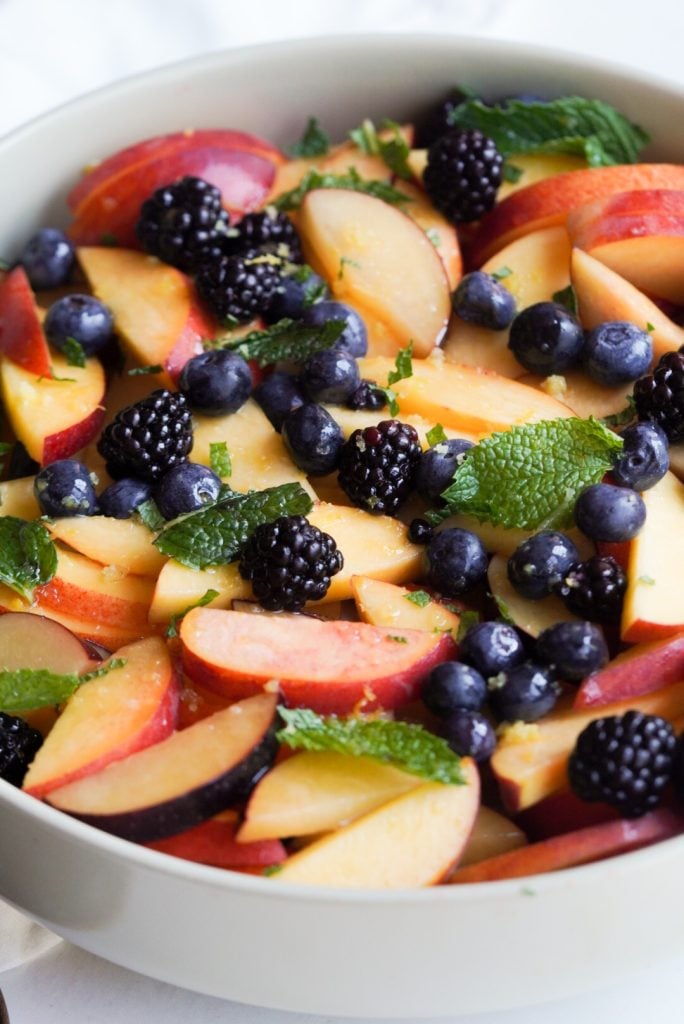 Optional Variations & Dietary Adaptations
Vegan – Trade out the honey in the lemony mint dressing for a plant-based alternative like maple syrup or agave.
Grilled Nectarine Salad – Give your salad a smoky upgrade with grilled stone fruit.
Make it Dessert – Serve this sunset-hued fruit recipe with yogurt and granola, top it with whipped cream, or spoon it over ice cream.
Upgrade Breakfast – The fastest way to turn into a morning person? Keep some of my favorite fruit salad in the fridge. It's delicious on top of oatmeal, pancakes, waffles, yogurt, cottage cheese, and just about everything else you can think of. 😉
Go Savory – Swap in basil for the mint and add olive oil, salt,& pepper. Go ahead and add some mozzarella (or gooey burrata!) and make it a stone fruit caprese salad. Or, use salty feta cheese and mint!
Expert Tips
If you are not serving the fruit salad, you can simply combine all of the ingredients in a large mixing bowl and enjoy it throughout the week! Feel free to divvy out your fruit salad into individual grab-and-go containers (with overnight oats, perhaps?), or keep it in a giant bowl that you can eat directly from, because ADULTHOOD. 😆
Use fruit that is *just* ripe enough to yield under gentle pressure from your thumb. If it's too ripe, you lose out on the staying power of this delightful peach and plum salad.
If you add other fruits, note that they may oxidize and/or turn more quickly than the stone fruit and berries I've called for. Grapes are good choices, but bananas and apples? Not so much. Any fruit will probably taste good alongside these beauties, because fruit is awesome. Just make sure to choose appropriately if you're meal prepping.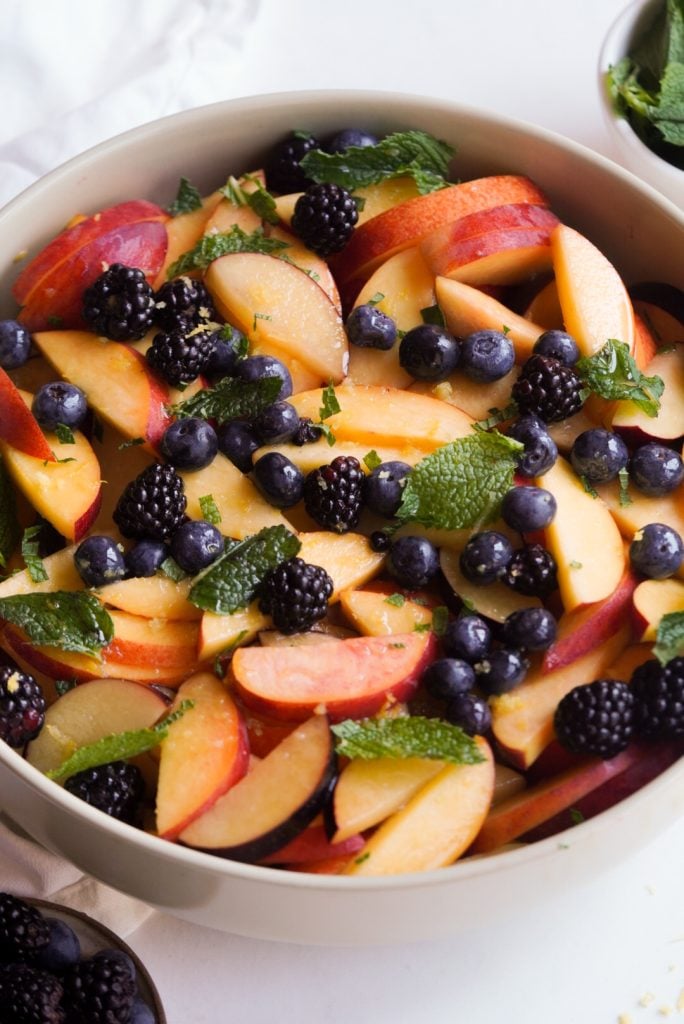 Serving Suggestions
Now that you have this irresistible Stone Fruit Salad ready to go, let's dive into some fantastic serving suggestions that will take your summer gatherings to the next level!
First up, this salad is a perfect summer party appetizer or dessert. Imagine a colorful platter of vibrant fruits, beautifully arranged and beckoning your guests to indulge. It's like a burst of sunshine on your table, instantly setting the mood for a fun and delicious gathering.
But why limit yourself to indoor parties? This yummy fruit salad is just begging to be taken to the beach or enjoyed by the pool on a scorching summer day. Pack it up in a portable container, grab a beach towel or a poolside lounger, and get ready for a refreshing feast. The combination of juicy stone fruits, tangy berries, and that heavenly dressing will keep you cool and hydrated while you soak up the rays. 😎
Finally, why not use this fruit salad for meal prep? Slice up those luscious summer stone fruits, mix them with your favorite berries, and drizzle on that delectable honey lemon dressing. Divide the tastiness into individual portions in airtight containers, and voila! You have a healthy, grab-and-go snack or light lunch option for the next few days. Isn't it great having a taste of summer within arm's reach whenever hunger strikes?? You're welcome!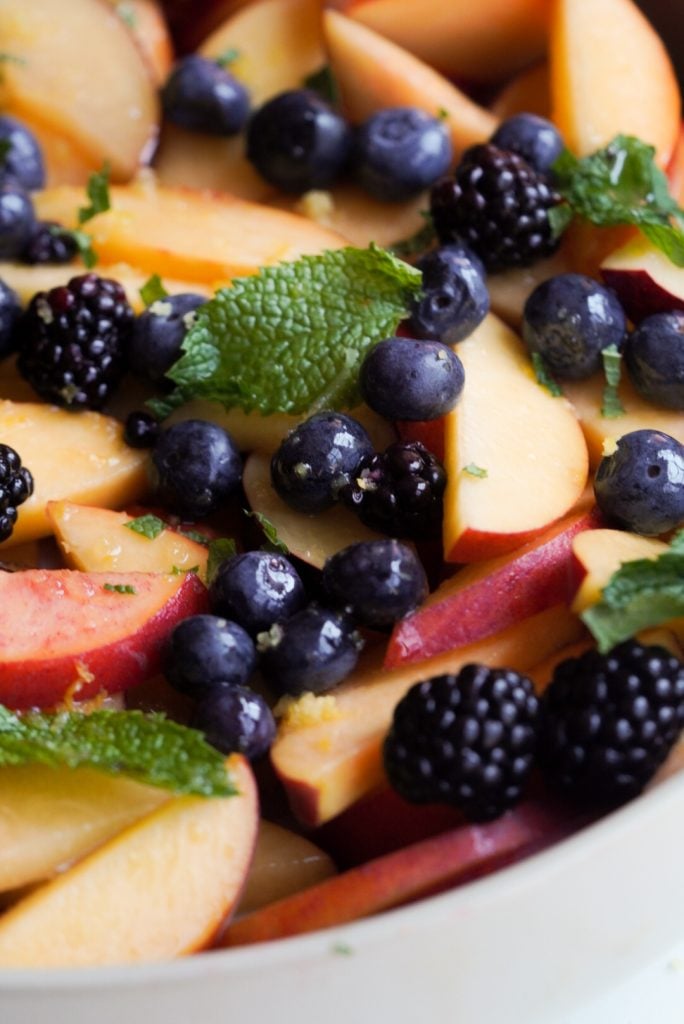 FAQs
What other fruit could I swap in?
Looking to jazz up your stone fruit filled salad with some other delightful fruits? Well, you're in luck because I've got a handful of tasty options that will take your salad game to the next level!

Let's start with pineapple. Oh, those juicy yellow chunks! They bring a tropical twist to your salad, infusing it with a sweet and tangy flavor that perfectly complements the other fruits. It's like a mini vacation in a bowl, adding a refreshing burst of tropical goodness to every bite.

Now, imagine cubes of refreshing watermelon making their way into your salad. Especially on those scorching summer days, the cool and crisp texture of watermelon is an absolute game-changer. It not only complements the other fruits flawlessly but also adds a natural sweetness that creates a delightful contrast.

Want to add a burst of juiciness and a touch of sweetness? Look no further than seedless grapes. Whether you go for green, red, or black, these little gems bring a pop of color and a refreshing element to your salad. They're like tiny flavor bombs that explode with juiciness and a hint of natural sweetness.

Now, how about some citrusy goodness? Picture segments of oranges, mandarins, or grapefruits making an appearance in your salad. The tangy and zesty flavors of these citrus fruits balance out the sweetness of the other fruits, creating a vibrant burst of citrusy freshness that's simply irresistible.

Ready for a tart and tangy addition? Slice up some kiwi! The bright green flesh and those little black seeds of the kiwi add visual appeal to your salad, while the unique flavor brings a delightful twist to the mix. It's like a tangy surprise that keeps your tastebuds dancing.

Last but not least, let's not forget about musk melons. Whether it's luscious cantaloupe, refreshing honeydew, or thin-skinned Korean melon, these juicy delights make a fantastic substitute or addition to your stone fruit salad. Their mildly sweet flavor pairs like a dream with the other fruits, adding a refreshing element that will make your tastebuds sing.
What garnishes can be used on fruit salad?
I suggest adding a few sprigs of fresh herbs for a bit of green to contrast with all the warm oranges and reds in this summer salad.
Do I have to use mint?
Nope! As much as I love the bright, refreshing flavor of fresh mint in this stonefruit salad, it's definitely not your only choice. Try swapping in other tender herbs like basil, Thai basil, tarragon, or thyme. You're also welcome to go in a warmer direction by using spices like ginger, cinnamon, cardamom, or clove.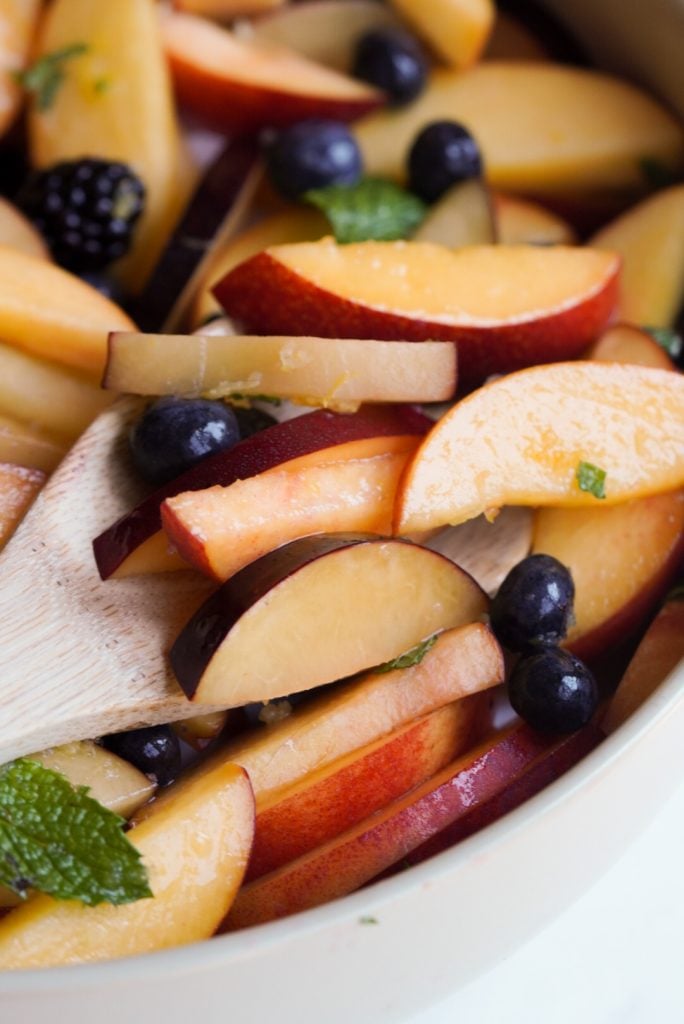 Related Recipes
More Summer Salads
Stone Fruit Recipe(s)
Connect With Me!
If you make this fruit salad recipe or any of my other recipes, I would absolutely love to know! Tag me @wellnessbykay on Instagram so I can see and share your recreations.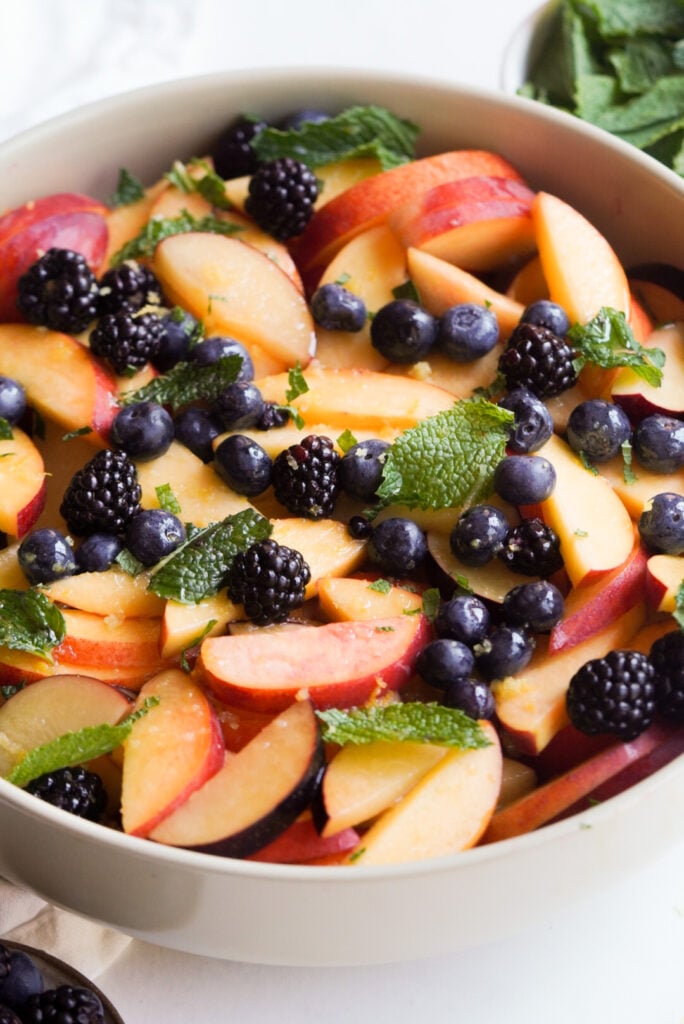 Love this recipe? Leave a comment and a rating! I love to see and it helps me continue to develop delicious recipes for this blog.
Print
Stone Fruit Salad
My tantalizing Stone Fruit Salad features a medley of succulent peaches, plums, and nectarines, bright, juicy berries, fresh mint, and a luscious honey lemon vanilla dressing. Welcome to the delightful world of summer flavors! 
Author:
Prep Time:

15 Minutes

Total Time:

15 minutes

Yield:

5

Servings

1

x
Category:

Side Dish
2

peaches, sliced

2

plums, sliced

2

nectarines, sliced

1/2 cup

berries
Fresh mint leaves

1 tbsp

warm water

2 tbsp

honey

1 tbsp

fresh lemon juice

1 tsp

lemon zest

1/2 tsp

vanilla extract
Instructions
Add the peach slices, plum slices, and nectarine slices to a large serving bowl.  Combine thoroughly.
Arrange the berries and fresh mint leaves on top of the fruit.  
Next add the warm water, honey, fresh lemon juice, lemon zest, and vanilla extract to a separate small bowl.  Combine thoroughly.
Drizzle the honey lemon mixture on top of the fruit salad.Garnish with extra chopped fresh mint and lemon zest.
Serve and enjoy!
Keywords: Stone Fruit Salad, Stonefruit Salad, Plum Salad, Peaches Fruit Salad, Summer Stone Fruit Salad, Fruit Mint Salad, What Is Stone Fruit
This post may contain affiliate links, which if a product is purchased through I may recieve a small compensation. I only recommend products I love and use in my life and cooking! Thank you for supporting wellnessbykay.