Last Updated on July 20, 2023 by Kayla Berman
This Orange Banana Smoothie is the refreshing recipe you have been looking for! Made with fresh and frozen fruit, creamy greek yogurt, and natural honey in about 5 minutes total … this easy and healthy smoothie recipe tastes like an orange creamsicle or Orange Julius without the unnecessary added sugars.
It is absolutely perfect when you are craving a cool ice cream-like treat, but want something on the better-for-you side! It works for breakfast, an afternoon snack, or even dessert. The options are truly endless for this tropical flavored fruit smoothie!
Looking for more recipes to transport you to the tropics? Check out my Pineapple Coconut Baked Oatmeal!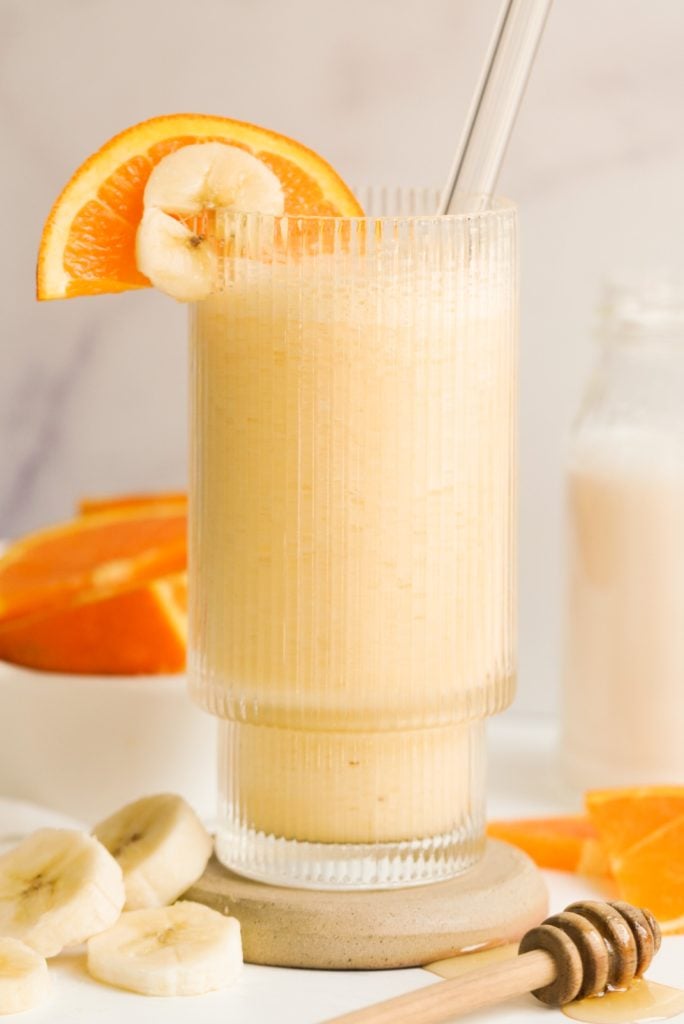 Orange & Banana Smoothie Benefits
This smoothie recipe is loaded with health benefits and two servings of fruit! The orange is packed with vitamin C to boost your immune system and protect your cells from damage. It even helps to give you smoother skin!
Banana is also great for your health and provides essential nutrients. The yellow fruit has tons of potassium and magnesium, which are great for your heart health! They're also helpful in relieving muscle cramps, fueling up for your workouts, and are a great source of fiber.
Lastly, this smoothie gets a perfect protein boost from the greek yogurt. Plus to top it all off – you'll get all these wonderful health benefits from a delicious smoothie that literally tastes like a sweet treat! It is truly the best.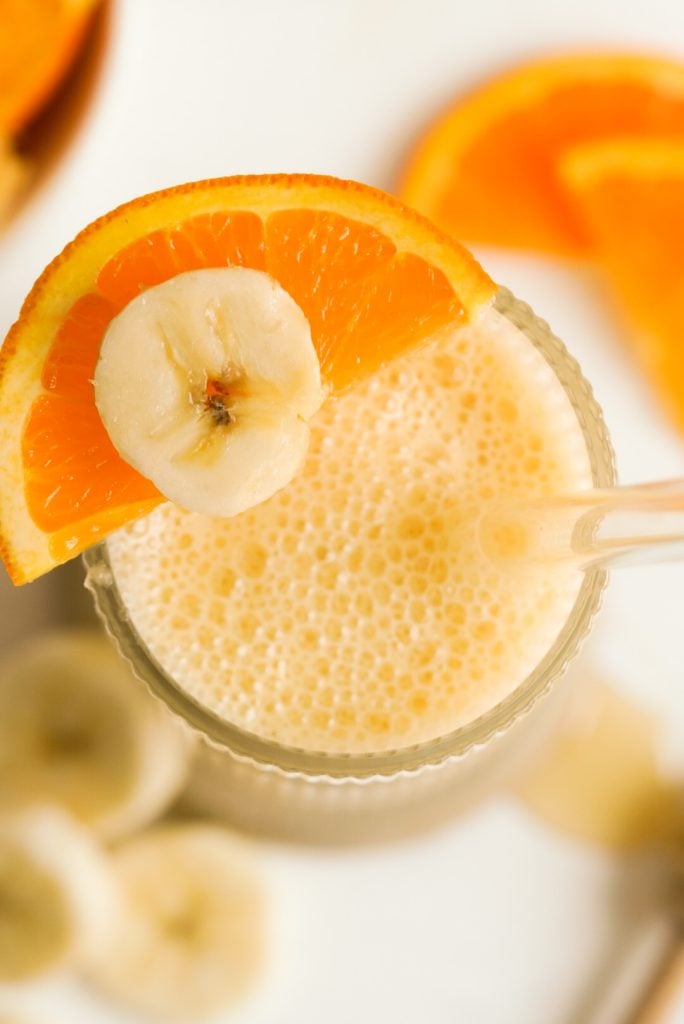 What Else You'll Love About This Smoothie
SO Easy-To-Make: This smoothie is about as easy as easy gets. Just toss the ingredients in a blender, blend, and enjoy. It's perfect for busy mornings or when your hanger strikes and you need to eat something like yesterday!
Tasty & Tropical: The combination of orange, banana, vanilla, and honey creates an unbeatable flavor that really feels like your sippin' on sunshine. The beautiful, bright color helps too!
Extra Refreshing: I can personally attest that my whole family guzzled down these smoothies on the extra hot summer day I made them. The tropical flavor, creamy texture, and cooling affect of this drink are truly a dream come true. They are perfect to beat the heat with!!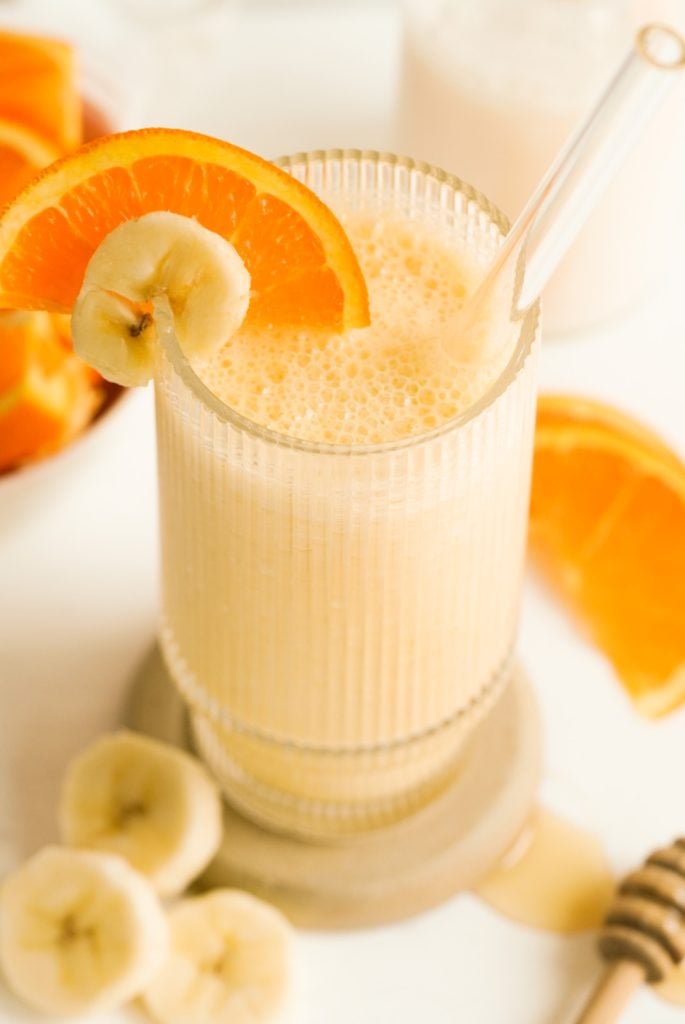 Ingredients & Substitutions
This creamy, dreamy fresh orange smoothie calls for all wholesome and simple ingredients! It is the perfect afternoon snack or quick breakfast on a busy morning.
Now let's get into the delicious details:
Orange: Fresh orange makes this smoothie refreshing and flavorful! You will need 1 whole orange.
Banana: Banana adds the perfect natural sweetness to this creamsicle smoothie. It also makes for a thick and creamy texture! You'll need 1 small frozen banana.
Greek Yogurt: To up the creaminess here even more, add 1/3 cup of plain yogurt! It also adds a nice serving of protein.
Almond Milk: I always use unsweetened vanilla almond milk in my recipes, but you can really use the milk of your choice. Coconut milk would be a delicious substitution and would add some more tropical flavor. Add 1/2 cup!
Honey: 1 tbsp of honey adds the perfect touch of refined sugar free sweetness to this banana and orange smoothie! Maple syrup or agave nectar could alternatively be used.
Vanilla Extract: Vanilla extract adds sweet flavor that pair wonderfully with the orange in this recipe. It really gives that creamsicle vibe! You'll need 1 tsp.
Ice: Add a handful of ice to keep this smoothie cool and refreshing!
Grab your short list of ingredients and let's get blending! In 5 minutes you'll be smoothie sippin' away.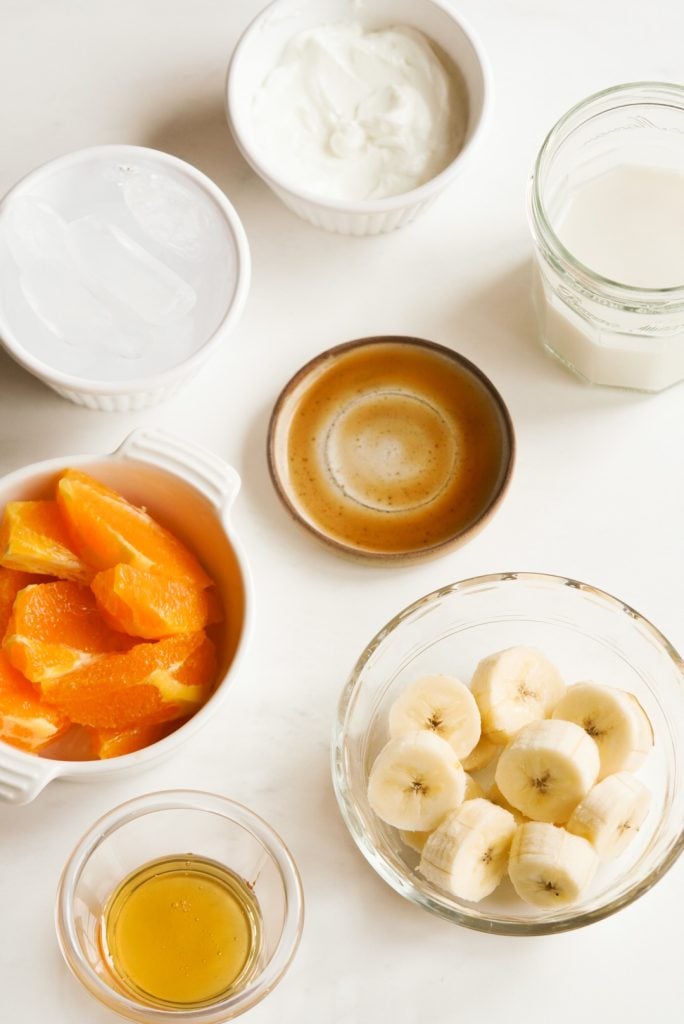 Equipment
This post contains affiliate links. As an Amazon Associate, I earn from qualifying purchases. 
How To Make Banana Orange Smoothie
This healthy orange fruit smoothie is as easy as can be to make – you simply blend and enjoy! All you need is five minutes and a blender.
Step 1: Add all ingredients – frozen ripe banana, orange, greek yogurt, almond milk, honey, vanilla extract, and ice cubes – to a blender.  Blend until smooth.
Step 2: Pour into a glass and enjoy!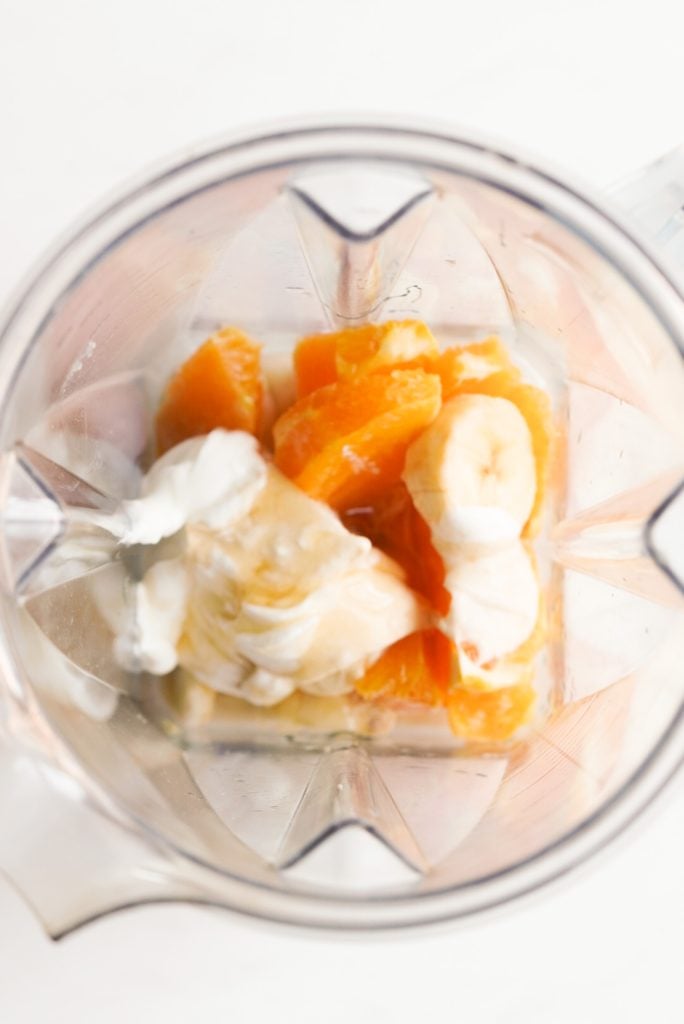 Recipe Variations & Dietary Adaptions
One of my favorite things about this orange and banana smoothie, or any smoothie for that matter, is that it is super customizable! You can add or take away ingredients as you wish.
This recipe serves as a phenomenal base recipe, but there are so many ways you could adapt it to meet your needs or personal preference! Read on below for my ideas on how to up the nutrition factor, make it vegan, and change up the flavor profile. I even have an idea for a whole new way to enjoy this orange-banana concoction.
Add chia or flax seed! Chia seeds and flax seeds are always great additions to smoothies. Chia seeds are packed with nutrients – protein, dietary fiber, antioxidants, and omega 3 fatty acids. Flax seeds are also a great source of omega 3 fatty acids. Both seeds blend wonderfully into a smoothie and will help to keep you fuller for longer too!
Add protein powder! This banana smoothie recipe already gets a nice protein boost from the greek yogurt, but you can up the content even further with a scoop of your favorite protein powder. A scoop of vanilla protein would be delicious and would even add to the creamsicle flavor! My favorite brand to use is Clean Simple Eats. Feel free to use my code KAYLA10 for 10% off all their products!
Make it low sugar! You could lower the sugar in this recipe by swapping in some avocado for the banana. It is a great swap because it will keep the creaminess that the banana provides.
Make it a green smoothie! This simple smoothie could become a green smoothie by just adding a handful of spinach. You wouldn't even taste a difference!
A vegan smoothie! The greek yogurt and honey prevent this smoothie from being vegan. But do not worry if you follow a plant-based diet – there are very simple swaps for these two. Just use your favorite vegan, dairy free yogurt and maple syrup or agave in place of honey.
Up the orange flavor! If you want to up the ante here, and by ante I mean the perfectly sweet and tart orange flavor, I have just the ideas for you. First replace the liquid, almond milk, with orange juice! You could also add some fresh orange zest. YUM.
Use coconut milk! This smoothie already has a tasty tropical vibe, but if you want to really be transported to a beach vacation I recommend using coconut milk in place of the almond milk.
Make popsicles! I have discovered this summer that virtually any smoothie can be turned into a delicious popsicle. All you need is a popsicle mold! Then just blend up the smoothie ingredients and freeze with a stick. How fun would that be? You can check out my Berry Protein Popsicles for more popsicle-making tips and tricks.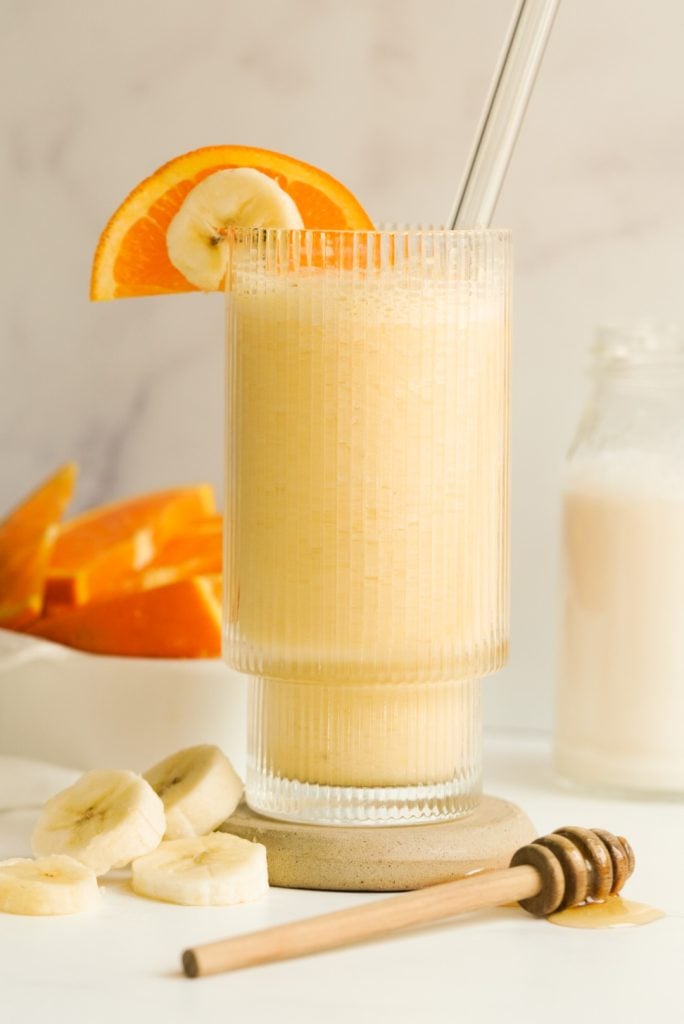 Expert Tips
This smoothie with orange and banana is not too tricky to nail down! All you have to do is blend the ingredients together, therefore there's not much room for error.
However, here are my tips and tricks for making sure you get the most delicious tropical flavor and creamy-dreamy texture each and every time. Plus some of my favorite preparation tips for making your life easier!
Use a high speed blender! A high speed blender works best here to get the creamiest smoothie. It is especially helpful to prevent orange pulp in your smoothie and if you are using a frozen banana, which I recommend!
Freeze your banana! Like mentioned above, I highly recommend you use a frozen banana in this fruit smoothie recipe. A frozen banana makes for a thick and creamy smoothie! It also keeps your smoothie nice and cold without the need of excess ice, which can water down the flavor.
Pre-portion your ingredients! Although this smoothie is quite easy to make as is, my favorite way to make it even easier is to pre-portion my frozen ingredients. Just freeze a peeled orange, a peeled banana, and a handful of ice cubes in a little freezer-safe baggie! Then you can just pop the contents into your blender with almond milk, a scoop of yogurt, a drizzle of honey, a splash of vanilla, and blend away. You can even prepare multiple servings to have orange banana smoothies all week long! Just know with the extra frozen fruit, the orange, you'll really need a high-speed blender to do the trick.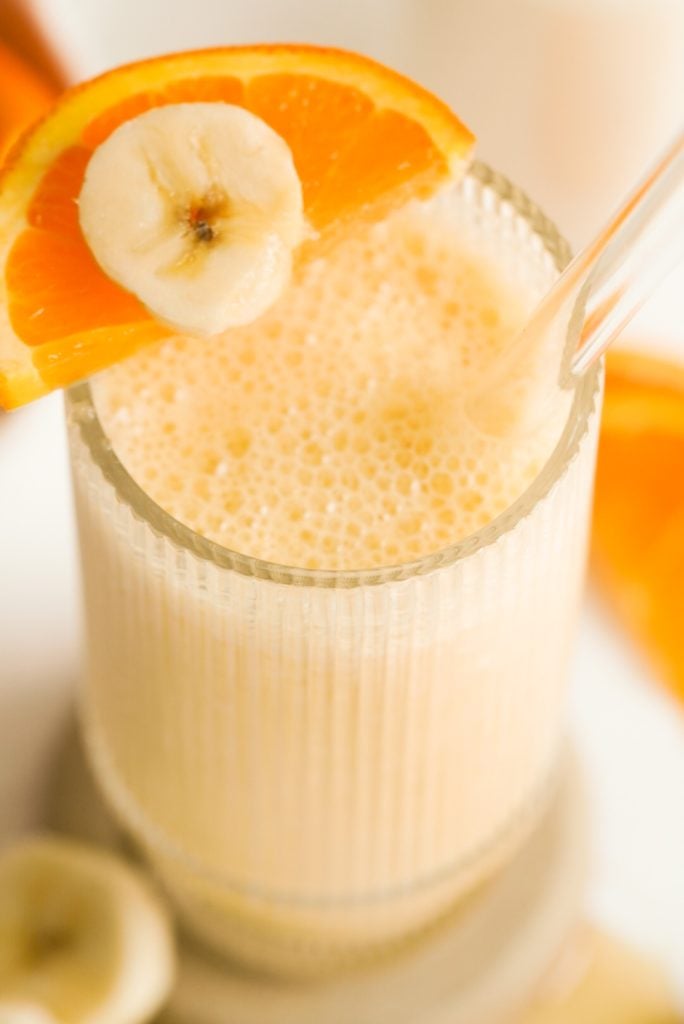 FAQs
Which type of orange should I use?
You can use any type of orange you'd like for this smoothie. There is no specific type you need!
Can I replace the banana with a different fruit?
Yes, you can! You could essentially replace the banana with any fruit you'd like here. Perhaps strawberries for a strawberry orange smoothie.

But I would recommend replacing the yellow fruit with another one of similar sweetness and texture. Mango would be your best bet! I think pineapple would work wonderfully too.
Do I have to use a frozen banana?
No, you do not have to use a frozen banana! Burt I always like to use frozen bananas as they give smoothies the creamiest, thickest texture. They also keep smoothies cool without the need for extra ice!

But a regular, non-frozen banana will work too. The smoothie will be a bit thinner, but the flavor should be the same.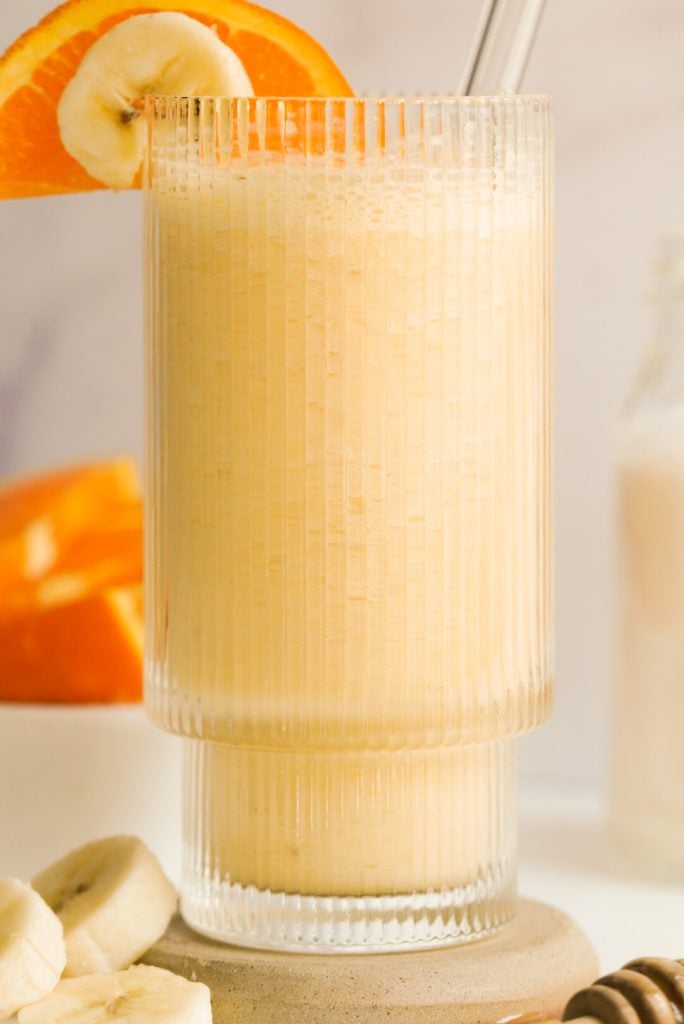 Related Recipes
Healthy Breakfast Recipes
Refreshing Sweet Treats
Connect with me!
If you make this orange smoothie recipe or any of my other recipes, I would absolutely love to know! Tag me @wellnessbykay on instagram so I can see and share your recreations.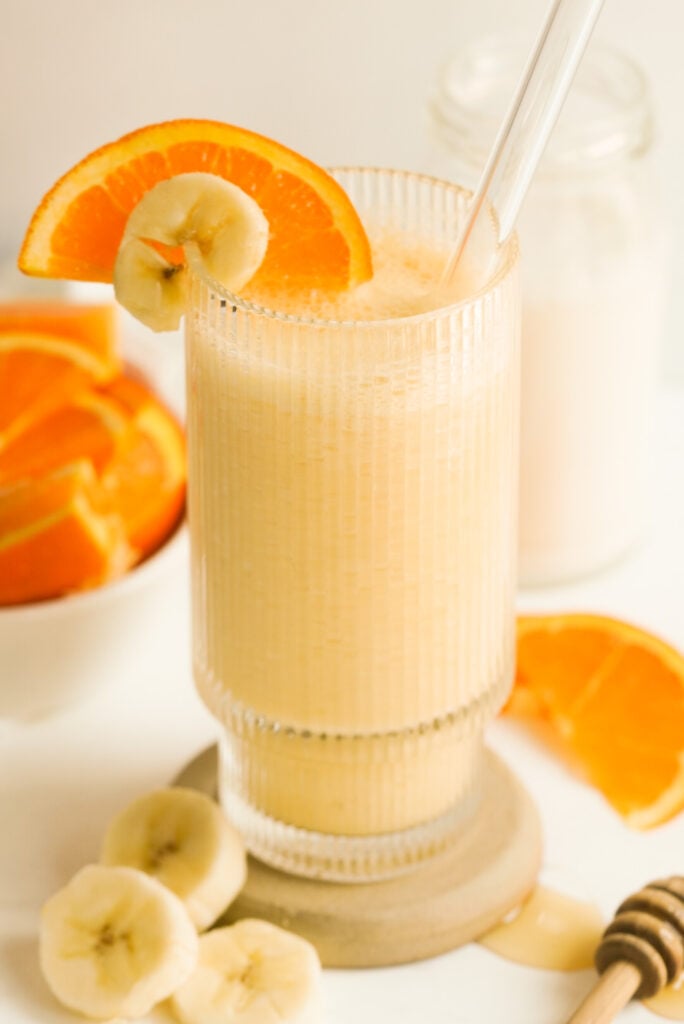 Love this recipe? Leave a comment and a rating! I love to see and it helps me continue to develop delicious recipes for this blog.
Print
Orange Banana Smoothie
This Orange Banana Smoothie is the refreshing summer recipe you have been looking for! Made with fresh fruit, creamy greek yogurt, and natural honey … this easy & healthy smoothie recipe tastes just like an orange creamsicle. It is perfect for breakfast, a snack, or even dessert. The options are truly endless for this dreamy & delicious orange smoothie!
Author:
Prep Time:

5 Minutes

Total Time:

5 minutes

Yield:

1

serving

1

x
Category:

Breakfast/Snack

Method:

Smoothie
Instructions
Add all ingredients – banana, orange, greek yogurt, almond milk, honey, vanilla extract, and ice – to a blender.  Blend until smooth.
Pour into a glass and enjoy!
Keywords: Orange Banana Smoothie, Banana and Orange Smoothie, Banana Orange Smoothie, Orange and Banana Smoothie, Smoothie with Orange and Banana, Fresh Orange Smoothie, Orange Fruit Smoothie, Orange Smoothie Recipe
This post may contain affiliate links, which if a product is purchased through I may recieve a small compensation. I only recommend products I love and use in my life and cooking! Thank you for supporting wellnessbykay.