Last Updated on August 23, 2023 by Kayla Berman
If you're in the market for a deliciously simple fall vegetable side dish, look no further than my Roasted Cauliflower and Carrots! Made with fewer than 10 ingredients and only 15 minutes of active prep, these cheesy, panko-topped carrots and cauliflower florets are the perfect side dish for pot roast, Thanksgiving turkey, Christmas ham, or any other cozy weather fare you can think of!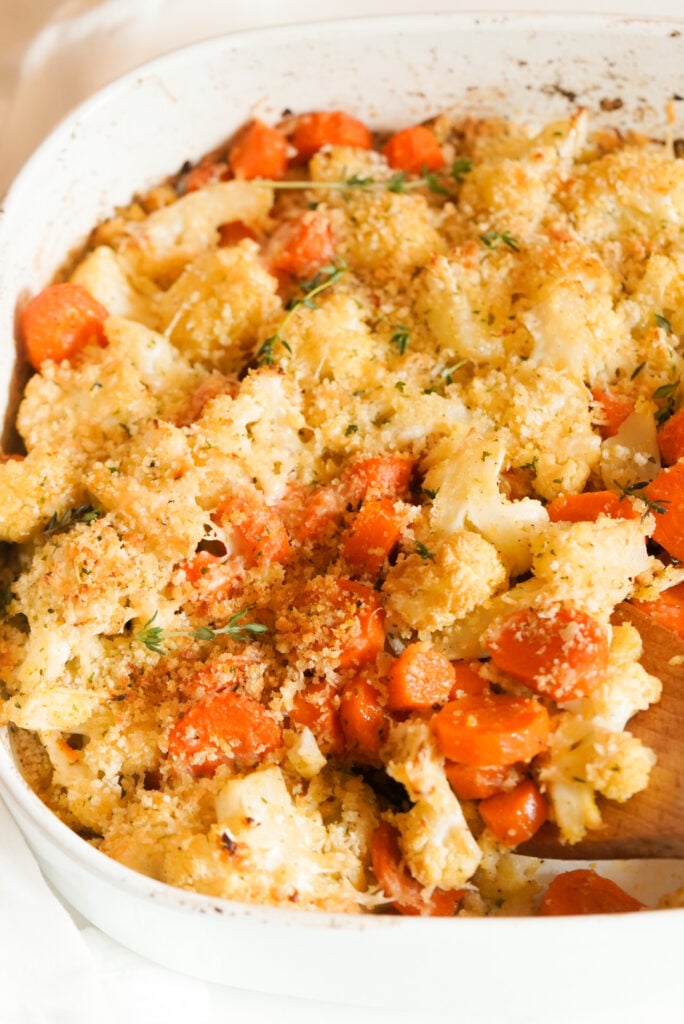 Why You'll Love This Cauliflower Carrot Recipe
After the colorful bounty of juicy summer veggies, you might think your cool-weather vegetable sides are bound to be bland and boring. But, you'd be so wrong!
With clever use of a baking pan or casserole dish, you can easily transform fall and winter vegetables into tender, sweet, nutty nuggets of deliciousness. This delectably light and satisfying cauliflower and carrot side dish is proof-positive that cool-weather veggies are anything but boring! 
And, if the cheesy, crunchy bread-crumb topping wasn't enough to convince you to try this oven-roasted vegetable medley, you should also know that it is:
Quick & Easy – All you need is 15 minutes of active kitchen time, then the oven does all the rest.
Made With Fewer Than 10 Ingredients – Seriously friends, this is the easy carrot side dish you've been missing.
Deliciously Seasonal – Roasting carrots and cauliflower with just a few pantry staples yields a yummy, golden-brown and orange tray of your favorite vegetables that's perfectly on point for fall and winter.
Meal Prep-Friendly – Pre-roasted Thanksgiving veggies? Yes please! This is also a great recipe to whip up on the weekend so you have deliciously prepared veggies to sneak onto your plate all week long.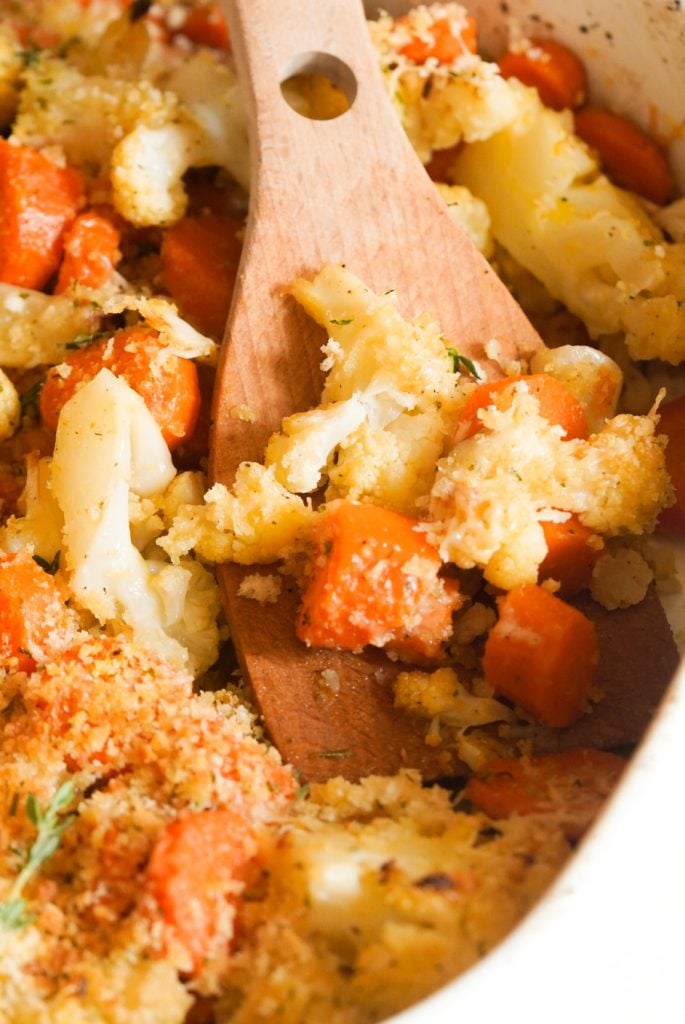 Ingredients & Substitutions
As promised, you only need a few simple ingredients to make this recipe for roasted carrots and cauliflower. Here's what to grab:
Cauliflower – I typically buy a whole head of fresh cauliflower and break it down myself to get the most bang for my buck. That said, feel free to buy a bag of small florets to cut down on prep time. 
Carrots – You're welcome to use a medley of colorful carrots in yellow, orange, or purple to amp up the "wow!" factor. Feel free to use baby-cut carrots too!
Olive Oil – Just your normal cooking oil is perfect here.
Garlic Powder & Onion Powder – These spice aisle staples add allium sweetness and complexity without any papery skins, sticky fingers, or unbiden tears. Hooray! You could always use fresh garlic instead though.  Just mince up a couple of garlic cloves and toss with the small pieces of veg!
Parmesan Cheese – Adding a touch of creamy, salty, umami parm takes these cauliflower and carrots from good to great. Feel free to swap in the hard-aged cheese of your choice, including grana padano or pecorino.
Seasoned Panko Breadcrumbs – Panko, or Japanese breadcrumbs, are lighter and crispier than traditional breadcrumbs, which makes them my favorite for nearly any application. While you're welcome to purchase them pre-seasoned, you can also spice up the plain ones by adding a teaspoon or so of a fall-inspired spice blend like Trader Joe's Everything But The Leftovers or Garlic Garlic Seasoning.
Salt & Black Pepper – Basic seasoning helps to elevate any veggie side.  If you want to up the seasoning try curry powder, paprika, red pepper flakes, or dried herbs!
Olive Oil Spray – If you don't have a kitchen oil mister, you can just use your normal cooking oil or cooking spray. If not, you should be able to find a single-use aerosol bottle of EVOO in the baking aisle of your favorite grocery store.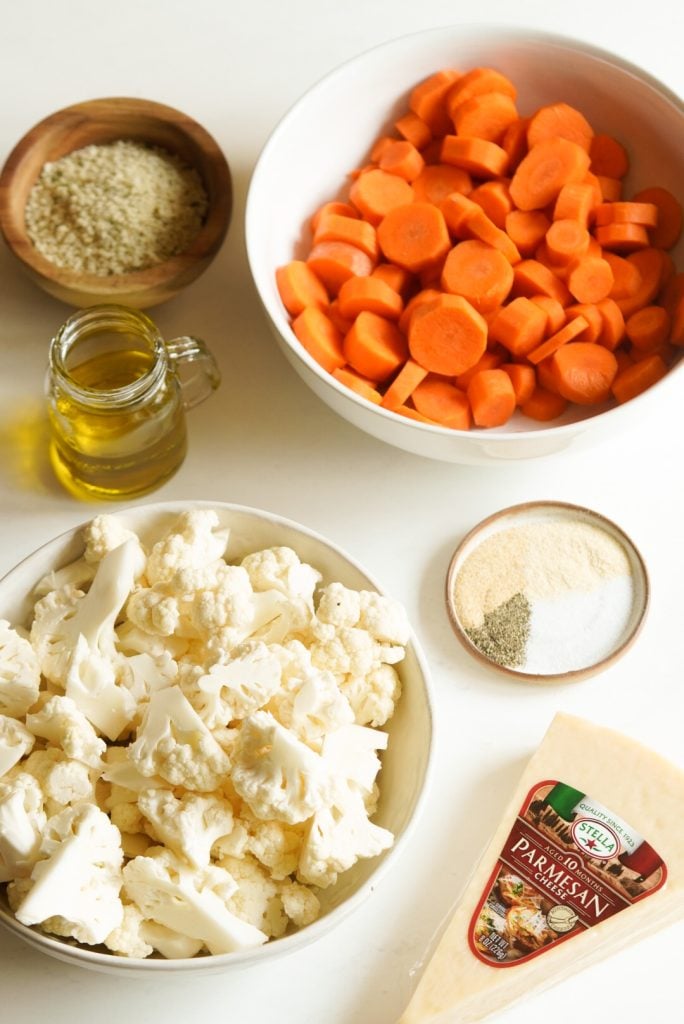 Equipment
How To Make Oven-Roasted Carrots & Cauliflower
Roasting cauliflower and carrots is so simple and so delicious. Here's how it's done:
Prep: Heat oven and prepare dish. Set the oven to 400 degrees. If you like, line your baking dish with parchment paper for easy cleanup. 
Step 1: Toss vegetables with 2 tablespoons of olive oil, garlic powder, onion powder, salt, and black pepper. Transfer to a large baking dish, spreading them out in an even layer.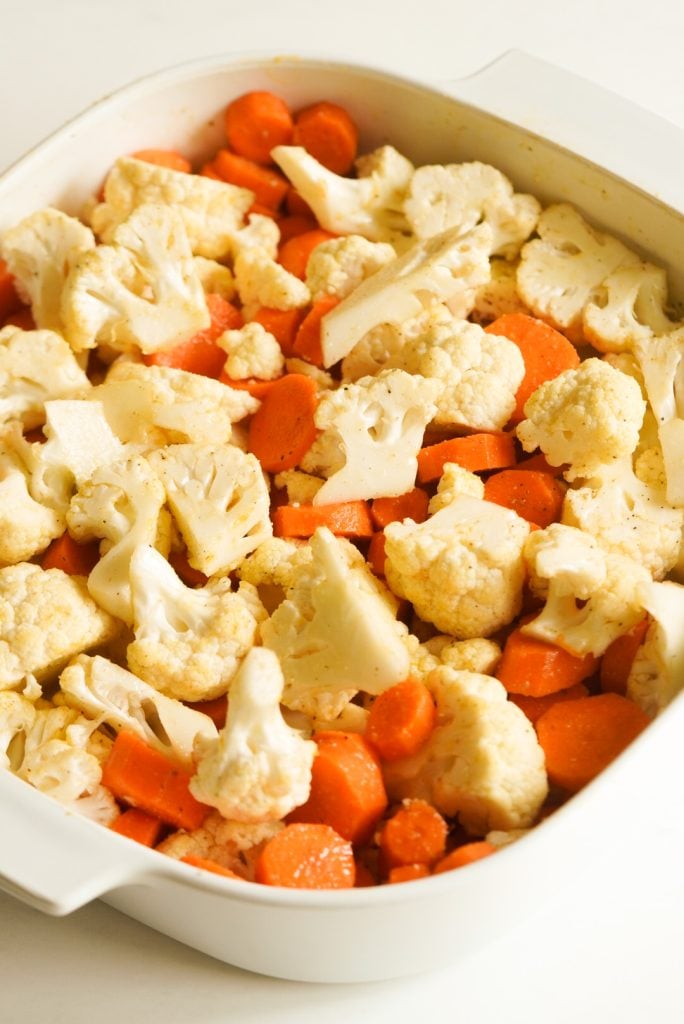 Step 2: Bake for 40 minutes, stirring halfway through. Remove the vegetables from the oven.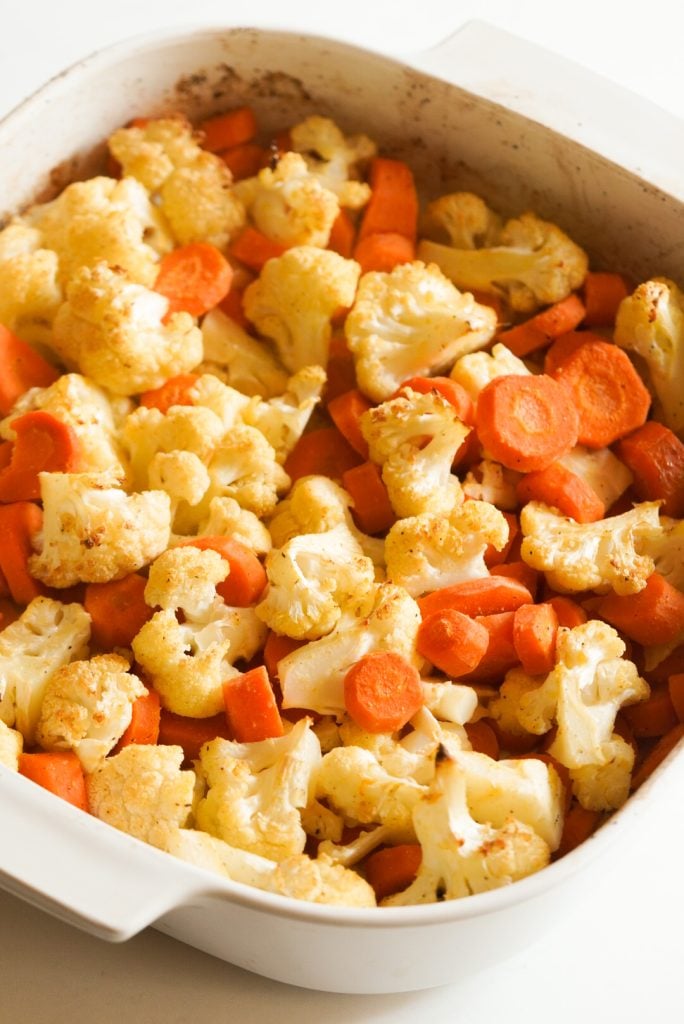 Step 3: Top. Add the remaining tablespoon of olive oil and season with salt and black pepper, tossing to combine. Top the vegetables with the parmesan cheese and Panko bread crumbs, then add a spray of olive oil on top to aid in browning.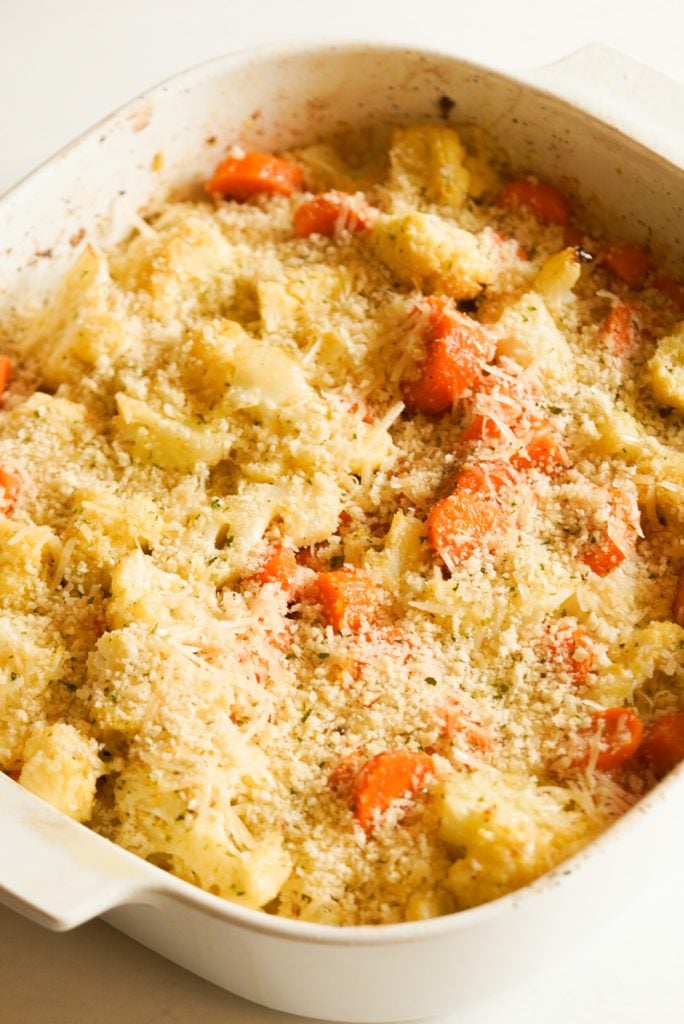 Step 4: Bake for another 10 minutes. Then broil on high for 2-3 minutes to get a golden brown, crispy top.
Step 5: Serve and enjoy!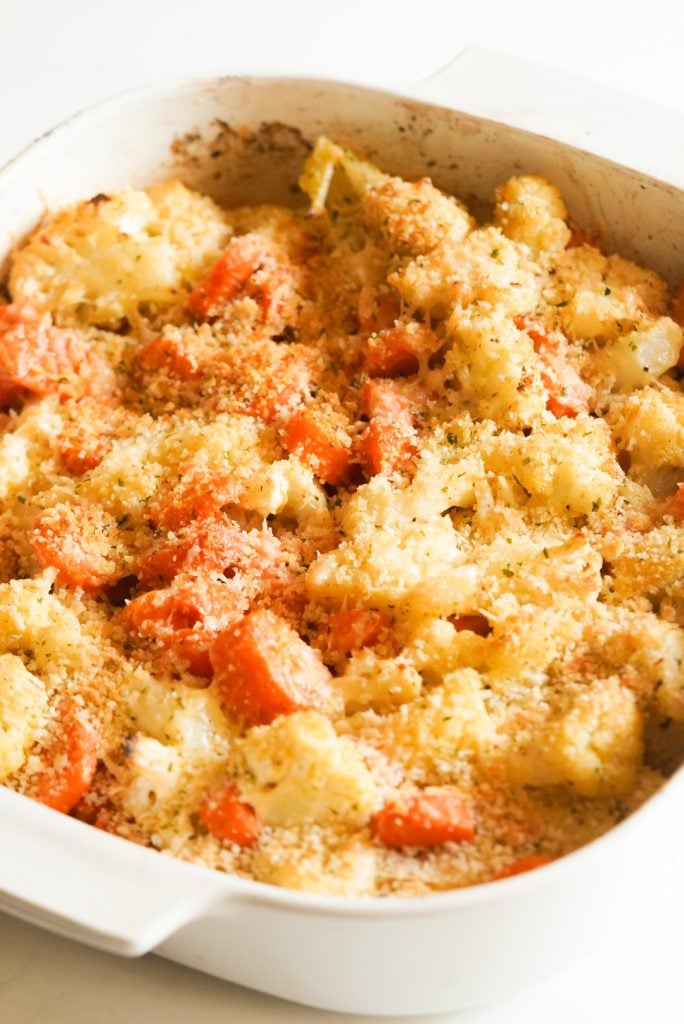 Optional Variations & Dietary Adaptations
This easy roasted veggie side dish is the picture of flavorful perfection, but there are tons of ways for you to make it your own. Here are just a few variations to consider:
Gluten-Free – Simply swap in your preferred gluten-free panko breadcrumb brand!
Dairy-Free/Vegan – Use the plant-based parmesan of your choice, or use a hefty shake of nutritional yeast to replace the cheesy flavors while keeping things vegan-friendly.
Roasted Carrots, Cauliflower, and Broccoli – Add some green to your plate by incorporating cauliflower's cousin, broccoli.
Use Frozen Veggies – Roasting frozen cauliflower is just as easy as roasting fresh, plus you don't have to do any extra prep. Just note that you might need to add a few minutes to the cook time for frozen vegetables.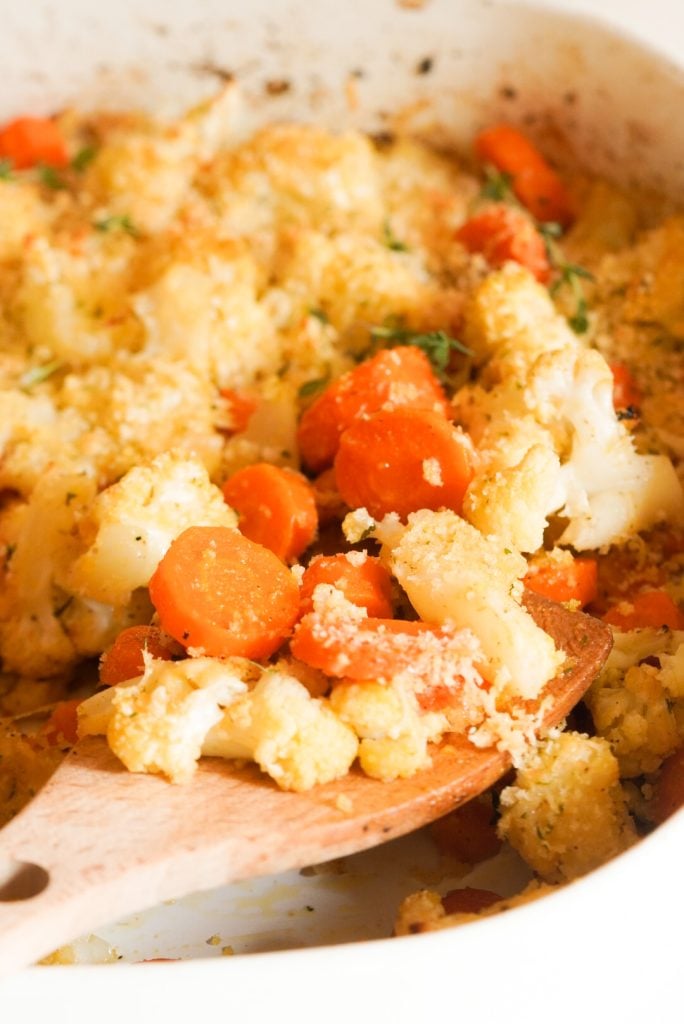 Expert Tips
Roasting veggies can really bring out their natural flavors and add a delightful caramelized touch. Let's dive into some expert tips to make your dish shine:
Prep Like a Pro. Start by preheating your oven so it's nice and toasty before you put the veggies in. While it's heating up, wash your carrots and cauliflower thoroughly and pat them dry. Dry veggies roast better, ensuring they get that lovely golden-brown exterior.
Cut Uniformly. Consistency is key when roasting veggies. Try to cut your carrots and cauliflower into similar-sized pieces to ensure even cooking. You don't want some pieces to turn mushy while others are still too firm!
Mind the Space. Give your veggies some room to breathe on the baking sheet. Crowding the pan can lead to steaming instead of roasting. Use two pans if necessary, or opt for a larger one.
Spread Evenly. Lay out your seasoned veggies in a single layer on the baking sheet. This encourages proper caramelization and prevents them from turning soggy.
Check for Doneness. The carrots and cauliflower should be fork-tender and have a beautiful golden-brown color. If they need a bit more time, you can roast them for an additional 5-10 minutes.
Don't Toss the Cauliflower Stems! You can peel them (using a regular vegetable peeler) to remove the woody exterior, then chop them into bite-sized pieces to roast.
Peeling Your Carrots is Entirely Optional. If you do decide to peel them, save the peels and the root ends in a gallon-sized zip-top bag alongside other veggie scraps like herb stems, onion and garlic peels, etc. When the bag is full, dump it into a stock pot, cover with cool water, then simmer for a totally free batch of homemade vegetable broth!
Season to Your Liking before you add the cheese & breadcrumbs. Feel free to give the veggies a taste and add anything you think they need!
Fresh herbs. Garnish your carrot cauliflower casserole with fresh parsley or fresh thyme to brighten up the dish a bit.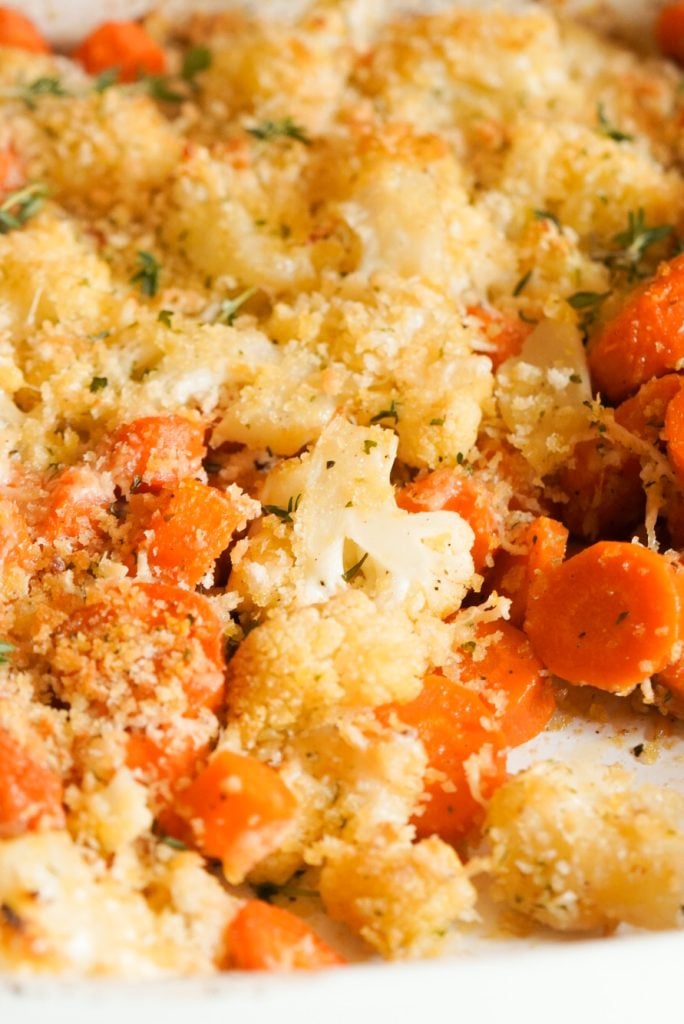 Serving Suggestions
These veggies are the rockstars of your fall and winter kitchen. They are a perfect side to any main dish, but can totally steal all the spotlight too. Here's the lowdown on some super tasty ways to put them to work:
Holiday Roast Veggies: Picture your roasted carrots and cauliflower taking the stage at your holiday meal. The rich caramelization and cozy flavors? They're the ultimate backup dancers to the traditional roast turkey or ham. Bonus: they're lighter than other holiday sides that are all about butter, cream, and carbs!
Veggie Tacos or Wraps: Pile those roasted veggies into soft tortillas or wraps. Throw on some sliced avocado, a bit of chopped cilantro, a squeeze of lime, and a sprinkle of crumbled feta cheese. Boom, you've got yourself a handheld fiesta perfect for Meatless Mondays or Taco Tuesday!
Roasted Veggie Pizza: Brace yourself for pizza magic. Your roasted carrots and cauliflower are the unexpected VIPs in the homemade pizza party. Start with a swipe of tomato sauce or basil pesto, sprinkle some shredded mozzarella, and toss your roasted veggies on top. Stick it in the oven till the cheese gets all gooey and fabulous – now that's a pizza with serious style!
Veggie Power Salad: Toss those roasted veggies into a bed of fresh greens. Then, add some toasted nuts, throw in a handful of dried cranberries, and drizzle on a zesty vinaigrette.
Roasted Veggie Grain Bowl: Get ready to taste the rainbow in a bowl. Mix those roasted veggies with your fave cooked grains like quinoa, bulgur, or farro. Add in some roasted chickpeas, a bit of arugula, and a drizzle of lemon-tahini dressing for a bowl of wholesome deliciousness.
Veggie-Packed Omelette or Frittata: Rise and shine with some veggie power. Fold those roasted veggies into a fluffy omelette or frittata. Throw in some sautéed onions, bell peppers – and wait for it – a sprinkle of goat cheese. It's the perfect make-ahead meal for a lazy weekend brunch or for grab-and go breakfast or lunch options throughout the week.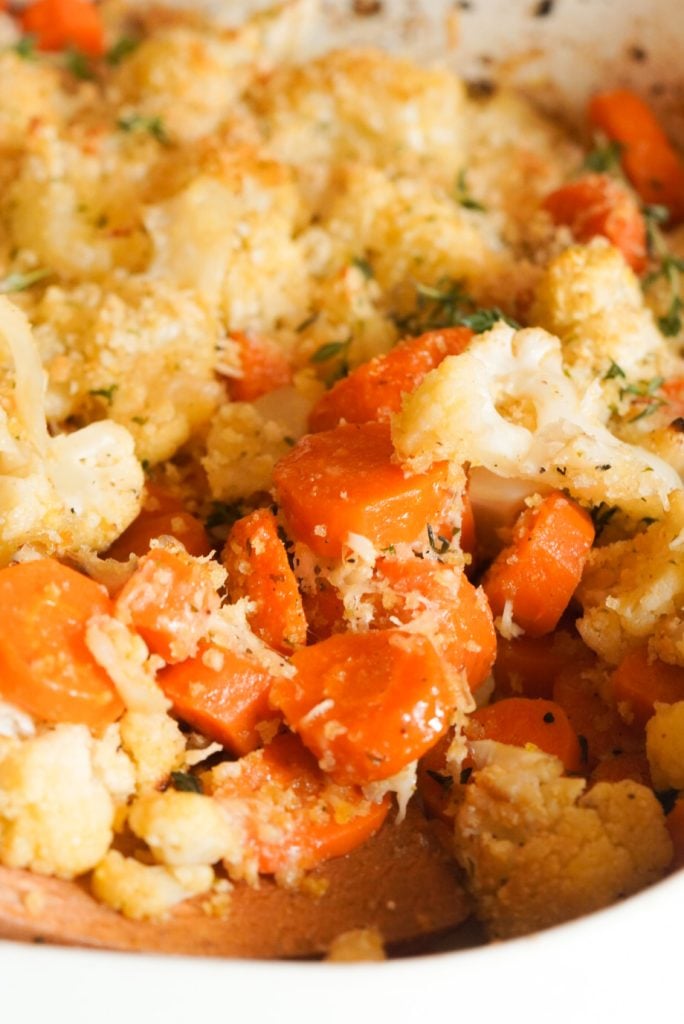 FAQs
Why is my roasted cauliflower tough? Why are my roasted carrots tough?
Carrots and cauliflower came out tough? Let's get to the root (HA!) of the issue:

When it comes to roasted cauliflower, a couple of factors could be at play. First off, the size of your cauliflower florets matters. If they're on the larger side, they might not be cooking evenly. Think about cutting them into smaller, bite-sized pieces to help everything roast uniformly.

And speaking of even cooking, be sure to give them enough time in the oven. Roasting cauliflower takes a little bit of patience. You want those florets to be fork-tender and show off that lovely golden color. Undercooking can definitely lead to some toughness.

Now, about those roasted carrots. Thickness matters here too. If your carrots are quite thick, they could be taking longer to cook through, resulting in that unwanted toughness. Try slicing them a bit thinner or chopping them into smaller chunks for more consistent roasting.

Don't forget the magic touch: oil and seasoning. Carrots need a good drizzle of oil, a sprinkle of salt, and a dash of pepper to really shine. Dry carrots can end up being less than delightful in the tenderness department.

Also, let's keep an eye on the clock; you don't want to leave them in the oven for too long. The goal is tender but not mushy. Overcooking is a common culprit for the toughness we're trying to avoid.
Lastly, consider the type of carrots you're using. Older, larger carrots might have a tougher outer layer, so peeling them can reveal the sweeter, more tender core.

So there you have it! A little size adjustment, proper seasoning, and some quality oven time, and you'll be roasting cauliflower and carrots like a true kitchen pro. Happy cooking!
Can you cook/roast cauliflower and carrots together?
Yup! Don't you love it when your veggies get along in the oven?? ME TOO.
Is there any way to cook cauliflower and not have it stink up the whole place?
While cauliflower can be quite delicious when cooked, that lingering smell can be a bit overpowering. Luckily, there are a few tricks you can try to minimize the strong aroma and enjoy your cooked cauliflower without the whole place smelling up:

Ventilation is Key: Make sure your kitchen is well-ventilated. Open windows, turn on the exhaust fan, or use a portable fan to help disperse the smell.

Roast or Bake: Roasting or baking cauliflower can result in less intense odors compared to boiling. The smell tends to be less concentrated and dissipates faster.

Cook with Aromatics: Incorporate aromatic ingredients while cooking cauliflower. Adding garlic, onion, herbs, or spices can help mask the smell to some extent.

Simmer Vinegar: After cooking, simmer a small pot of water with a splash of vinegar on the stove. The vinegar can help neutralize odors in the air.

Clean Up Promptly: Clean the cooking equipment, utensils, and surfaces promptly after cooking cauliflower. This can help minimize any lingering smells.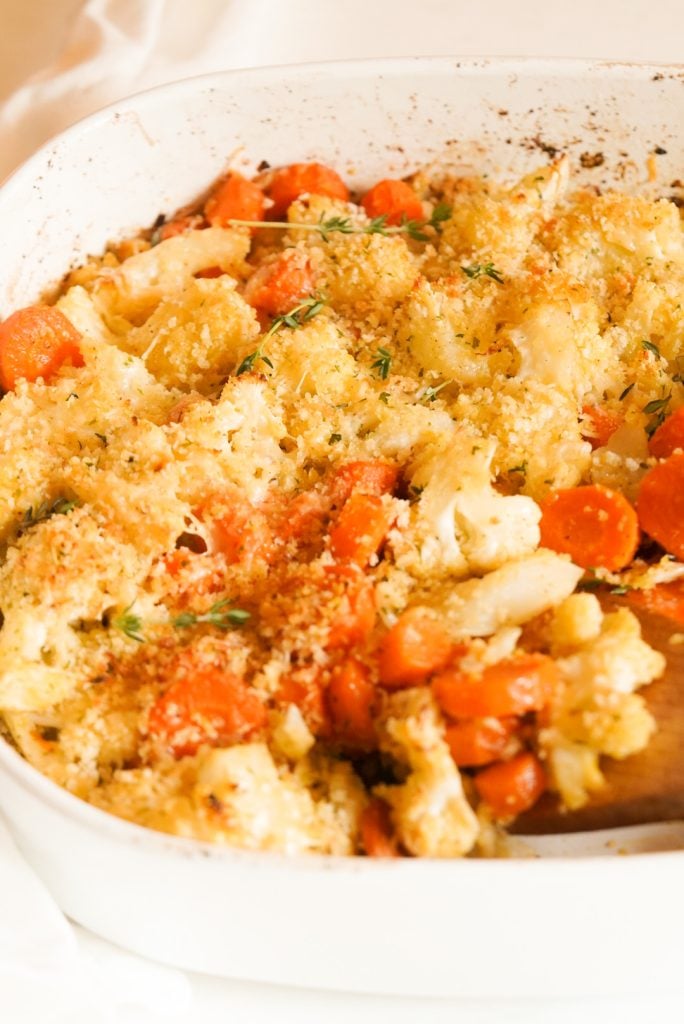 Related Recipes
Easy Winter Vegetable Side Dishes
Connect With Me!
If you make this roasted vegetable recipe or any of my other recipes, I would absolutely love to know! Tag me @wellnessbykay on Instagram so I can see and share your recreations.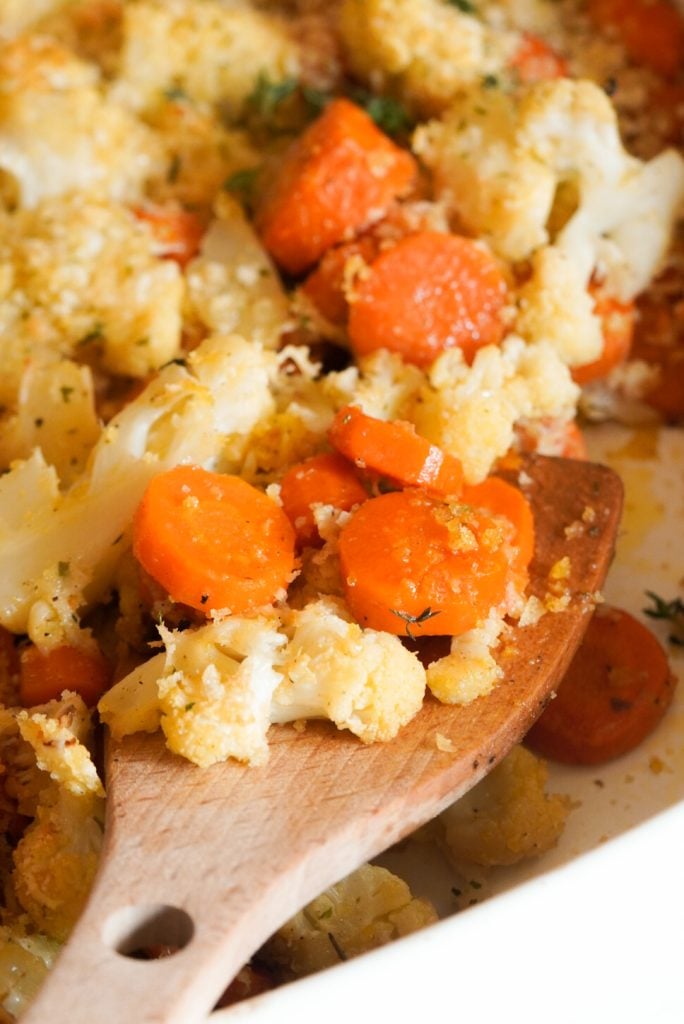 Love this recipe? Leave a comment and a rating! I love to see and it helps me continue to develop delicious recipes for this blog.
Print
Roasted Cauliflower & Carrots with Parmesan & Panko Topping
If you're in the market for a deliciously simple fall vegetable side dish, look no further than my Roasted Cauliflower and Carrots! Made with fewer than 10 ingredients and only 15 minutes of active prep … these cheesy, panko-topped carrots and cauliflower florets are the perfect side dish for pot roast, Thanksgiving turkey, Christmas ham, or any other cozy weather fare you can think of!
Author:
Prep Time:

15 Minutes

Cook Time:

55 Minutes

Total Time:

1 hour 10 minutes

Yield:

6

–

8

Servings

1

x
Category:

Side Dish

Method:

Oven
1

head cauliflower, chopped

5

large carrots, sliced

3 tbsp

olive oil, separated

1/2 tsp

garlic powder

1/2 tsp

onion powder

1/2 tsp

salt

1/4 tsp

black pepper

1/2 cup

shredded parmesan cheese

1/2 cup

seasoned Panko breadcrumbs
Olive oil spray
Instructions
Set the oven to 400 degrees.
Add the chopped cauliflower, carrots, olive oil (2 tbsp), garlic powder, onion powder, salt, and black pepper to a large baking dish. Thoroughly toss the vegetables until all are coated.
Bake for 40 minutes, stirring halfway through.
Remove the vegetables from the oven.  Add the remaining olive oil (1 tbsp) and season with salt and black pepper.  Combine.  Top the vegetables with the parmesan cheese and Panko breadcrumbs.  Add a spray of olive oil on top.
Bake for another 10 minutes.  Then broil on high for 2-3 minutes to get a golden brown, crispy top.
Serve and enjoy!
Keywords: roasted cauliflower and carrots, roasted carrots and cauliflower, roasting carrots and cauliflower, cauliflower and carrots, cauliflower carrot recipe,
This post may contain affiliate links, which if a product is purchased through I may recieve a small compensation. I only recommend products I love and use in my life and cooking! Thank you for supporting wellnessbykay.