Last Updated on September 7, 2023 by Kayla Berman
If you love all fall flavors, you're going to flip for this delicious Maple Pumpkin Bread with glaze topping. Made with mostly pantry staples using a simple quickbread technique, this maple-glazed pumpkin bread is the perfect way to welcome sweater season.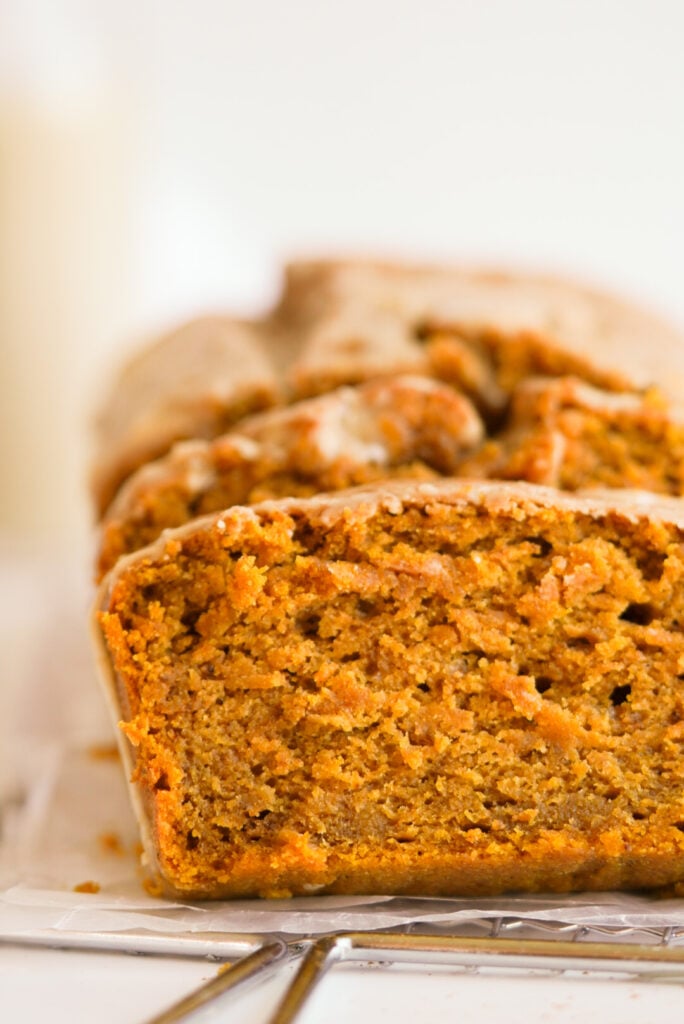 Why You'll Love This Recipe
With Labor Day behind us, summer is unofficially over and pumpkin spice season is in full swing. While I didn't love pumpkin as a kid, I've since discovered that I was totally missing out! Pumpkin treats are definitely the epitome of fall — cozy, deeply spiced, and boasting a burnt sienna hue to match the changing leaves this time of year. 🍁🍂
Since discovering the autumnal awesomeness of everyone's favorite gourd, I've created quite the canon of pumpkin-flavored fall treats. From my pumpkin spice snickerdoodles and frosted pumpkin sugar cookies to my delectable pumpkin cheesecake dip and pumpkin donuts with cheesecake frosting; and from my pumpkin pie oatmeal to pumpkin chocolate chip breakfast bars, there's no shortage of delightful ways to inject a little pumpkin-y goodness into your day.
That said, there's something particularly special about this recipe for my maple-frosted pumpkin bread. Aside from brimming with sugar, spice, and everything nice, this yummy recipe is also:
Quick & Easy – Mix wet ingredients, mix dry ingredients, then mix together and bake. While the bread bakes, simply whisk together the sweet maple glaze. All in, you're only looking at about 15 minutes of active kitchen prep!
Made With Mostly Pantry Staples – Which means you probably already have most of what you need on hand. 😉
Ingredients & Substitutions
As promised, this frosted pumpkin bread is made with primarily kitchen staples. Here's everything you'll need:
Pumpkin Purée – I tend to use canned for convenience, but you're more than welcome to go full-scratch and make your own from roasted sugar pumpkins. Alternatively, feel free to swap in sweet potato or butternut squash purée instead.
Sugar – White sugar is the ideal sweetener for this homemade pumpkin bread with icing. While I don't recommend swapping in brown sugar (it has too much moisture!), you're welcome to use the cup-for-cup sugar alternative of your choice.
Salted Butter – I developed this recipe using salted butter, but if you only have unsalted, don't fret! Simply add about another ½ teaspoon of fine sea salt to the dry ingredients. You're also welcome to swap in plant-based butter to make it dairy-free.
Eggs – Generally speaking, I use "large" sized eggs. If you're using liquid eggs from a carton, you'll need about ½ cup.
Vanilla Extract – For added warmth and complexity. Feel free to swap in an equal amount of vanilla paste or vanilla powder, or use half as much ground vanilla bean.
All-Purpose Flour – Plain AP is perfect here.
Ground Nutmeg, Cinnamon, Cloves, & Ginger – I prefer to use my own ratio of warming spices, but feel free to substitute them all with a total of 3 ¼ teaspoons of pumpkin pie spice.
Baking Powder – Not to be confused with baking soda, this powdered leavener makes sure your pumpkin maple bread rises to lofty, tender-crumbed perfection. If it's been a minute since you used it, you can check whether it still works by adding a spoonful to a bowl and topping with a few spoonfuls of hot or boiling water. If it bubbles and foams, you're good to go!
Salt – Adding salt to sweet goods magically makes them taste sweeter.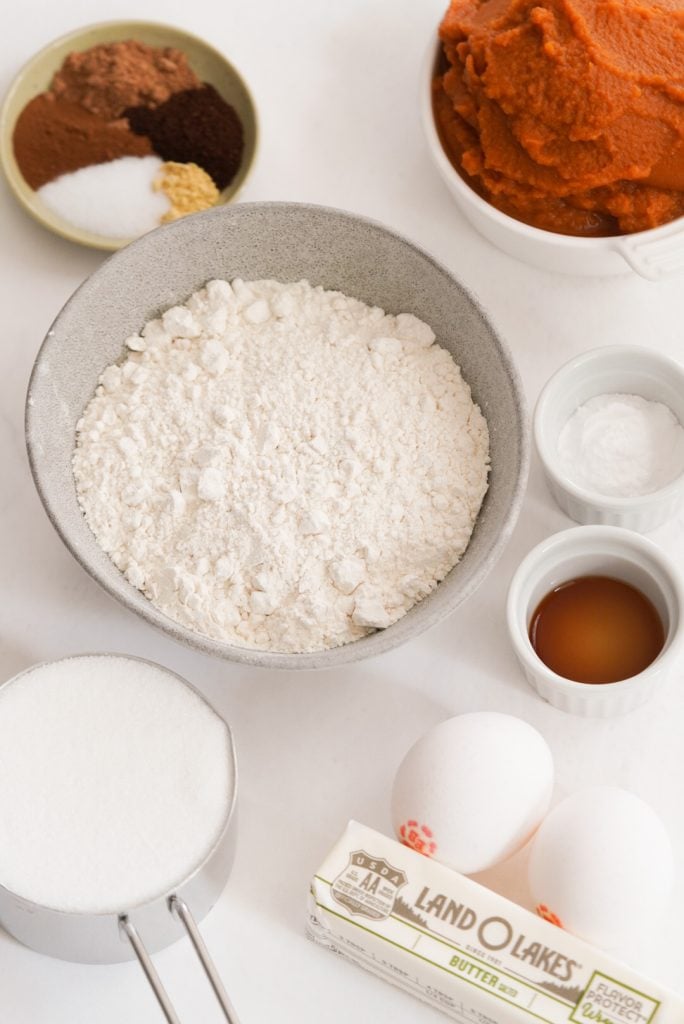 To make the simple maple glaze for pumpkin bread, you'll also need:
Powdered Sugar – Also aptly named "icing sugar," this powdery white substance is essential for creating a silky sweet pumpkin bread glaze. If you're fresh out, not to worry! You can easily make your own by blitzing plain white sugar with cornstarch or potato starch in a food processor or high-powered blender.
Pure Maple Syrup – "Pure" is the operative word here, especially if we want maximum maple-y goodness. No Log Cabin or Aunt Jemima, please!
Milk – You only need a splash or two to make the glaze. Feel free to use any percentage of dairy milk or any unsweetened plain or vanilla plant-based milk you like. Like almond milk!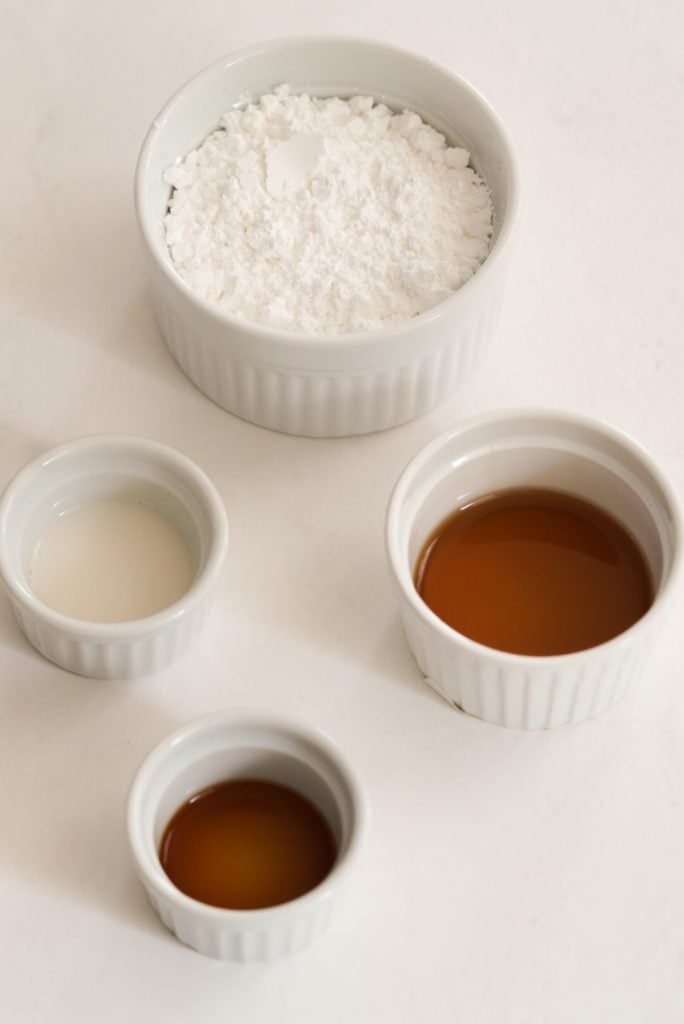 Equipment
How To Make Easy Pumpkin Bread With Maple Glaze
This terrifically moist and tender pumpkin bread with glaze topping comes together in just a few simple steps. Here's how:
Prep. Set the oven to 350 degrees. Feel free to grease or line your loaf tin with parchment paper.
Step 1: Wet Ingredients. Add the pumpkin puree, eggs, sugar, melted butter, and vanilla extract to a large bowl.  Mix until smooth.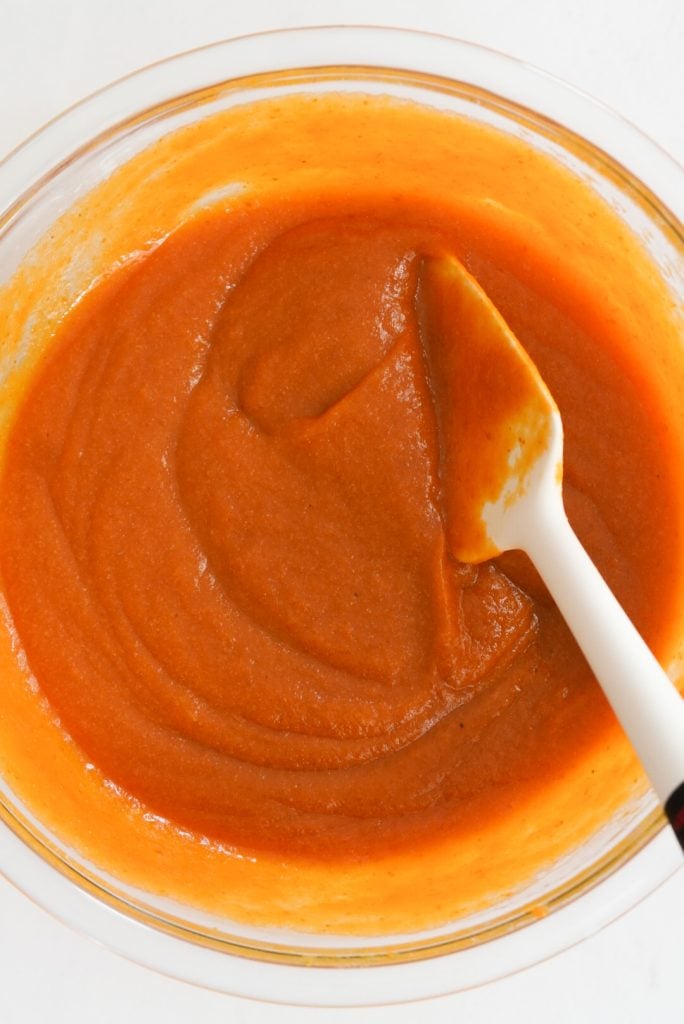 Step 2: Dry Ingredients. To another bowl add the flour, cinnamon, nutmeg, cloves, ginger, baking powder, and salt.  Combine evenly.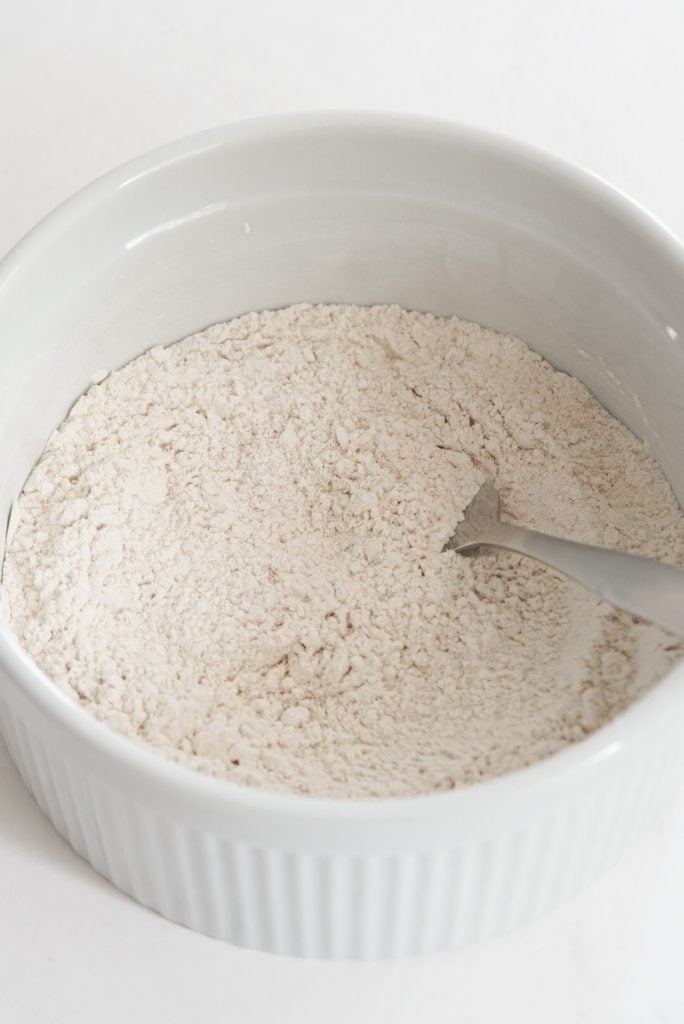 Step 3: Mix. Add the dry ingredients to the wet ingredients and combine until smooth.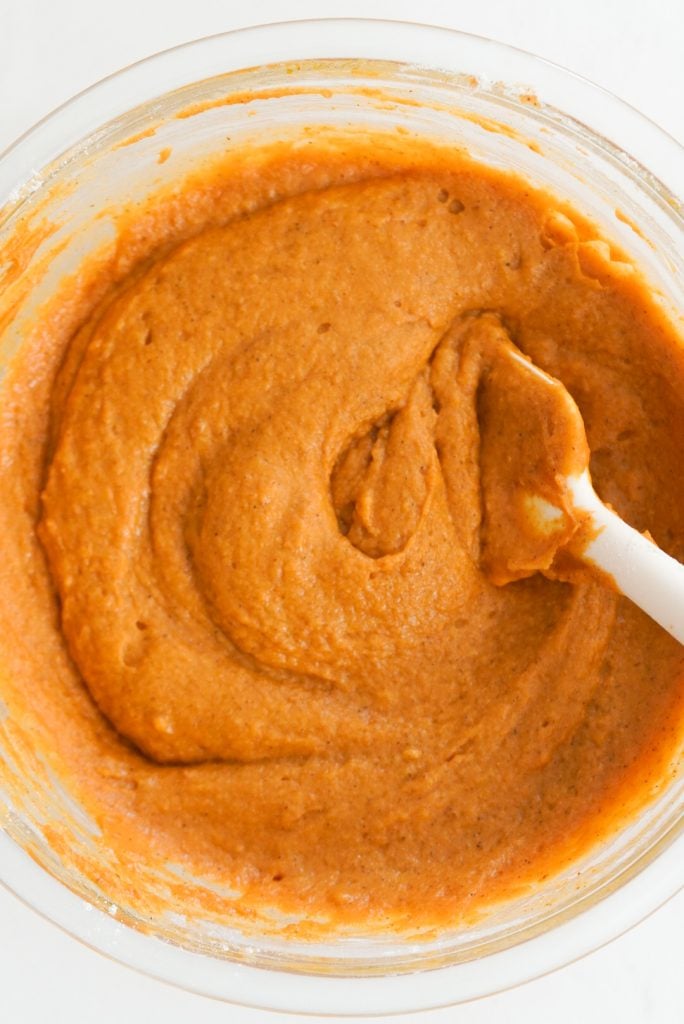 Step 4: Bake. Transfer the pumpkin bread batter to a greased or parchment paper lined loaf pan.  Bake for 65 minutes.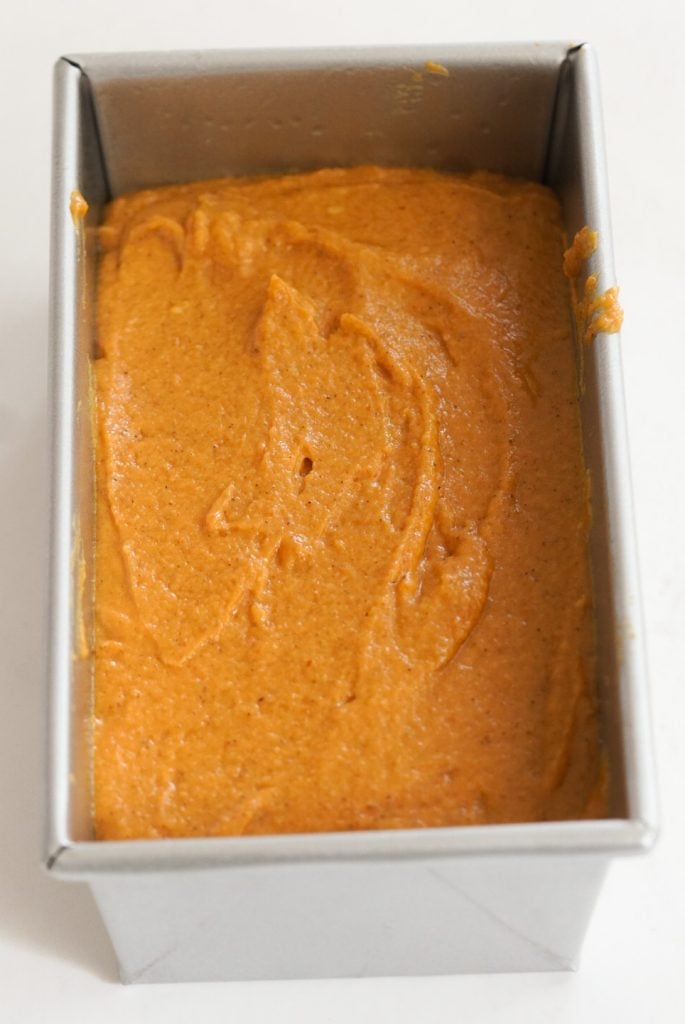 Step 5: Make Glaze for Pumpkin Bread. While the bread is baking, combine the powdered sugar, real maple syrup, vanilla extract, and splash of milk until smooth.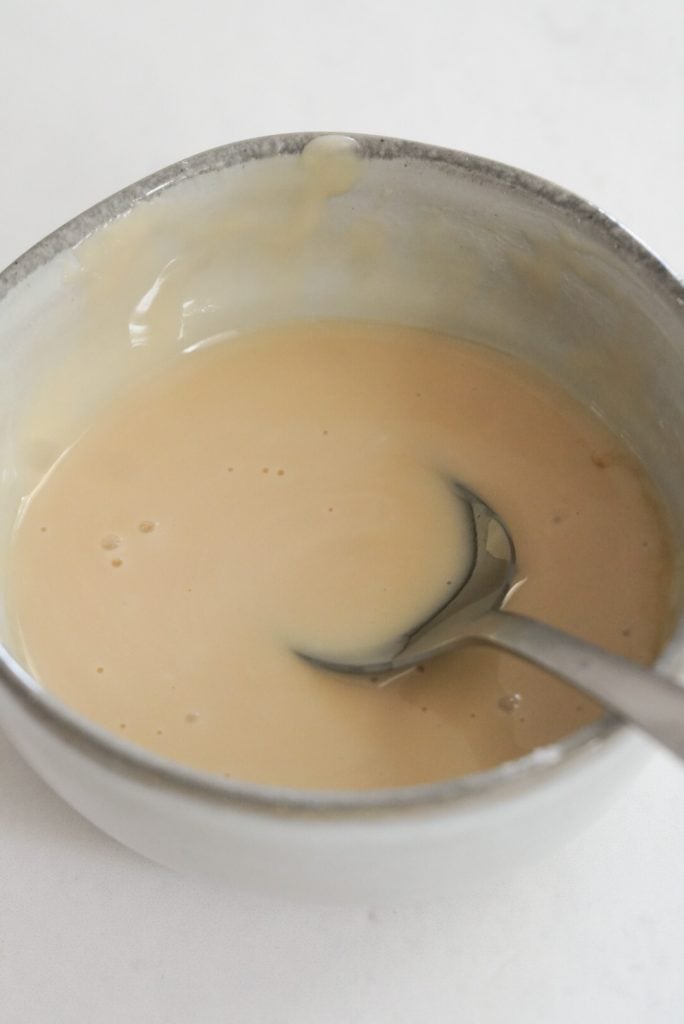 Step 6: Glaze Bread. Once the bread has cooled add the simple maple glaze on top. Allow to set for a few minutes to harden.
Step 7: Serve. Cut into slices & enjoy!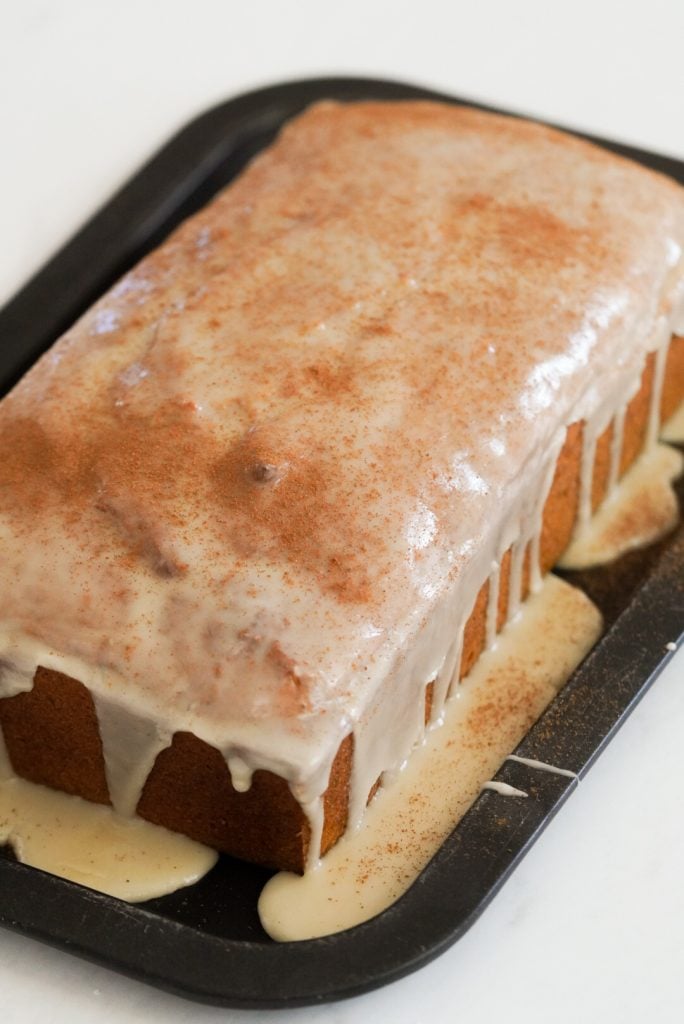 Optional Variations & Dietary Adaptations
As much as I love this recipe for maple glazed pumpkin quick bread recipe, there are plenty of ways for you to make it your own. Here are a few ideas to get you started:
Dairy-Free – If your tummy can't handle lactose, don't fret. You can easily swap in your favorite plant-based butter and milk to keep things safe and tasty!
Gluten-Free – While I haven't tried it, I *think* you should be able to swap in your favorite measure-for-measure GF flour mixture so long as it has xanthan gum. Just make sure to let the batter rest for about 30 minutes before baking to prevent a gritty texture.
Extra Maple-y – If you're more Team Maple flavor than Team Pumpkin, I see you. Feel free to amp up the syrup vibes by adding about ½ teaspoon of maple extract to the quickbread batter and either adding or swapping in 1 teaspoon of maple extract for the vanilla in the glaze.
Add-Ins – While I don't think this easy pumpkin bread recipe requires any extra goodies, it certainly won't hurt. Try adding up to ½ cup of your choice of mix-ins like candied pecans, chocolate chips, or maple chips for texture!
Maple Pumpkin Muffins – Take your pumpkin party on the road by making pre-portioned muffins. Simply trade in a muffin tin and muffin liners for the loaf tin. Fill each well about ⅔ of the way full, then bake. You'll need to adjust the bake time down due to the smaller nature of muffins vs loaves, so start checking around the 18 minute mark. You could do mini loaves too!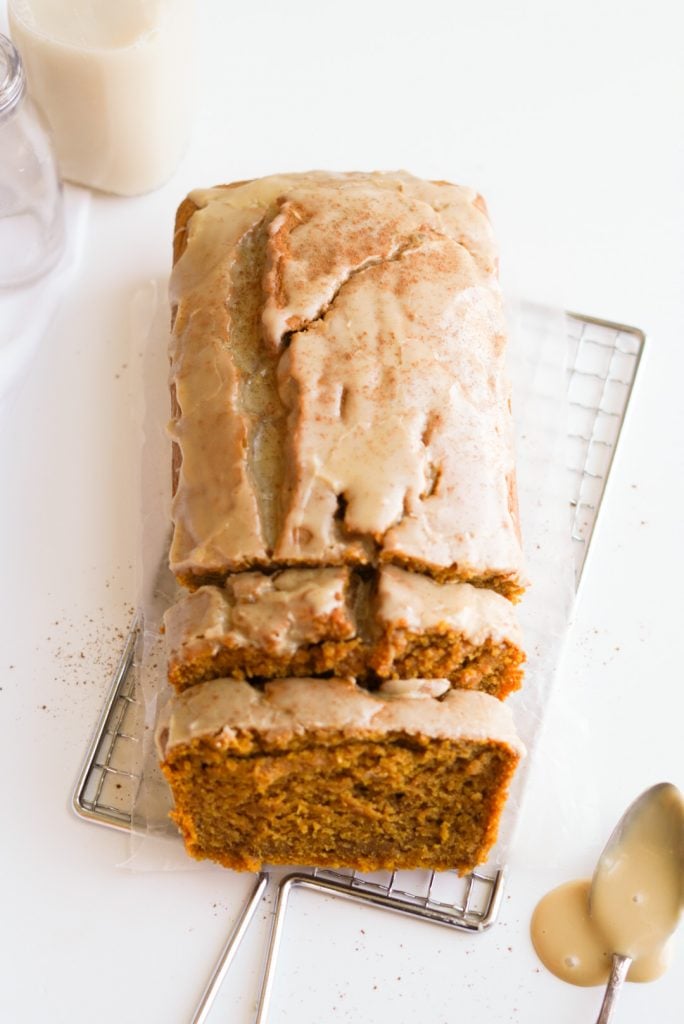 Expert Tips
Allow the pumpkin loaf to cool completely before adding the maple glaze. This will make sure the glaze stays on top rather than soaking into the loaf and making it sticky.
Don't overmix! In order to ensure your pumpkin quickbread stays nice and tender, you need to prevent the overdevelopment of gluten. As such, I recommend letting your eggs come to room temp to make the wet and dry ingredients easier to mix together.
Waste not, want not. Depending on the size of your canned pumpkin, you'll have somewhere between about ½ cup to 2 cups leftover. While you're welcome to put the remainder to good use in any of my other recipes (like my single-serve chocolate chip pumpkin oats, perhaps?), don't feel rushed. You can easily freeze any leftovers!

I like to use either silicone ice cube trays or silicone muffin cups so I can portion the purée out into smaller amounts. Once frozen, transfer the ice cubes or ice muffins into a freezer-safe container or zip-top bag to prevent it from drying out and getting freezer burn. Frozen pumpkin will last for up to about 3 months in the freezer. To use, either toss frozen cubes into your morning smoothies or defrost and mix into your favorite recipes.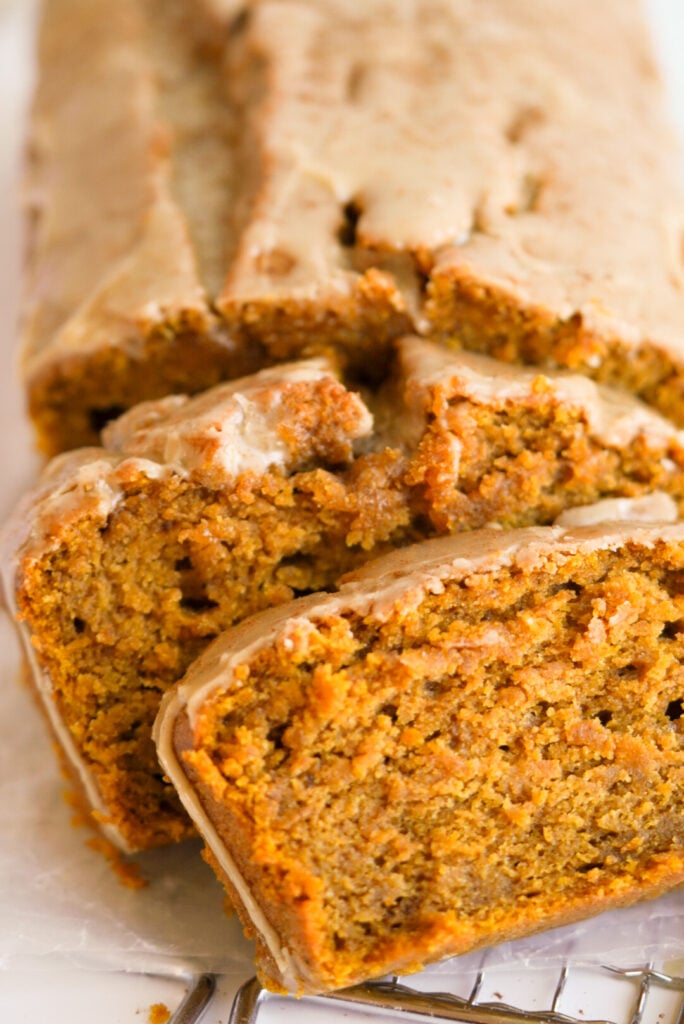 Serving Suggestions
Pumpkin bread with maple glaze is a delightful treat, and I'm excited to help you come up with some fun serving suggestions to make it the star of the season:
Warm and Cozy Brunch: Serve your pumpkin bread as the star of a cozy weekend brunch. Slice it thick, toast it lightly, and serve alongside your favorite breakfast pastries and fruit spreads for an indulgent morning treat.
Autumn Picnic: Take your pumpkin bread on an outdoor adventure! Pack individual slices in cute containers or parchment paper, add a thermos of hot apple cider, and enjoy a picnic in the crisp fall air. It's the perfect snack for leaf-peeping or pumpkin picking!
Pumpkin French Toast: Use your pumpkin bread to make an unforgettable French toast breakfast. Dip thick slices into a mixture of beaten eggs, a splash of milk, and a dash of cinnamon. Cook them on a griddle until golden brown, then drizzle with delicious maple glaze and sprinkle with powdered sugar.
Maple Pumpkin Sundae: Transform your pumpkin bread into a sundae sensation. Crumble it into chunks, layer it with scoops of vanilla or apple pie ice cream, and top with whipped cream, chopped nuts, and a generous pour of maple glaze. YUM!
Fall Fondue Party: For a unique twist on fondue night, include pumpkin bread cubes as one of your dipping options. The warm, gooey cheese or melty chocolate paired with the sweetly spiced bread is a match made in heaven.
Pumpkin Bread Trifle: Create a stunning pumpkin trifle by layering cubes of your bread with layers of whipped cream and pumpkin pie filling. Repeat until you reach the top of your trifle dish and finish it off with a drizzle of maple glaze. Perfect for your Thanksgiving dessert spread!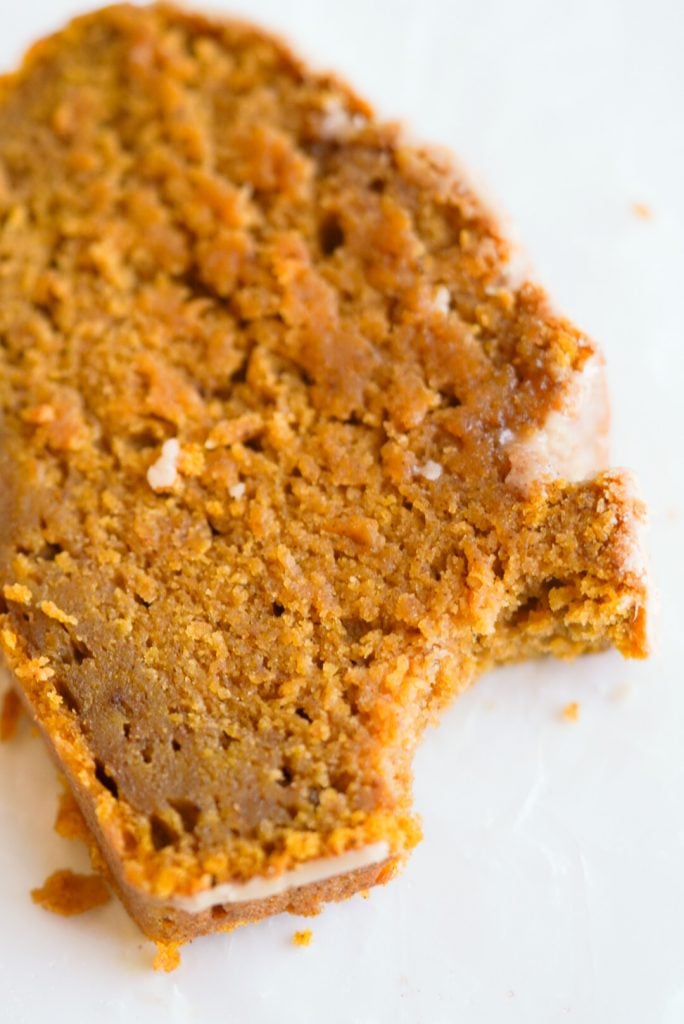 FAQs
Can I use pumpkin pie spice instead of individual spices?
Yes, you definitely can replace all the individual spice measurements with an equal amount of pumpkin pie spice.

However, I think my blend, which is heavier on the nutmeg and cloves than most pumpkin spice blends, is the most delicious option! It takes this bread to a whole new level and truly creates the taste of fall.
Which pumpkin puree should I use?
First, make sure you're using 100% pumpkin purée, NOT canned pumpkin pie filling (which is loaded up with all kinds of ingredients). You are also welcome to use homemade pumpkin purée if you prefer.

Second, up until a little while ago I did not realize that each canned pumpkin purée is slightly different! For this specific pumpkin recipe I recommend this brand of pumpkin purée. The purée is super moist and smooth, which contributes to the super moist texture of the bread itself.
Is pumpkin bread dessert?
Honestly, that all depends on the time of day! If you eat it in the morning, it's breakfast. If you eat it in the afternoon, it's a snack. And, if you eat it after dinner, then it's dessert. 😂
Does pumpkin bread have dairy or nuts?
That's up to you! This recipe was developed using butter (so, dairy) and without any nuts. That said, you're welcome to nix the dairy by using vegan butter and add up to ½ cup of the nuts or seeds of your choice.
What's the best way to store pumpkin bread? Can pumpkin bread be frozen?
This extra moist pumpkin bread can be stored in an airtight container at room temperature for 3 days, or in the fridge for up to a week. It will also last a couple months in the freezer if it's well-wrapped in several layers of plastic to prevent freezer burn. If possible, try to wait and add the maple glaze after defrosting the loaf for the best/prettiest results.
Can dogs eat pumpkin bread?
NOPE! Don't feed your furry pals this pumpkin bread — the nutmeg and cloves are both toxic for doggies. Plus, too much sugar isn't great for them, either. If you want to give your buddies a little treat, I suggest taking the leftover pumpkin purée, mixing it with some plain greek yogurt, and spreading it on a Licky Mat. They'll love it!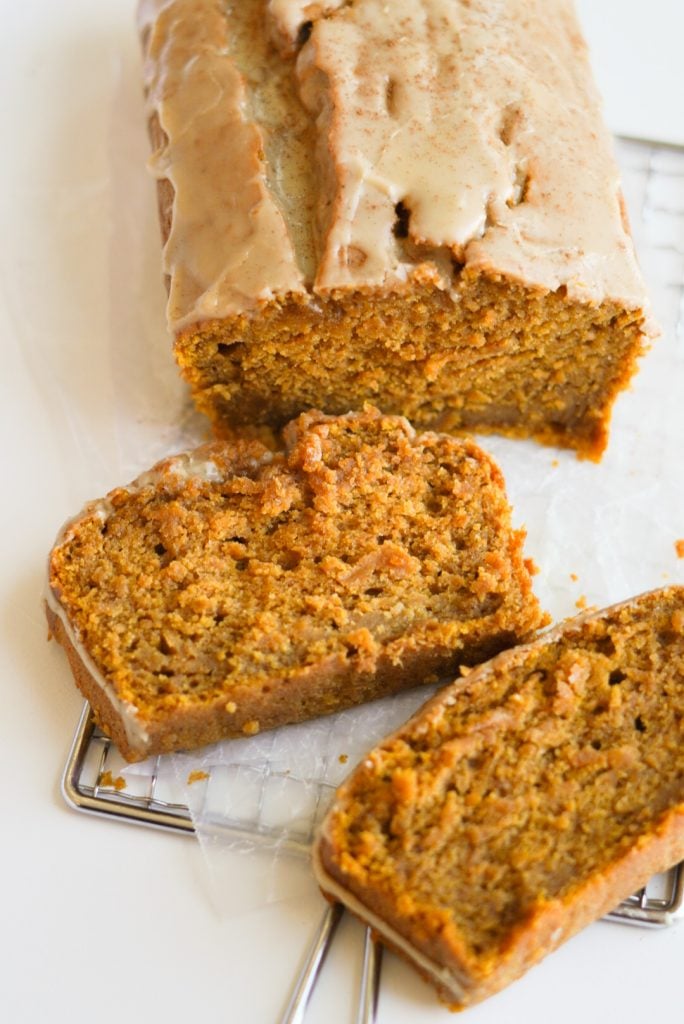 Related Recipes
More Fall Recipes
Connect with me!
If you make the best Pumpkin Bread with Maple Glaze or any of my other recipes I would absolutely love to know! Tag me @wellnessbykay on Instagram, so I can see and share your recreations!!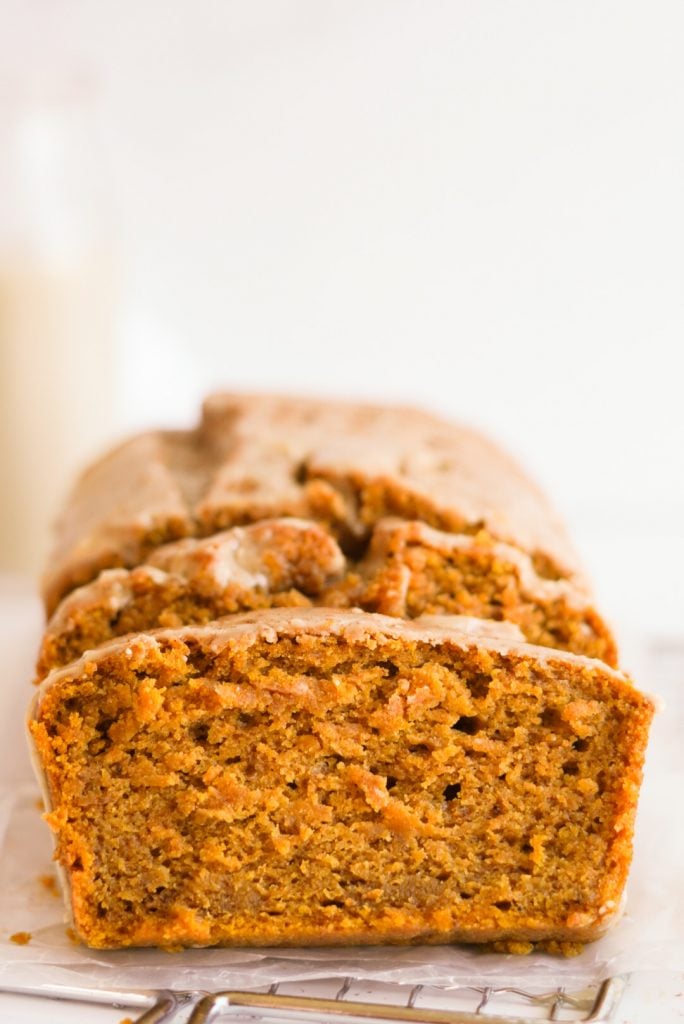 Love this recipe? Leave a comment and a rating! I love to see and it helps me continue to develop delicious recipes for this blog.
Print
Pumpkin Bread with Maple Glaze
Pumpkin Bread with Maple Glaze is the best! It's extra moist, full of warm fall spice, the perfect level of sweet, and complete with a simple maple glaze. This easy bread is great for breakfast or dessert and is a true must make this fall!
Author:
Prep Time:

25 minutes

Cook Time:

65 minutes

Total Time:

1 hour 30 minutes

Yield:

10

Slices

1

x
Category:

Breakfast/Dessert

Method:

Baked
Pumpkin Bread
1 1/2 cups

pumpkin puree

1 cup

sugar

1/2 cup

salted butter, melted

2

eggs

1 tsp

vanilla extract

1 1/4 cup

all purpose flour

1 tsp

nutmeg

1 tsp

cinnamon

1 tsp

cloves

1/4 tsp

ginger

2 tsp

baking powder

1/2 tsp

salt
Maple Glaze
1/2 cup

powdered sugar

2 tbsp

pure maple syrup

1 tsp

vanilla extract
splash of milk
Instructions
Set the oven to 350 degrees.
Add the pumpkin puree, eggs, sugar, melted butter, and vanilla extract to a large mixing bowl.  Mix until smooth.
To another bowl add the flour, cinnamon, nutmeg, cloves, ginger, baking powder, and salt.  Combine evenly.
Add the dry ingredients to the wet ingredients and combine until smooth.
Transfer the batter to a greased or parchment paper lined loaf tin.  Bake for 65 minutes.
While the bread is baking, work on the maple glaze. Simply combine the powdered sugar, maple syrup, vanilla extract, and splash of milk until smooth.
Once the bread has cooled add the maple glaze on top.
Cut into slices & enjoy!
Keywords: Moist Pumpkin Bread, Moist Pumpkin Bread, Easy Pumpkin Bread, Pumpkin Bread with Maple Glaze
This post may contain affiliate links, which if a product is purchased through I may recieve a small compensation. I only recommend products I love and use in my life and cooking! Thank you for supporting wellnessbykay.