Last Updated on September 15, 2023 by Kayla Berman
These perfect jammy eggs are boiled for 7 minutes resulting in eggs with gooey, jam-like yolk centers and set egg whites. It is the best way eat "nature's multivitamin," eggs!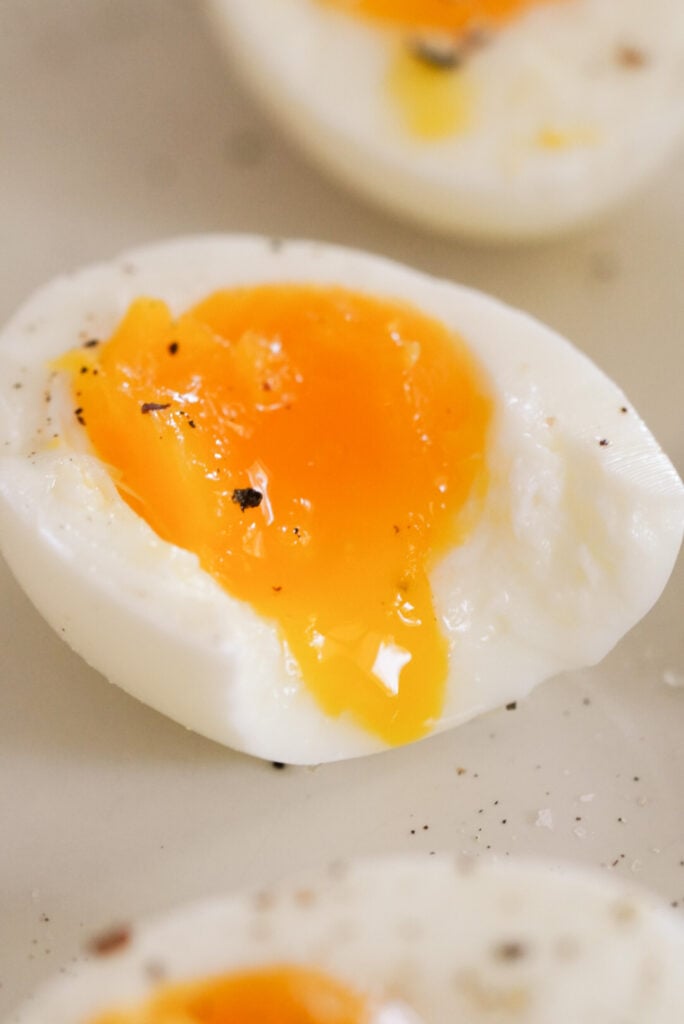 What are jammy eggs?
I think of jammy eggs as eggs that are somewhere between hard boiled eggs and soft boiled eggs. Although they do lean more towards soft boiled in my opinion!
Hard boiled eggs are typically boiled for about 10-12 minutes, resulting in an egg yolk and egg white that are both fully cooked.
Soft boiled eggs are typically boiled for about 4-6 minutes, resulting in a runny egg yolk and egg whites that are not always fully set. The lower range of this cooking time will leave egg whites slightly unset around the edges of the yolk.
Whereas, the perfect jammy egg cook time is 7 minutes to the dot! After experimenting yourself, you may find that six or seven and a half minutes is your preferred time. But mine is seven.
This time results in such a wonderful boiled egg. First, the egg whites are completely set and fully cooked. Second, the egg yolks are well … jammy! The outsides of the yolk are a bit more solid, similar to a more fully hard boiled egg, and the insides have that oozy, runny texture of a poached egg. It is true perfection.
This blog post will walk you through How to Make Perfect Jammy Eggs, Different Ways To Serve Them, Which Eggs To Buy, How To Perfectly Peel Your Boiled Eggs, Proper Storage Instructions, and more.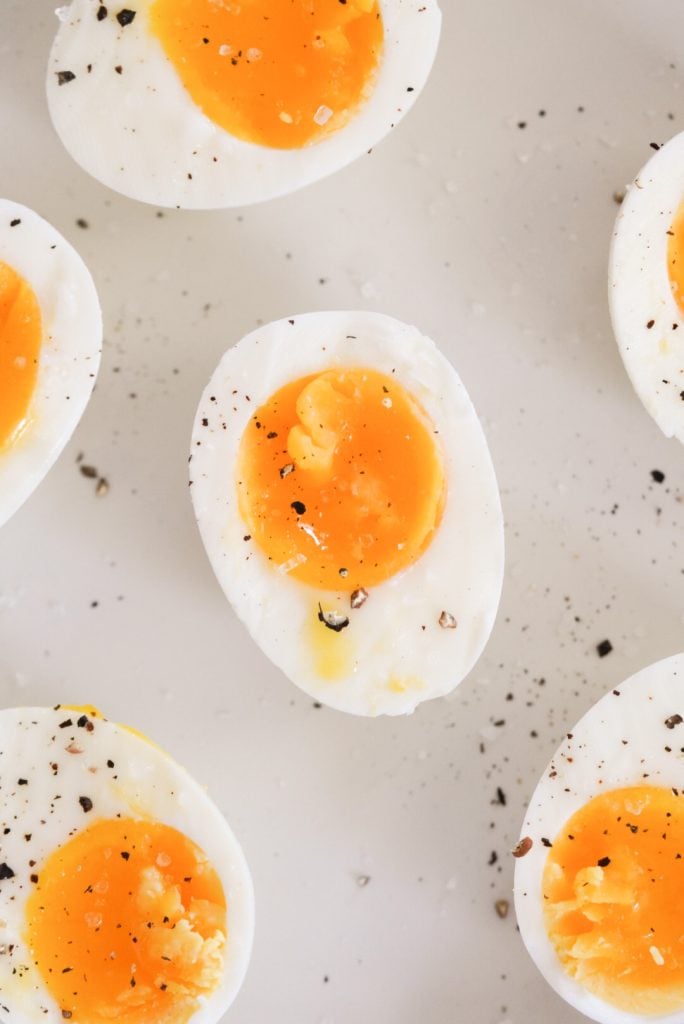 Kitchen Equipment
How To Make Jammy Eggs Perfect Every Time
Jammy soft boiled eggs may seem complicated to make with their gorgeous gooey center and brunch restaurant-quality appearance, but they are actually quite easy to master!
Everything you need to know about how to make these 7-minute eggs is detailed below. You will be a pro in no time! They are as easy as they are delicious, and will soon become your favorite way to prepare the breakfast time favorite.
Ingredients
This "recipe" barely requires any ingredients! All you need is an egg or two. Or more if you're looking to meal prep a big batch.
Another ingredient you may want to add, although I don't find necessary, is some oil. Any kind will work – vegetable oil, olive oil, avocado oil, etc. Adding it to the water can make the soft eggs easier to peel once boiled!
Lastly, salt and black pepper are must have ingredients for me here. In my opinion, they are all you need to make these soft-boiled eggs absolutely delicious.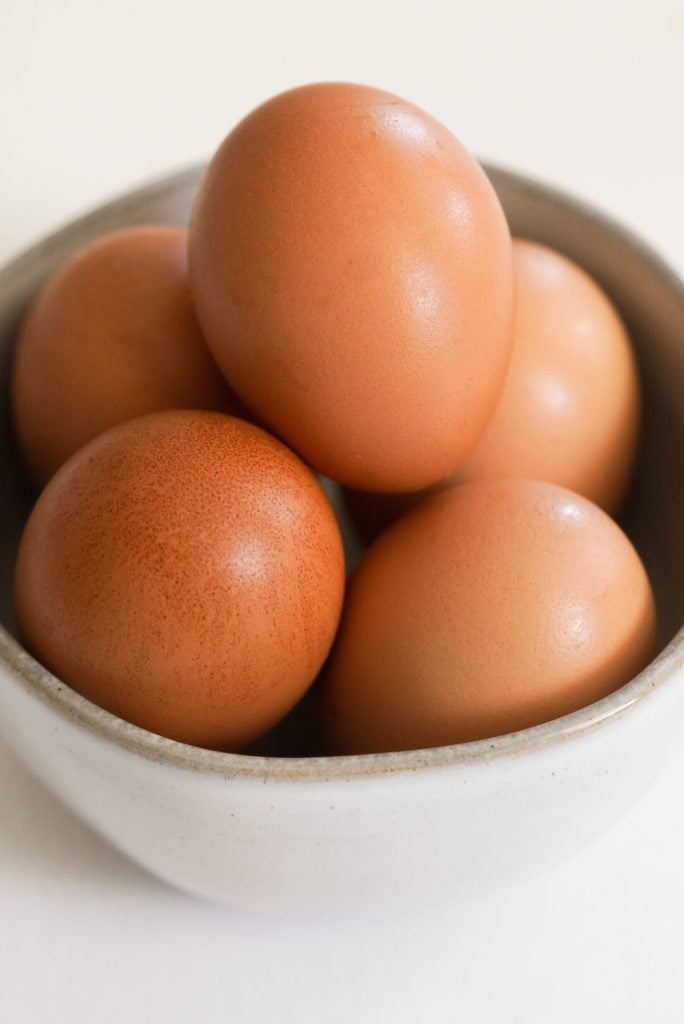 Boiling Water
The first step in preparing perfect jammy eggs is bringing a large saucepan of water to a boil.
First, you will want to fill the pot with however much water will be necessary to cover the eggs. Then place on the stove over medium-high heat and bring to a boil.
You can also add salt here for extra taste or oil to make peeling easier down the line.
I recommend bringing the water to a steady, average boil not a gentle boil or rolling boil. More like somewhere in between! I find that a gentle boil does not cook the eggs through enough to my liking. While a very heavy, rolling boil with big bubbles can have the opposite effect.
Adding Eggs
Next carefully add the large eggs to the boiling water with a slotted spoon. Make sure the eggs are completely submerged in the water. Cook for exactly 7 minutes.
I recommend having a timer ready to go with the cook time, 7 minutes. This way as soon as you place the eggs in the water, you can set it.
If you are making a bunch of eggs at one time just make sure they are arranged in a single layer.
Ice Bath
While the eggs are boiling, prepare an ice bath in a shallow bowl. An ice bath is simply a combination of cold water and a few handfuls of ice cubes. I like to prepare this when there is about 2 minutes left of egg cooking time, this way the ice doesn't melt away while I'm waiting for the eggs to finish.
When the 7 minutes is up, immediately remove the eggs from the hot water and carefully transfer them to the ice bath. Again with a slotted spoon. Keep the eggs in the ice bath for 2 minutes.
I find this is the perfect amount of time to shock the eggs and stop them from cooking, but still keep the eggs nice and warm to serve.
I do recommend you move quick here because even 30 seconds of extra boiling can change the texture of the egg! Your jammy yolks could turn to solid yolks very easily.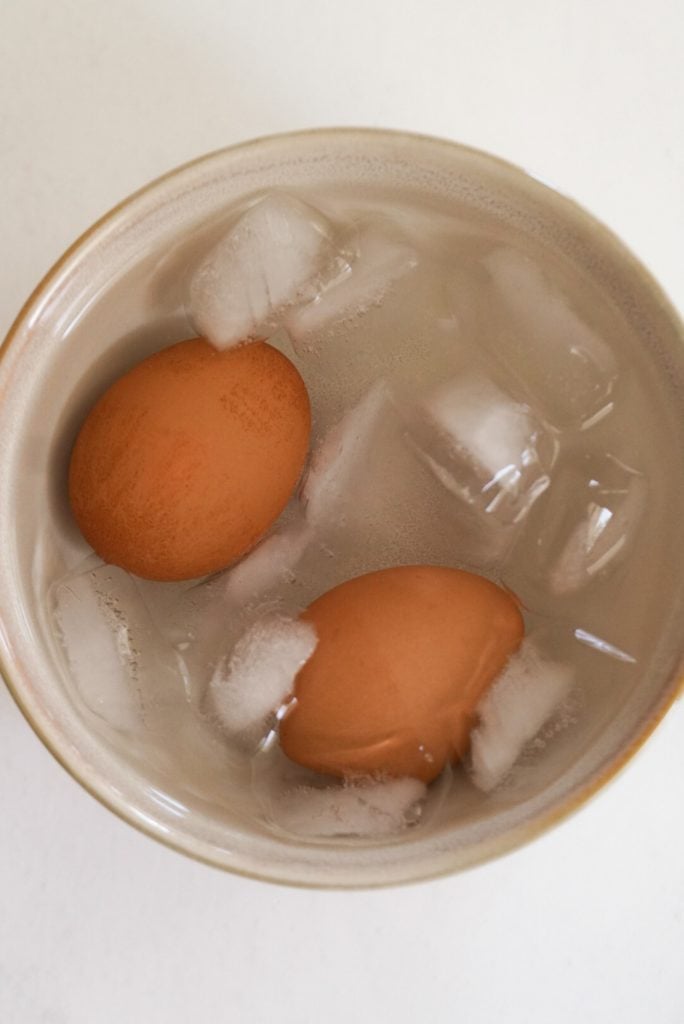 Perfect Peeling
Once you have removed the eggs from the bowl of ice water it is time to peel. Which is the scariest part of making any hard-boiled eggs! But do not worry, I am here to make it less scary for you.
I have tried all the tips and tricks in the world to make peeling boiled eggs easier, and I will include some below, but my number one tip is extremely simple. Just be very gentle and move slowly!
I honestly find that when I peel boiled eggs carefully and with patience I have no problem. However, here some additional tips that make the process run smoother:
First, do not skip the ice bath. The shock of cold water makes the eggs easier to peel!
Next, gently crack the boiled egg on a hard surface.
Then start peeling towards the larger, rounder end of the egg. There will be an air pocket here that makes it easier to get those nice big peels!
Once you get a good start, go slowly and use the thin membrane that separates the egg white from the shell to help you. I find that peeling the membrane helps the shell come off in bigger pieces rather than a bunch of small pieces.
After the shell is completely removed, run the cooked egg under some warm water to get off any straggling pieces.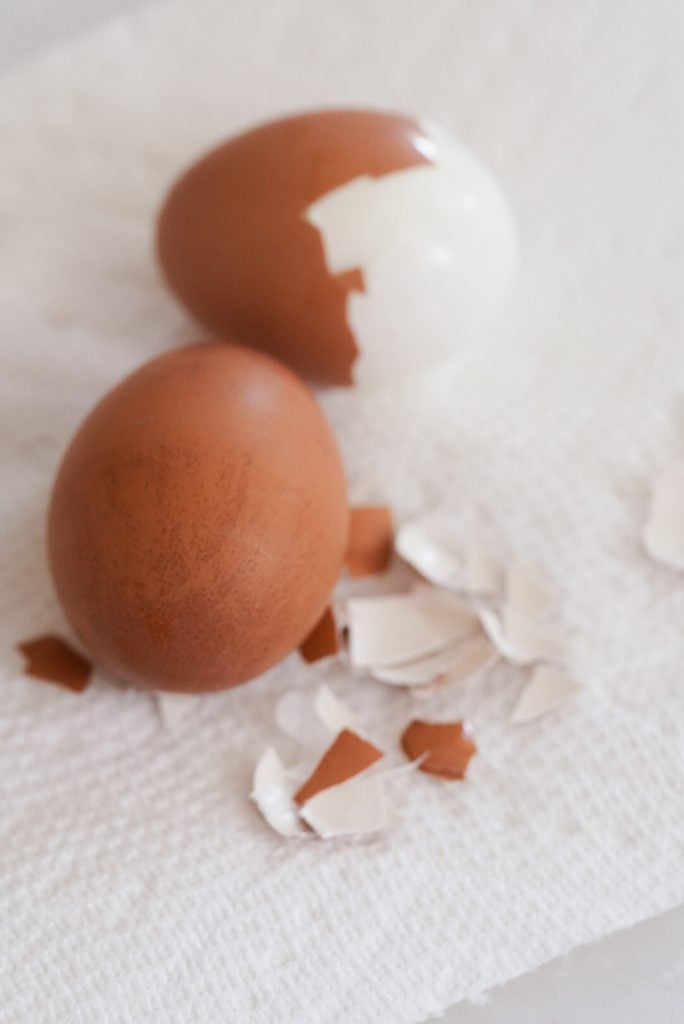 Expert Tips
Keep a very close eye on the boiling time! There is a vast difference between 6 minute, 7 minute, and 8 minute eggs. You could get a completely runny yolk, too solid yolk, or the perfect creamy yolks we are going for here with just 30-90 seconds of a difference. My tip is to have your timer ready-to-go and follow it very precisely.
Peel jammy hard boiled eggs gently! I promise you can you can keep the egg whites on your hard boiled egg perfectly smooth and in tact if you peel very slowly and very gently. Read above for all my tips!
Start with high quality fresh eggs! Start with the highest quality eggs you can afford to buy for the most delicious tasting, perfect eggs. Some of the best things to look for when purchasing your eggs are organic, pasture-raised, and USDA grade A or AA. Vital Farms, Pete & Gerry's and Happy Egg Co. are all fantastic options! For the best of the best though check out your local farmers market.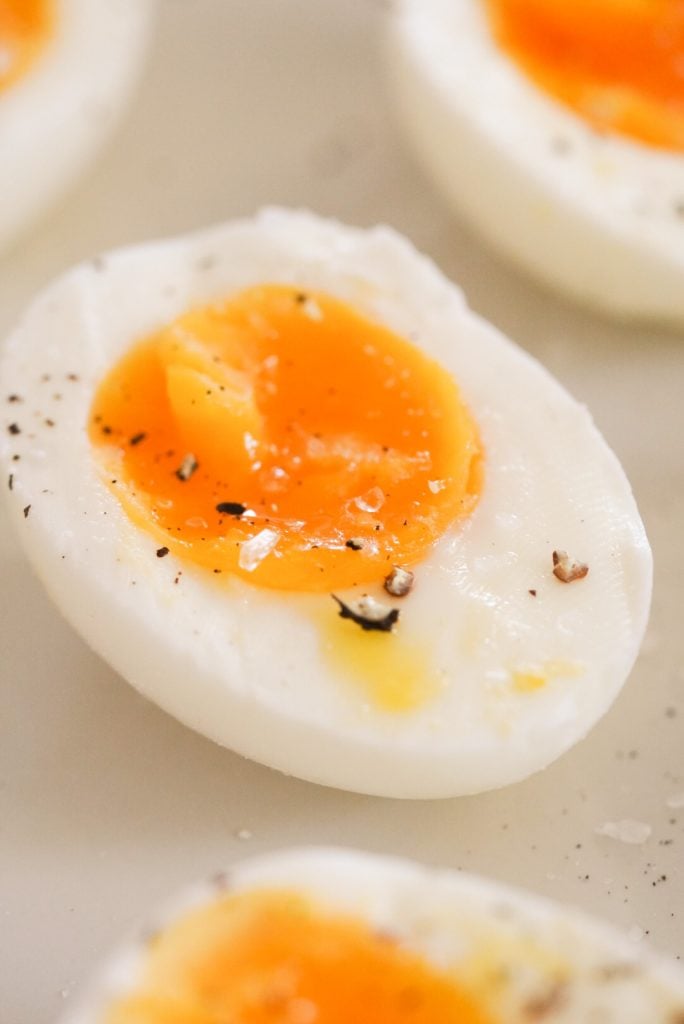 Serving Suggestions
There are endless ways you can serve a perfect jammy egg! My personal favorite is the classic. The tried and true. Just a sprinkling of salt and crack of black pepper. Ugh, it is perfection! It is simply all the rich, jam-like yolk needs.
If you are not the type of person who enjoys a straight boiled egg for a snack, do not worry! I have plenty more ideas on how you can serve up these jelly eggs.
Season & Spice: This serving suggestion is fairly similar to my basic favorite, salt and pepper, but a little spruced up. You can serve the jammy egg on its own but with some extra seasoning or heat. Everything bagel seasoning, hot honey, red pepper flakes, or hot sauce would all be a perfect addition.
Salad Topping: I don't know about you guys but I LOVE a hard boiled egg in a salad. But these softer boiled eggs bring the experience to a whole new level! Especially if you are a runny yolk lover like me. It would be a wonderful topper to my Burger Salad or Mediterranean Chopped Salad.
Avocado Toast: Picture this: a simple piece of toast, creamy avocado mash, and a perfect jammy egg on top. It is breakfast perfection! It would work fabulously with just plain old buttered toast too. Or even cream cheese.
Breakfast Taco: Breakfast tacos are one of my favorite morning meals of all time! I love any breakfast meat, salsa, cheese, and of course the egg. A soft boiled jammy egg would be amazing.
Grain Bowl: Maybe the most fabulous way to enjoy this type of egg is in a grain bowl. The runny yolk is incredibly delicious with all the bowl fixings. Start with brown rice or quinoa, sautéed sweet potatoes, colorful veggies, a flavorful sauce or dressing, maybe some fresh herbs, and then top it all off with a jam-like centered egg. A masterpiece!
Egg Salad: Once jammy eggs are refrigerated, they loose a bit of that super ooey-gooey jam vibe. Buuuuut it is definitely still there! And I actually really love the resulting, slightly solidified texture. I think it works AMAZINGLY in egg salad. The still creamy yolk makes egg salad super creamy without the need for too much mayo. It is absolutely scrumptious on its own, with salt and pepper, or of course in an egg salad sandwich!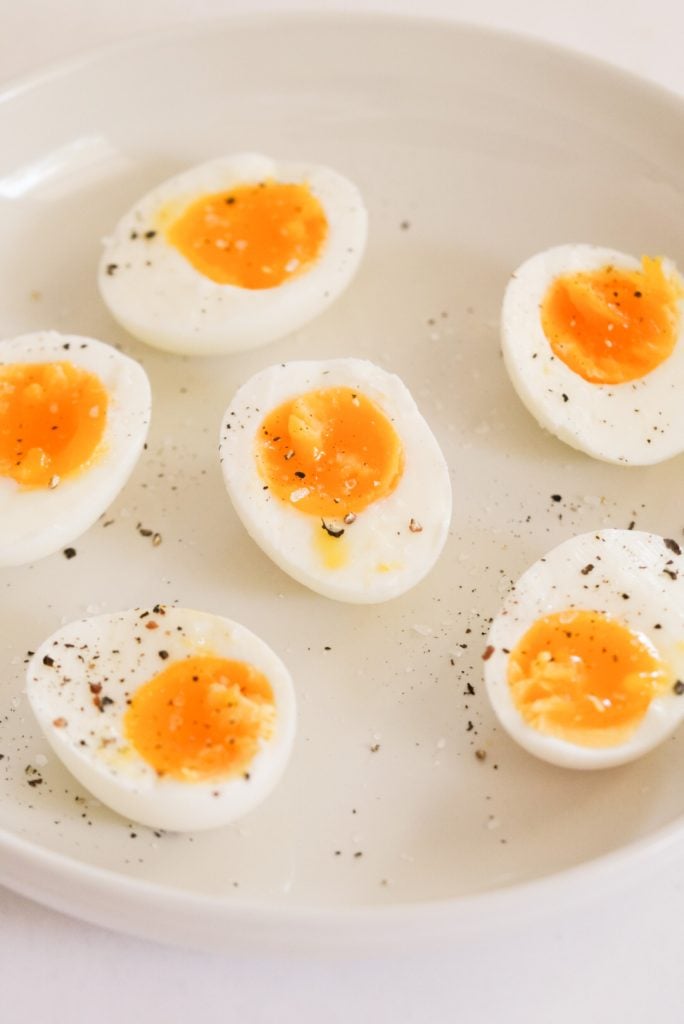 Storage Instructions
You can store jammy eggs in an airtight container in the refrigerator. I recommend keeping them unpeeled, as they will last longer this way. They will keep for about 5-7 days.
Peeled jammy centered eggs will only keep for 3 days in the fridge.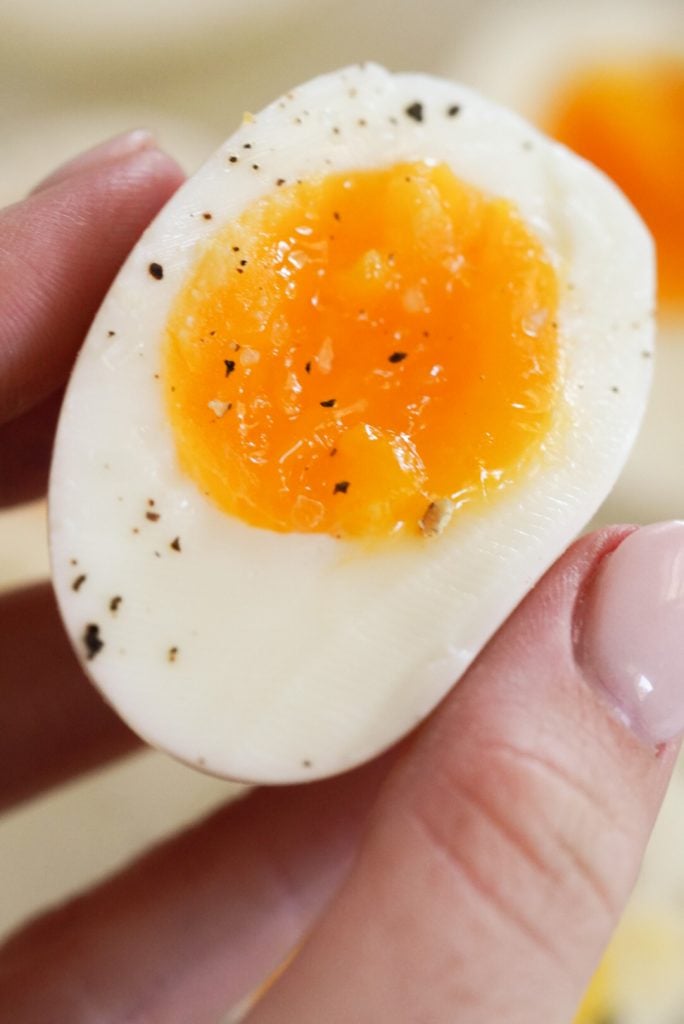 FAQs
Are eggs good for you?
I am not a dietician or nutritionist, but yes in my opinion eggs are great for you.

Eggs contain around 70 calories, 6 grams of protein, and tons of nutrients. They're a good source of vitamins A & D, choline, and healthy fats too. They have even been referred to as "nature's multivitamin."

The only down side of eggs is their high cholesterol content. However, studies have shown that eating eggs does not affect the risk of heart disease.
Are jammy eggs the same as soft boiled eggs?
Kind of! I think jammy eggs can be considered soft boiled eggs. Since they are softer boiled than the classic hard boiled eggs!

However, I think jammy eggs are more technically in between a pure soft boiled egg, which takes 4-6 minutes, and a hard boiled egg, which take 10-12 minutes. Whereas, eggs with jammy middles take 7 minutes.
Can I meal prep jammy eggs?
Yes! These eggs will keep for 7 days if unpeeled and 3 days if peeled. You can prepare at the beginning of the week and enjoy throughout for breakfasts, lunches, and snacks.
What is a 7 minute egg?
A 7 minute egg has set whites, and a rich custard-like yolk center. They are runnier, jammy, and not fully solid.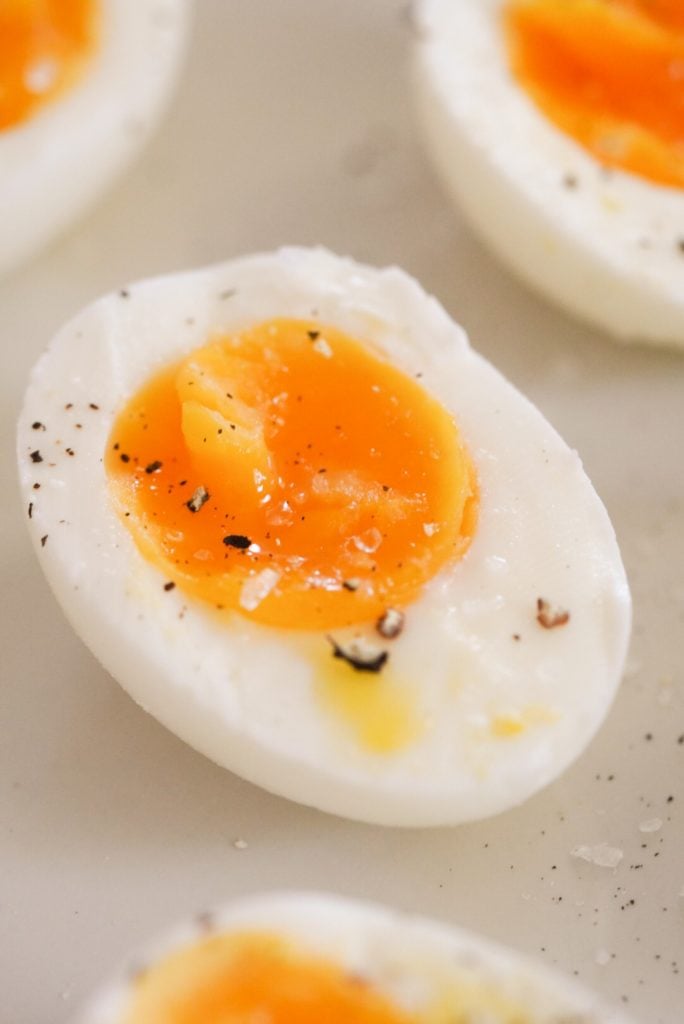 Related Content
More Egg Recipes
Connect With Me!
If you make this jammy eggs recipe or any of my other recipes, I would absolutely love to know! Tag me @wellnessbykay on Instagram so I can see and share your recreations.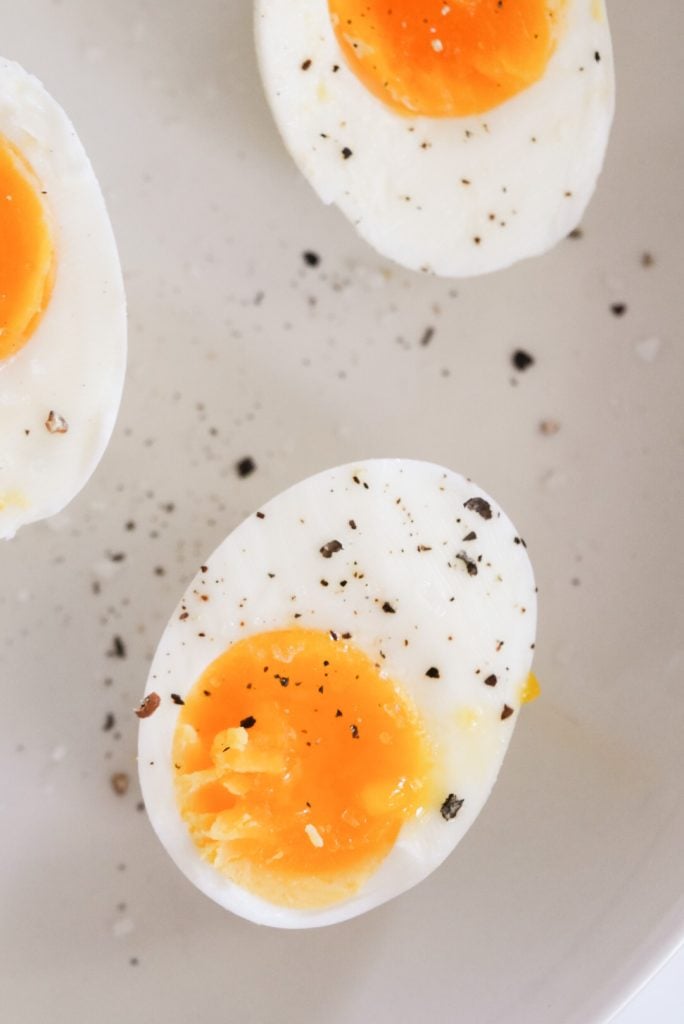 Love this recipe? Leave a comment and a rating! I love to see and it helps me continue to develop delicious recipes for this blog.
Print
How to Make Perfect Jammy Eggs (Soft-Boiled Recipe!)
These perfect jammy eggs are boiled for 7 minutes resulting in eggs with gooey, jam-like yolk centers and set egg whites. It is the best way eat "nature's multivitamin," eggs!
Author:
Prep Time:

3 Minutes

Cook Time:

7 Minutes

Total Time:

10 minutes

Yield:

1

Serving

1

x
Category:

Breakfast / Snack

Method:

Stovetop
Instructions
Add water to a large pot and bring to a boil. Just enough to cover how many eggs you are boiling.
Once the water is at a steady boil, carefully add in the eggs with a slotted spoon. Boil for exactly 7 minutes.
While the eggs are boiling, prepare an ice bath in a shallow bowl. Simply combine a couple of handfuls of ice with cold water.
Remove the boiled eggs from the pot and immediately place in the ice bath for 2 minutes.
Then carefully peel the eggs. See the full blog post for all of my peeling tips!
Serve and enjoy! Cut the perfect soft boiled eggs in half. Add a sprinkle of salt and black pepper.
Keywords: Jammy Eggs, Jammy Eggs Recipe, How To Make Jammy Eggs, Jammy Egg, Perfect Jammy Egg, Perfect Jammy Eggs, Jammy Hard Boiled Eggs, Jammy Soft Boiled Eggs, Jammy Egg Time, Jelly Eggs
This post may contain affiliate links, which if a product is purchased through I may recieve a small compensation. I only recommend products I love and use in my life and cooking! Thank you for supporting wellnessbykay.