Last Updated on October 18, 2023 by Kayla Berman
This Asian-inspired take on the Viral TikTok Raw Carrot Salad is the simple salad you've been looking for! Made with ribboned carrots, soy sauce, rice wine vinegar, honey, and sesame seeds … this raw veggie dish is light, crunchy, nutritious, and delicious. It is a fun and vibrant side or snack!
Looking for more easy vegetable side dishes? Check out my Air Fryer Sweet Potato Cubes or Honey Garlic Green Beans.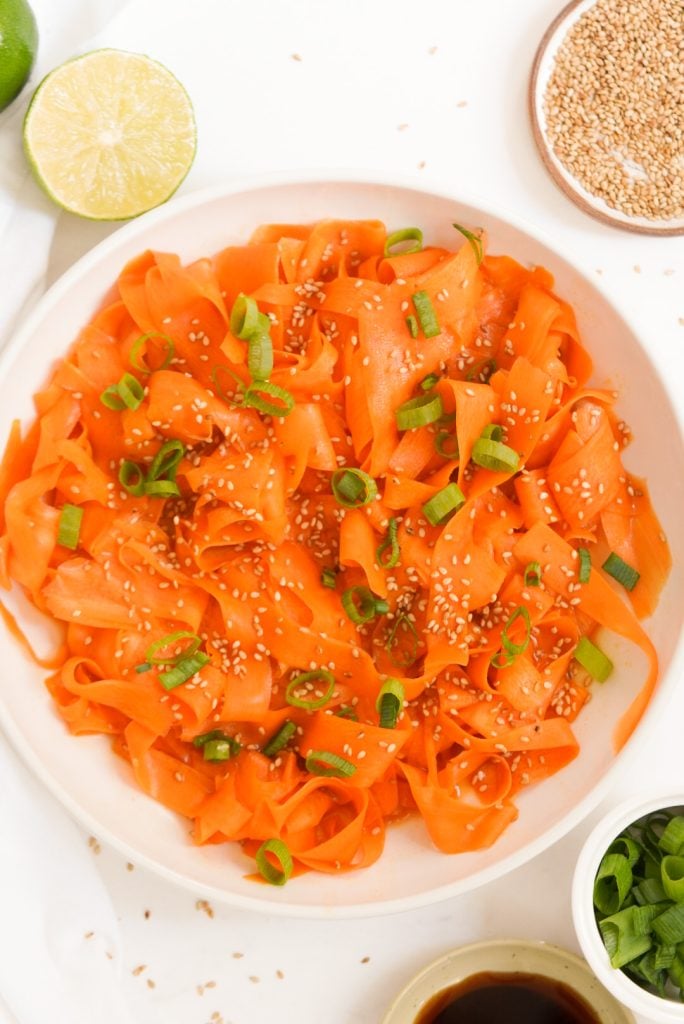 What is the Viral TikTok Carrot Salad?
This raw ribboned carrot salad is a TikTok phenomenon. It is one of the many recipes that has gone viral on social media over the past several months! Joining the ranks of Smash Burger Tacos, Strawberry Yogurt Clusters, Grinder Salad Sandwich, Gigi Hadid's Spicy Vodka Pasta, and Tunacado Sandwich.
It is essentially raw carrots with oil, vinegar, and a few other ingredients. The original raw carrot salad, credited to Dr. Ray Peat, is considered to help with hormone balance and gut health.
Raw Carrot Salad Benefits
Dr. Peat claims that raw carrots "contain a unique fibre that bind to excess estrogen and rid it from the body." Thus consuming a salad like this helps estrogen dominance and can improve symptoms during a woman's menstrual cycle.
However, these claims are not scientifically backed or proven. Meaning I wouldn't eat this salad in hopes that your hormone health will be vastly improved!
But there are some additional nutritional and health benefits, besides hormonal balance, that may peak your interest. Carrots are a highly nutritious vegetable and are a great addition to your daily diet! They are great sources of beta-carotene, vitamin C, antioxidants, and dietary fiber.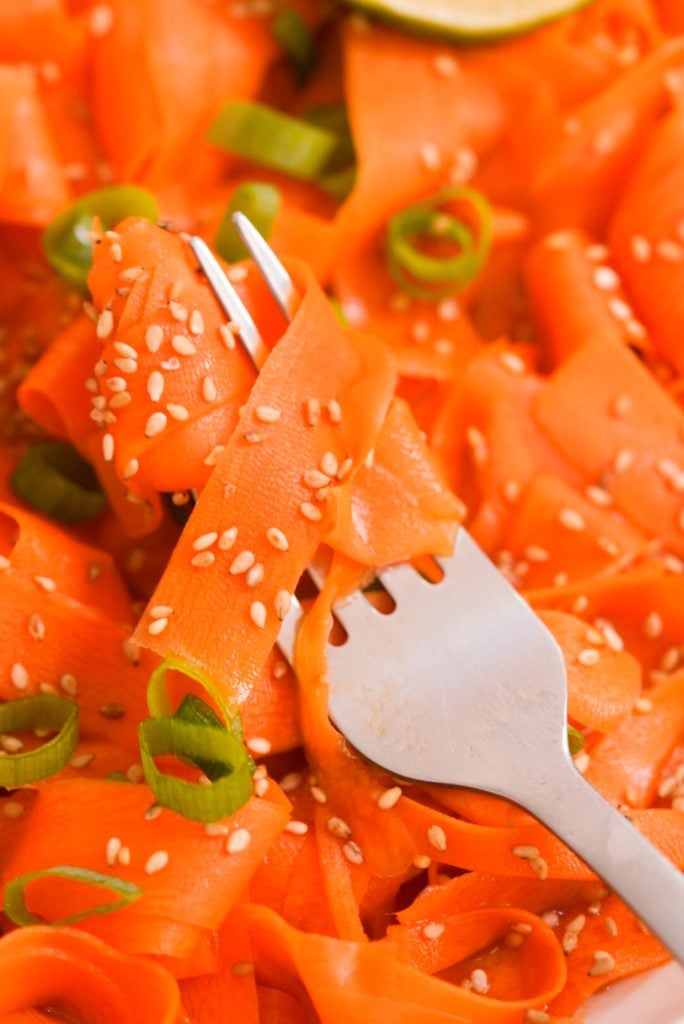 Why You'll Love This Recipe
Besides being wonderfully light, crunchy, nutritious, and vibrant – this social media sensation Carrot Salad is:
Quick & Easy: This salad is seriously perfect in a pinch! You peel some crunchy, sweet carrots and top with a dressing of pantry or fridge staples. That's it! You'll be slurping up these carrot noodles in under 10 minutes.
Tasty: This raw TikTok salad is surprisingly tasty. It is full of yummy flavor from the soy sauce, honey, sesame oil, and rice vinegar. It brings the orange veggie to a whole new level.
Many Benefits: This simple salad is believed to contain hormonal balancing super powers! Read above to get the truth behind these claims.
Unique & Fun: I mean this raw ribboned carrot salad is simply a fun and different way to get in your veggies. Have you ever had carrots in the form of a large fettuccine noodle before? I think not! But it is most definitely time you give it a try.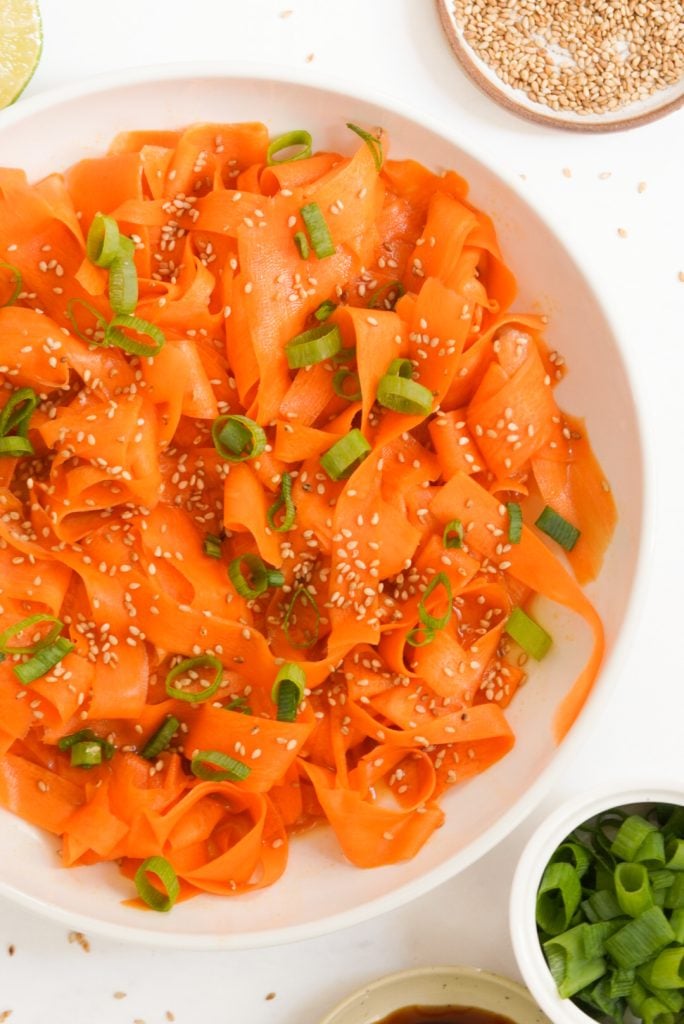 Ingredients & Substitutions
This easy recipe is my take on the viral salad! It is made with simple ingredients and has a bit of an Asian inspired flare from sesame oil, rice wine vinegar, and soy sauce.
Carrots: The base of this carrot ribbon salad is of course crunchy carrots! They work wonderfully in this fresh, light, and simple salad.
Sesame Oil: I love using sesame oil here for some delicious nutty flavor. You could also use extra-virgin olive oil or avocado oil.
Rice Wine Vinegar: Rice wine vinegar is what gives this dish its tangy dressing. Again I kept in the Asian theme so used rice wine vinegar, but any should do. Like apple cider vinegar or even white vinegar.
Soy Sauce: Soy sauce adds a burst of salty umami flavor here!
Lime Juice: To add bright and fresh citrusy flavor, lime juice is perfect. You could also use lemon juice if you'd like.
Honey: A touch of honey adds the perfect natural sweetness to this recipe. Alternatively, you could use pure maple syrup.
Sesame Seeds: Sesame seeds add a lovely crunch to this wonderful salad. I love to use toasted sesame seeds for extra flavor!
Green Onion: Lastly, green onion makes for both a beautiful garnish and tasty addition here.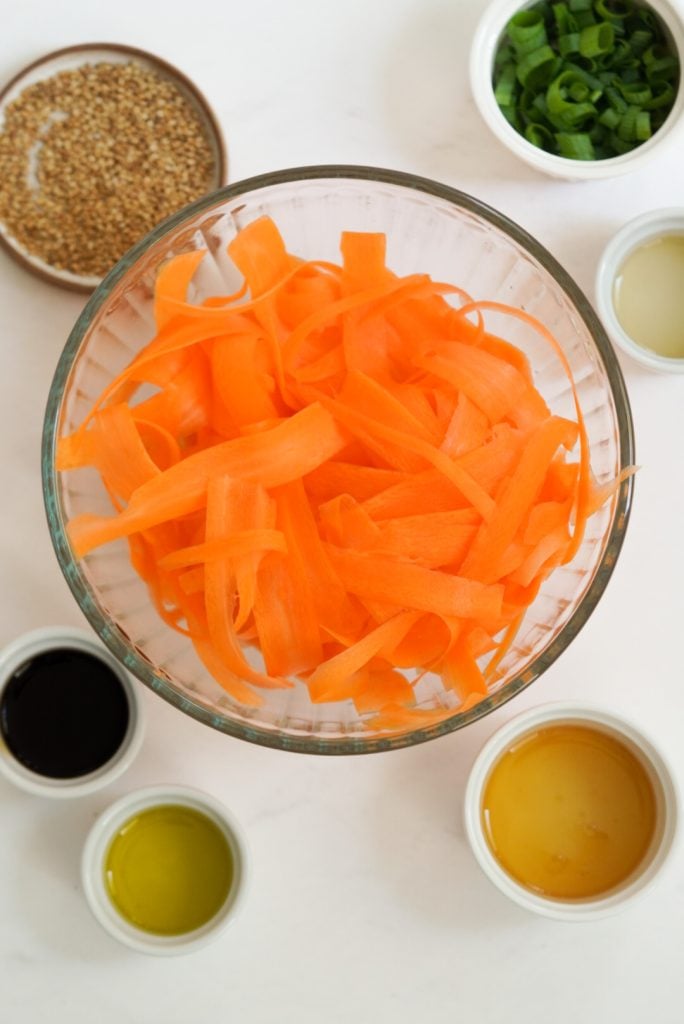 Equipment Needed
This post contains affiliate links. As an Amazon Associate, I earn from qualifying purchases.
How To Make This Raw Carrot Salad
This viral raw carrot salad recipe is incredibly easy to make! All you need is about 10 minutes and a vegetable peeler to create this great side dish.
Step 1: Prepare carrots. First wash and peel the raw carrots. Then continue peeling the carrots to create carrot ribbons. Check out the video below to see how.
Step 2: Mix with dressing. Add the carrot ribbons to a large bowl with the sesame oil or extra virgin olive oil, soy sauce, rice wine vinegar, honey, and lime juice. Combine thoroughly.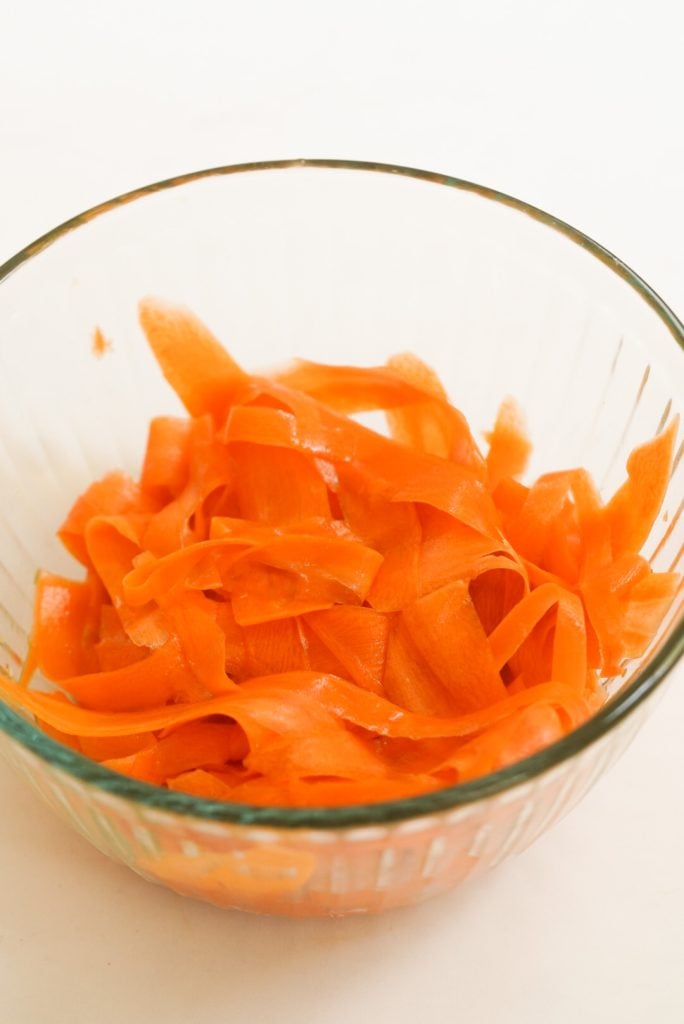 Step 3: Add crunch. Top the salad with sesame seeds and chopped green onions.
Step 4: Enjoy! You can also refrigerate for 30 minutes before serving to enhance the flavors.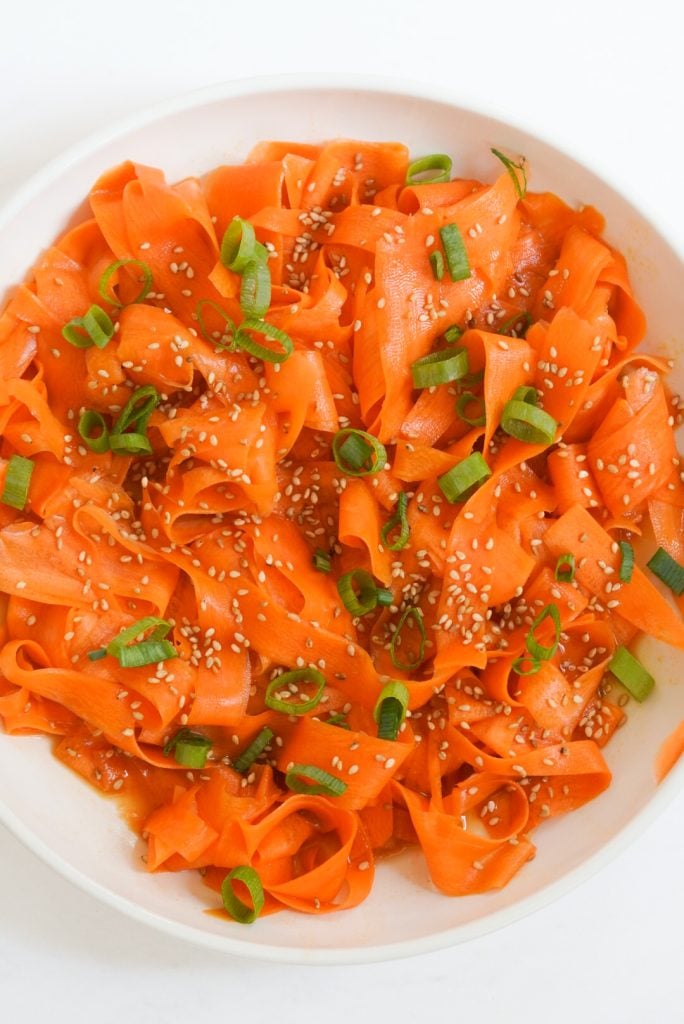 Optional Variations & Dietary Adaptions
I personally think this shaved carrot salad is perfect as is. Truly such a nutritious, delicious, and vibrant dish! It is way more tasty than you may imagine when you think of raw carrots.
But as always there is room for you to make adjustments and variations for it to meet your personal preferences, tastes, and needs.
Vegetables: Carrots are one of my all time favorite vegetables! However, if you are not in the same boat as me I think you could easily swap in a different raw veggie of your choice. Perhaps cucumber or bell pepper!
Crunch: The element of this salad that really puts it over the edge for me are the sesame seeds. The crunch is so vital. And so good! If you are like me and live for the crunch you could also add more seeds. Pumpkin seeds and sunflower seeds would both be wonderful!
Protein: If you'd like to add some more substance to this raw salad, I would suggest adding some grilled chicken or seared shrimp. You could also keep it plant based and go with a legumes or beans. Perhaps chickpeas!
Fresh Herbs: Fresh herbs would be an absolutely fabulous addition to this salad. Maybe fresh parsley or fresh dill.
Spicy: If you like hot, add some spice. Perhaps some hot sauce, red pepper flakes, or chili oil.
Vegan: This veggie salad is almost entirely vegan already. All you have to do is swap out the honey for a plant based sweetener like agave or maple syrup!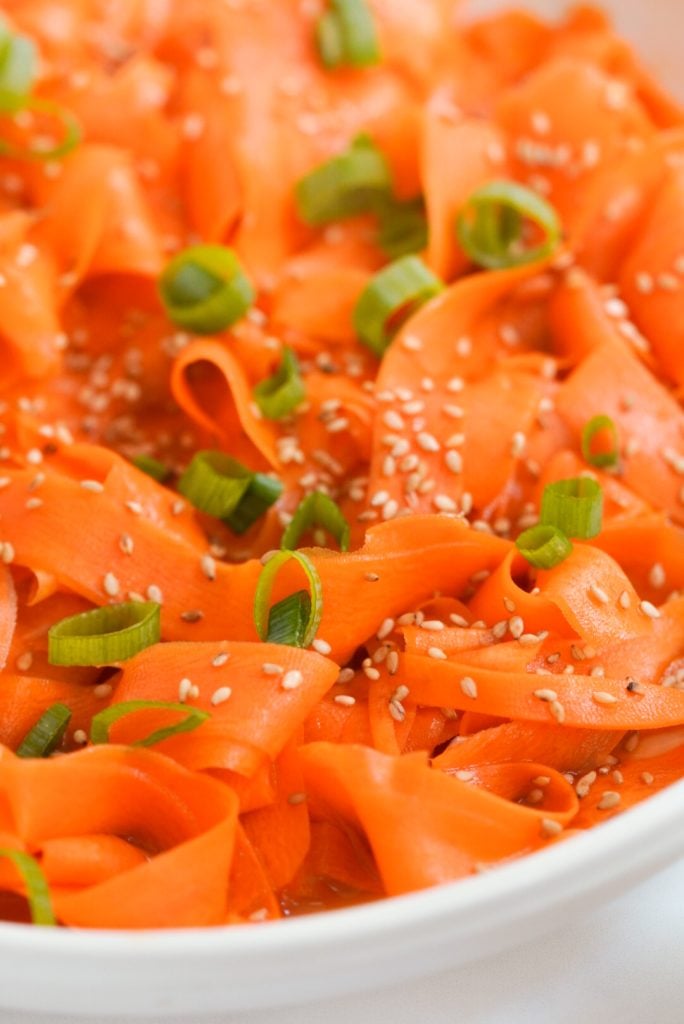 Expert Tips
Let marinate! Let this salad marinate for 30 minutes before enjoying. The flavor will be so elevated!
Adjust dressing to your liking! Unlike some recipes, the measurements in this salad do not need to be followed exactly to a tee. You can sort of throw the carrots into a bowl, add the dressing ingredients, taste, and adjust accordingly.
Switch up the carrot shape! I love the carrot ribbons here, they're kind of like noodles! But feel free to switch up the carrot shape. I would suggest using a box grater to create a shredded or grated carrot salad alternative!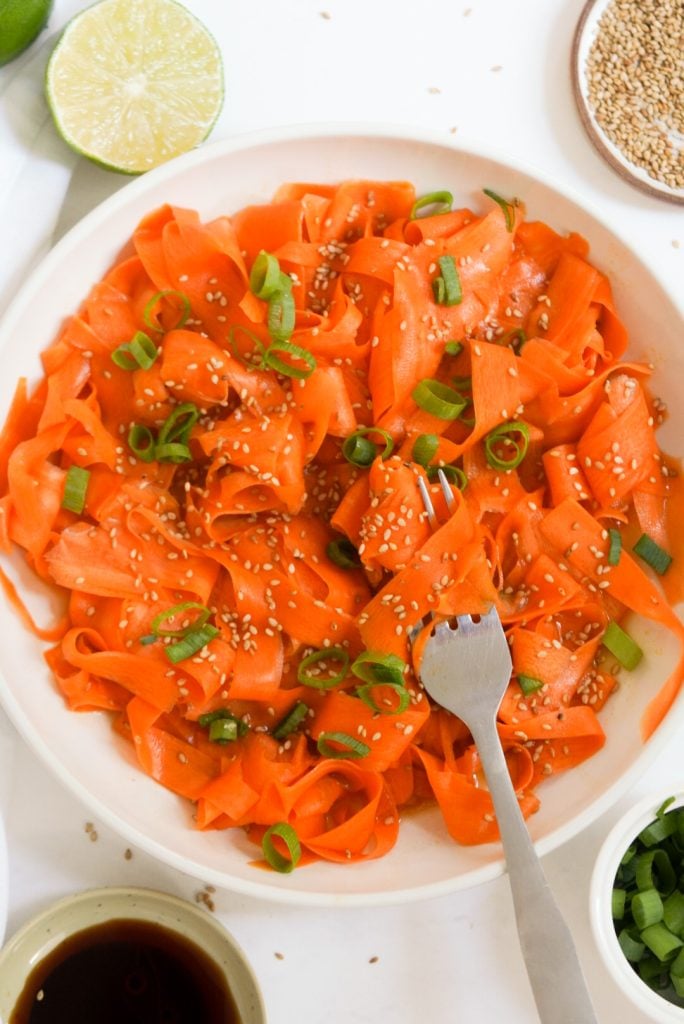 Serving Suggestions
This TikTok carrot salad is the perfect pairing for any Asian inspired dish. Or any dish for that matter!
If you are ever looking for a light side dish, this is absolutely it.
Asian Inspired Dishes: This crunchy carrots recipe would go fabulously with some of my main dishes. Like Firecracker Meatballs, Honey Garlic Salmon Bites, Beef with Garlic Sauce, or Teriyaki Shrimp Stir Fry.
Grain Bowls: Pair this raw veggie salad with some white or brown rice, cooked veggies, and a protein of your choice like rotisserie chicken. Top it all off with a homemade or store bought sauce for the perfect well-rounded meal. You could also do noodles!
With Takeout: What better way to lighten up a heavy takeout meal than with this nutritious veggie dish!?
Meal Prep: This salad doesn't last too too long, but it will keep better than your classic lettuce based salads will. Plus it only takes 10 minutes to meal prep! Then you can throw it into meals or just enjoy as a healthy snack for the next couple of days.
Storing Suggestions
You can store this shredded carrot salad in an airtight container in the refrigerator. In fact it might even taste better on the second day! Marinating allows the flavors to develop and carrots to soak it all up.
The salad will keep for up to 3 days! It will start to lose some of it's wonderful crunch after the first 24 hours, but I will definitely enjoy it a day or two beyond that.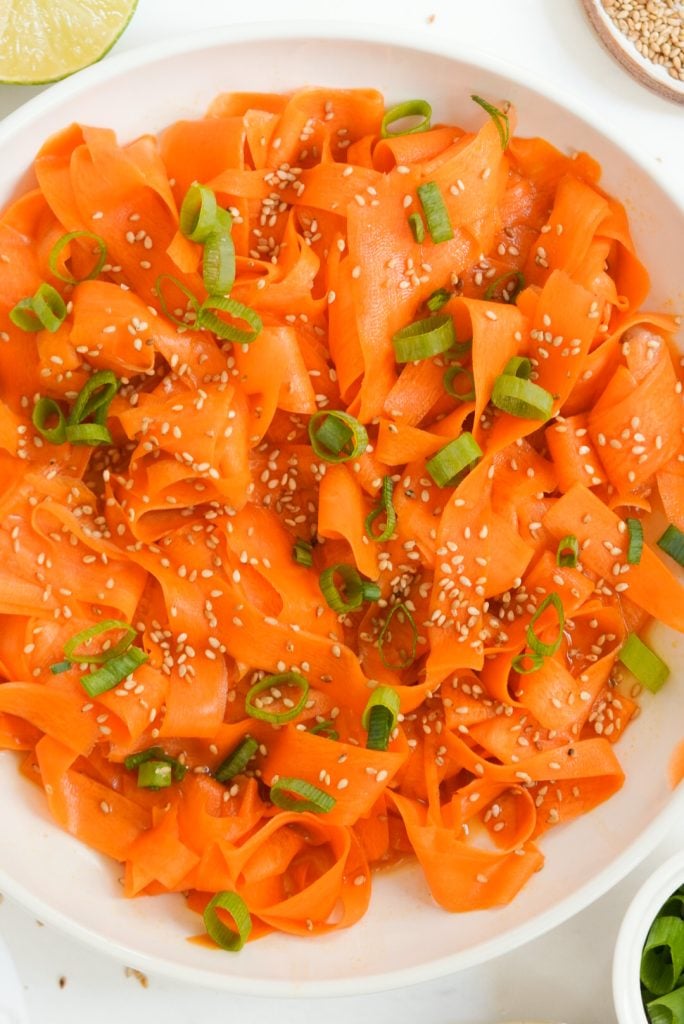 FAQs
Do I need to peel the carrots?
No, you do not! You can enjoy them with the skin on. In this case it would just add to the carrot ribbons!

Just make sure to thoroughly wash and scrub away any dirt and grime.
When should I eat raw carrot salad?
Dr. Peat would recommend eating this carrot salad on an empty stomach to reap the full benefits. But I would say you can eat at any time!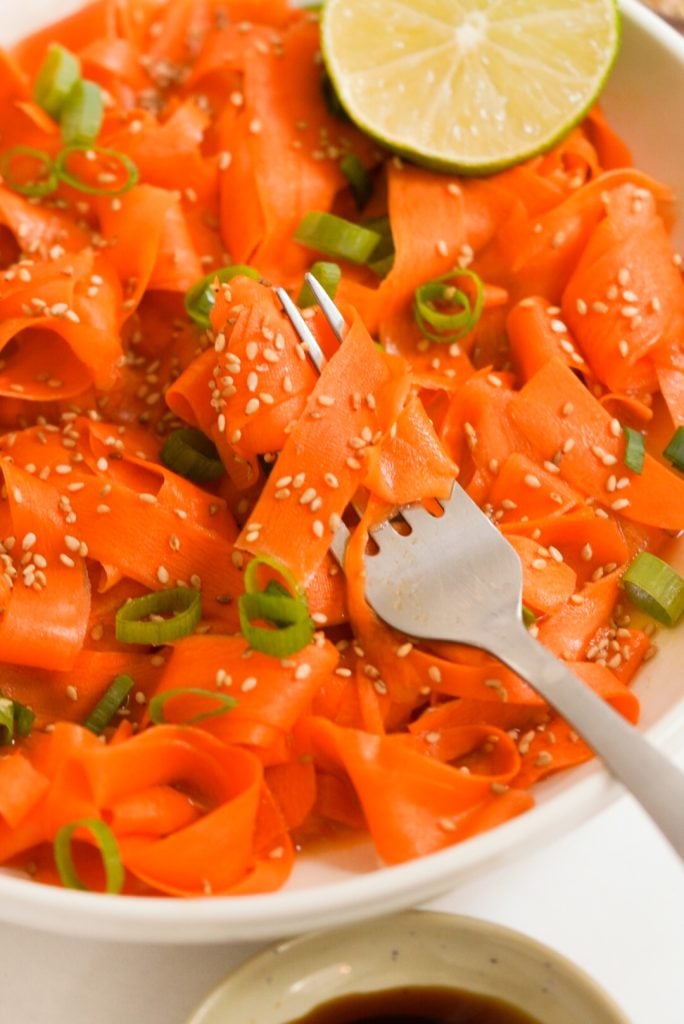 Related Recipes
Salad Recipes
Connect With Me!
If you make this carrot salad recipe or any of my other recipes, I would absolutely love to know! Tag me @wellnessbykay on Instagram so I can see and share your recreations.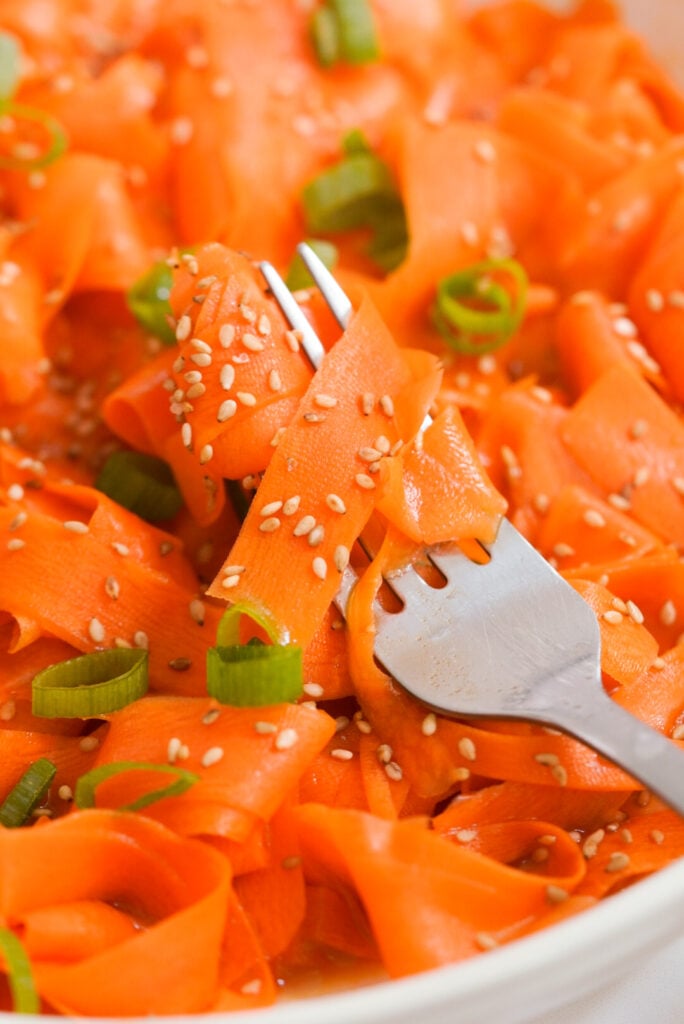 Love this recipe? Leave a comment and a rating! I love to see and it helps me continue to develop delicious recipes for this blog.
Print
Raw Carrot Salad (5-Minute Viral TikTok Recipe!)
Author:
Prep Time:

10 Minutes

Total Time:

10 minutes

Yield:

1

Serving

1

x
Category:

Side Dish

Method:

No Cook
3

large carrots

1/2 tbsp

sesame oil, or extra virgin olive oil

1 tbsp

rice wine vinegar

1 tbsp

soy sauce

1 tbsp

honey

1/2

lime, juiced
Sesame seeds
Green onion, chopped
Instructions
First wash and peel the raw carrots. Then continue peeling the carrots to create carrot ribbons. Check out the video above to see how.
Add the carrot ribbons to a large bowl with the sesame oil or extra virgin olive oil, soy sauce, rice wine vinegar, honey, and lime juice. Combine thoroughly.
Top the salad with sesame seeds and chopped green onions.
Enjoy! You can also refrigerate for 30 minutes before serving to enhance the flavors.
Keywords: Raw Carrot Salad, Raw Carrot Salad Recipe, Raw Carrot Salad Recipes, Shaved Carrot Salad, TikTok Carrot Salad, How To Make Raw Carrot Salad, Raw Carrot Salad Benefits, Shredded Carrot Salad
This post may contain affiliate links, which if a product is purchased through I may recieve a small compensation. I only recommend products I love and use in my life and cooking! Thank you for supporting wellnessbykay.