Last Updated on July 12, 2023 by Kayla Berman
Give your Taco Tuesday a major upgrade with this deliciously quick recipe for Baja Shrimp Tacos! Ready in just 30 minutes and dressed in a bright and zesty yogurt lime sauce, these easy shrimp tacos are certain to become part of your regular rotation.
Try out my Smash Burger Tacos or Chicken Fajita Tacos too for more taco fun!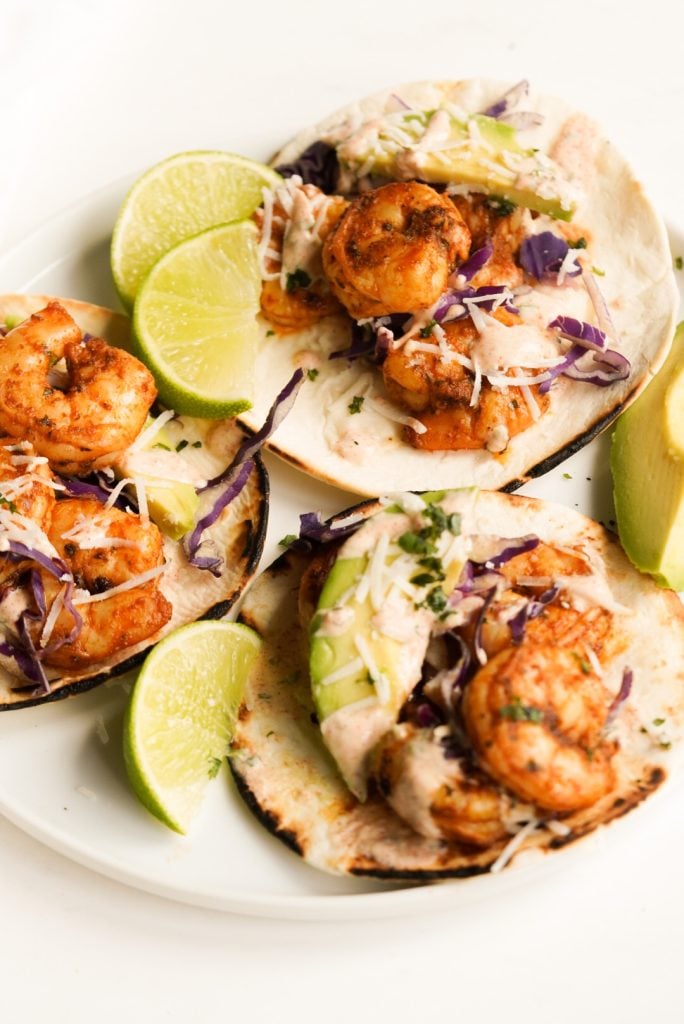 About/Why You'll Love This Recipe
These tantalizing Baja-style shrimp tacos feature succulent shrimp marinated in a delightful blend of herbaceous cilantro, warming spices, and zesty lime, creating a perfect balance of freshness and heat. They're then topped with a luscious yogurt lime crema sauce that adds a creamy and tangy touch, plus the creamy richness of avocado, the salty bite of cotija cheese, and the satisfying crunch of cabbage.
Bursting with vibrant flavors and tantalizing textures, these mouthwatering cilantro lime shrimp tacos are a culinary masterpiece that will transport your tastebuds to the sun-soaked beaches of Baja California.
Aside from being bright, colorful, and tasty enough to rival any restaurant dish, this Baja shrimp taco recipe is also:
Quick & Easy – These sensational shrimp tacos can be on your plate in just 30 minutes, guaranteeing a gourmet experience without the hassle. ⏲️
Budget-Friendly 💰 – Why pay restaurant prices when you can have the full flavor experience at home for a fraction of the cost? Cue up the mariachi music and blend up some margaritas because it's time for a fiesta at home. 💃
Light & Lovely – Now that summer is upon us, every day is warm and sunny like the climes of SoCal. 🌞 This recipe for bright, zesty shrimp street tacos is packed with flavor, but is light enough to enjoy sitting poolside in a bikini.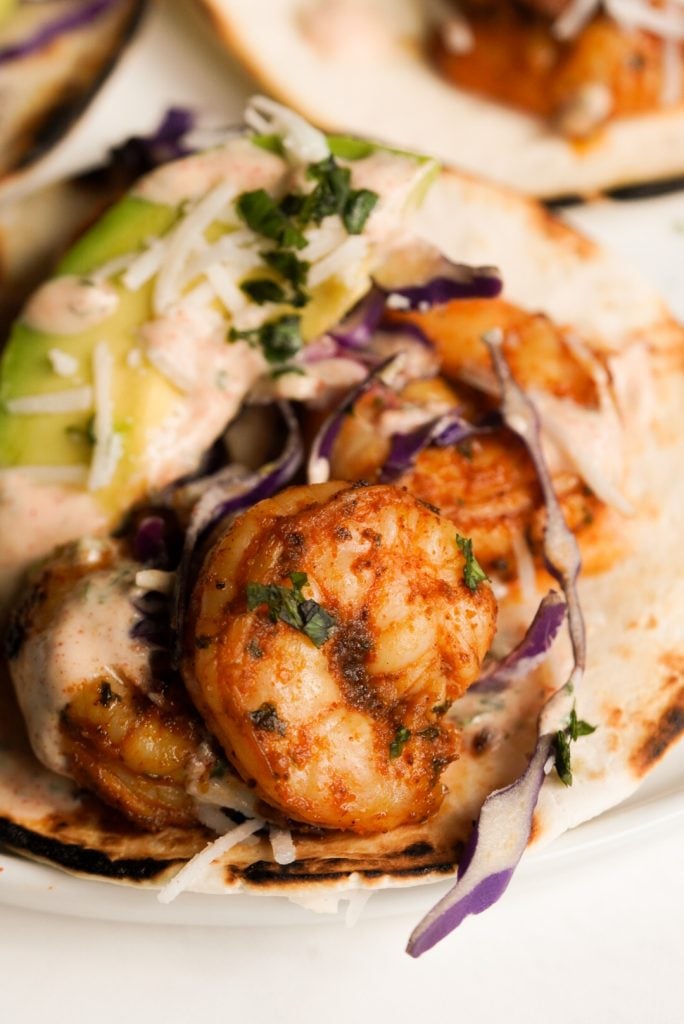 Ingredients & Substitutions
Before you go getting scared off by a long grocery list, note that *most* of the ingredients listed are spice cabinet and pantry staples. Here's what you'll need:
For the Baja Shrimp
These juicy little delights are delectable when tucked into these Mexican shrimp tacos, but they're also yum-tastic for adding to everything from burrito bowls and salads to tortas (that's Spanish for sandwiches!) and pasta. What I'm trying to say is, MAKE EXTRA. 😉
Shrimp – Since they need to be cleaned, shelled, deveined, AND have their tails off, frozen is definitely the way to go. All you'll need to do is defrost and pop the tails off! Opt for large (31/35), extra large (26/30), or jumbo (21/25) for the best results.
Olive Oil – No need to bust out the fancy stuff; just your normal cooking oil is perfect.
Lime – Fresh citrus is an absolute must for authentic Cali-Mex flavor. To get the most juice from your fruit, give it a firm roll on the counter for 10-15 seconds before slicing it open.
Fresh Cilantro – Word to the wise: you can stretch that bunch of cilantro even further by finely chopping the tender stems. They're packed with all the cilantro flavor you love!
Chili Powder – This spice blend is usually made with a few varieties of dried peppers, plus warming spices like cumin. If you're fresh out, feel free to use your favorite ground chili like smoky, spicy chipotle or mild sweet paprika.
Garlic Powder – For allium sweetness without the bite. You can also use fresh or jarred minced garlic or dried garlic flakes.
Paprika – For color and warmth. Feel free to go spicy by using hot paprika, mild with sweet paprika, or smoky with smoked paprika.
Ground Cumin – For that unmistakable warmth that's central to so many Mexican-inspired favorites. If you only have whole cumin seeds, lightly toast them in a dry pan until fragrant, then crush them using a mortar and pestle or clean coffee/spice grinder.
Salt & Black Pepper – For basic seasoning.
Cooking Spray – To keep your shrimp from sticking to the pan without adding a bunch of extra calories!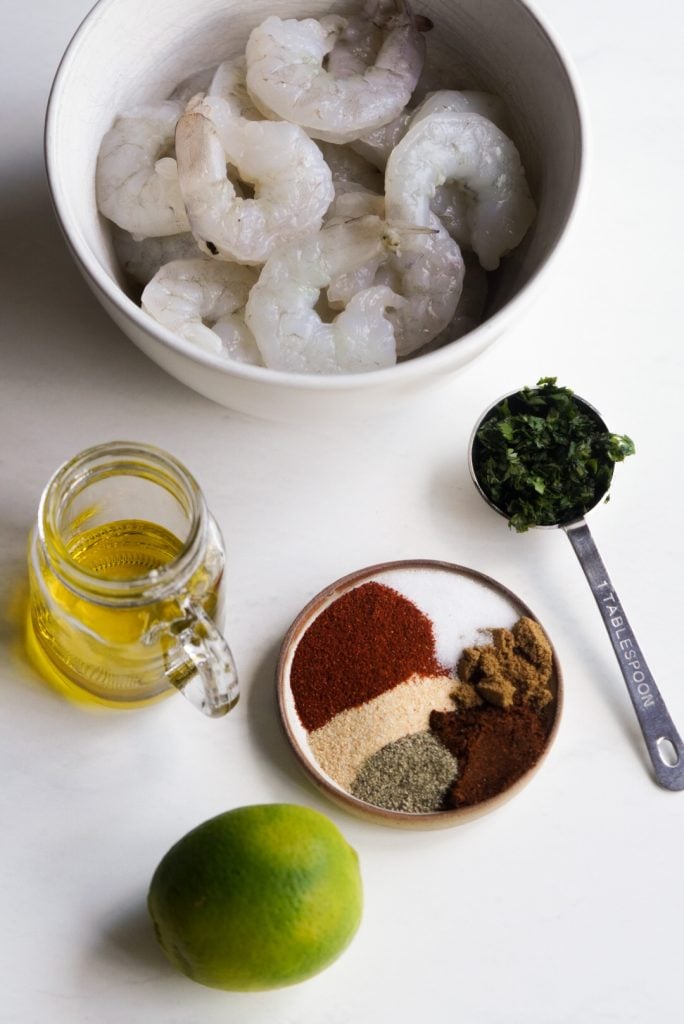 For the Yogurt Lime Crema Sauce
This lightened-up Baja sauce for shrimp tacos reuses some of the ingredients you used for preparing the shrimp. In addition, you'll also need:
Whole Milk Yogurt – Plain yogurt will have a more drizzle-able consistency that's closer to Mexican crema, whereas Greek yogurt will be more dollop-able like sour cream.
Mayo – Just a tablespoon adds a ton of rich flavor to this shrimp taco sauce.
Honey – A little bit of sweetness helps to balance out the tanginess of the yogurt and lime. Feel free to swap in agave nectar or brown rice syrup instead.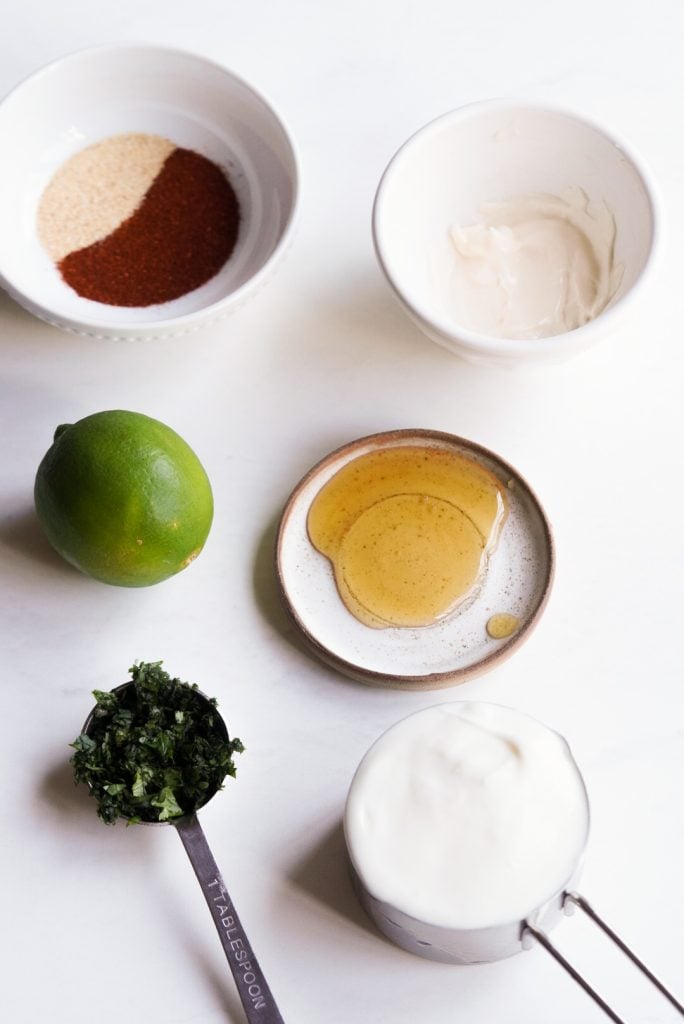 To Assemble Your Tacos
The fun of taco night is that you can add all the toppings your little heart desires. These are my personal favorites for this Baja shrimp recipe, but feel free to make any tweaks to make it work for you.
Tortillas – Corn tortillas have a bit more texture and are more traditional for SoCal style street tacos. Flour tortillas are also delightful!
Purple Cabbage – I love the royal violet hue of purple cabbage, but green cabbage will absolutely work. You can also swap in a bag of shredded cole slaw mix to save on time.
Avocado – Is something even considered Californian without this creamy green dream? Methinks not. Feel free to use guacamole if you prefer.
Cotija Cheese – Crumbly, salty, and snowy white, cotija is as pretty as it is delicious. Feel free to swap in the cheese of your choice like mild queso fresco or tangy feta.
Equipment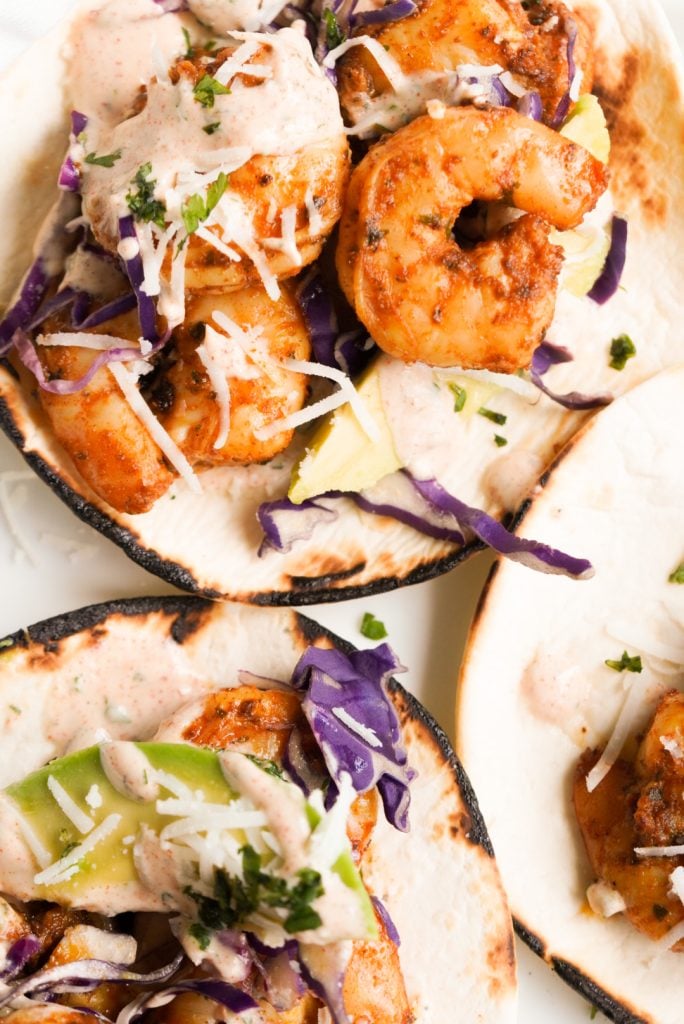 How To Make Baja Shrimp Tacos
This simple Baja shrimp tacos recipe comes together in a flash. Here's how:
Step 1: Marinate the shrimp by thoroughly mixing it with the olive oil, lime juice, fresh cilantro, & spices in a large mixing bowl. Cover and place in the refrigerator to marinate for 15-20 minutes.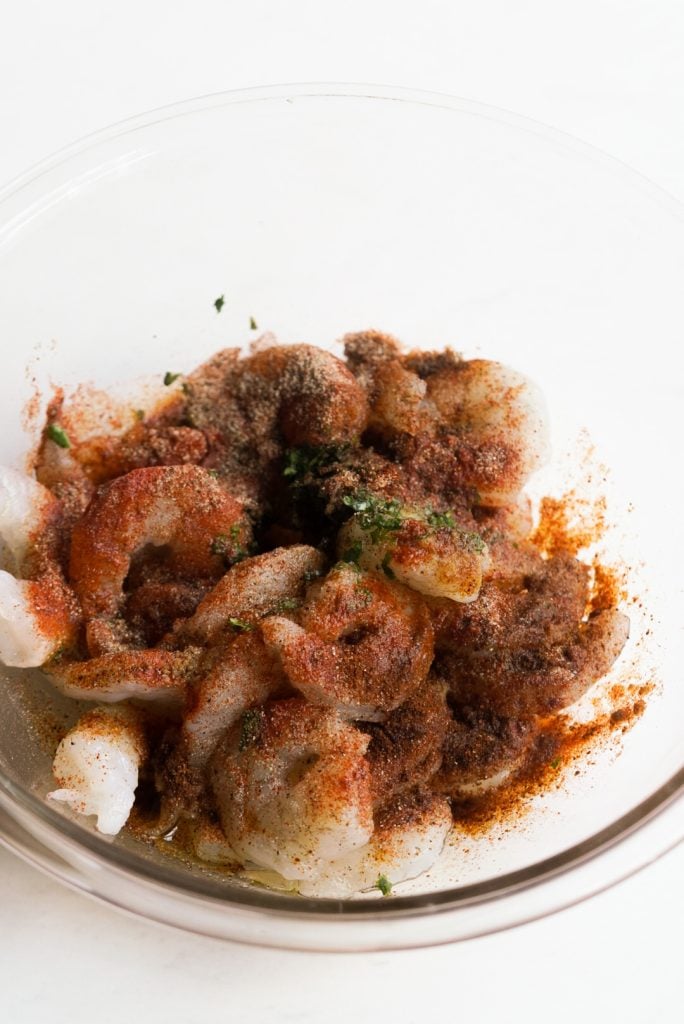 Step 2: Make the lime crema sauce. While the shrimp marinates, combine the yogurt, mayo, lime juice, honey, fresh cilantro, and spices in a small bowl. Add salt and pepper to taste. Set aside.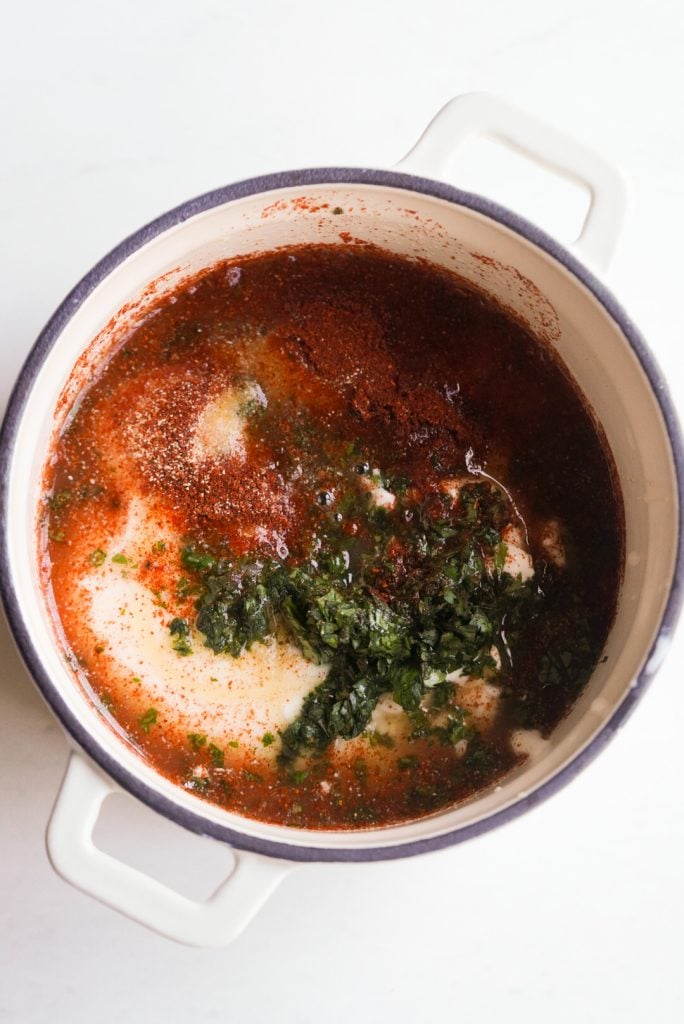 Step 3: Cook Shrimp. Add cooking spray to a large pan or skillet on the stove over medium-high heat. Once hot, add the marinated shrimp to the pan. Cook on each side for about 2-3 minutes, or until just opaque and pink.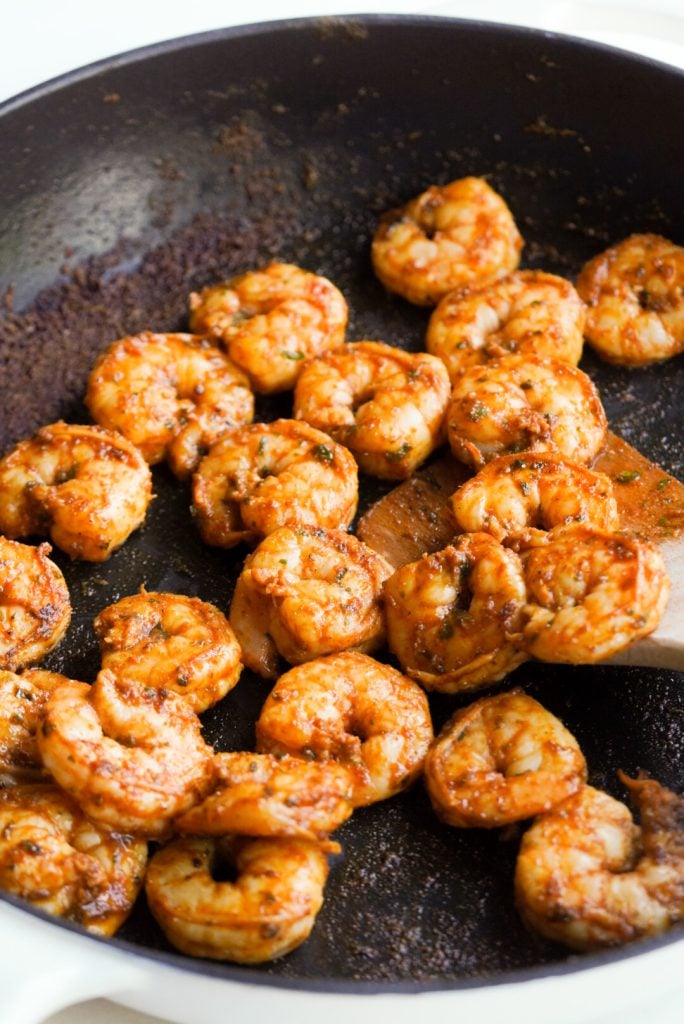 Step 4: Assemble the tacos. Warm up your tortillas. Layer on the lime crema sauce, shrimp, shredded purple cabbage, avocado slices, Cotjia cheese, and fresh cilantro.
Step 5: Serve and enjoy!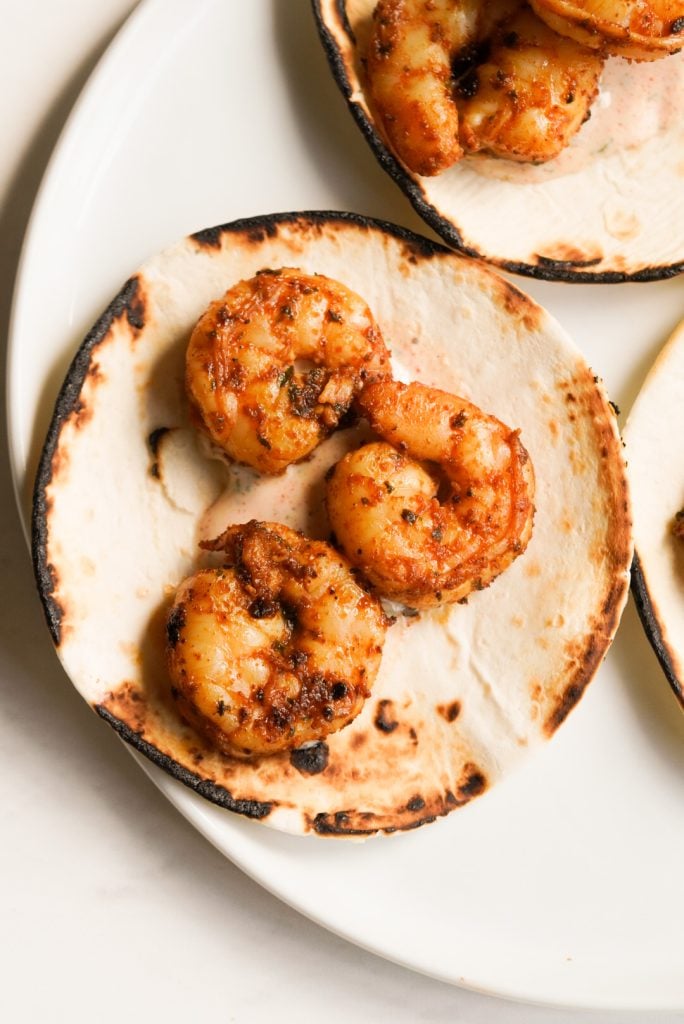 Optional Variations & Dietary Adaptations
Just because I think this is the best shrimp tacos recipe around doesn't mean it'll be perfect for you and your family. Feel free to try any of these fun variations to make them your own:
Shellfish-Free – Feel free to swap in another protein. Baja fish tacos with flaky white fish or baja chicken tacos with boneless skinless breasts or thighs are equally delectable!
Dairy-Free – Use your favorite vegan yogurt or sour cream substitute, then swap in a dusting of plant-based feta to keep these tacos totally lactose-free.
Gluten-Free – Use certified gluten-free corn tortillas, or skip the carbs completely in favor of lettuce wraps.
Extra Spicy – If spicy foods are your love language, feel free to bump up the heat! Try adding a few shakes of cayenne to the marinade and crema; add some sliced jalapeños to the pan with your shrimp; and dash on a few shakes of your preferred hot sauce.
Grilled Shrimp Tacos – If you'd like to do all your dining and cooking al fresco, simply thread your shrimp on skewers or use a grilling basket to cook them to chargrilled perfection. Pan-fried shrimp tacos, who?
Expert Tips
Here are some expert tips to ensure your Baja shrimp tacos turn out absolutely perfect:
Selecting the Shrimp: Opt for fresh, large shrimp for the best flavor and texture. Look for numbers on the package — this indicates how many pieces you get per pound. Look for 31/35 or *smaller* (the smaller the number, the more pieces of shrimp per pound). Look for ones that are already deveined and peeled to save tons of time during preparation.
The Power of Marination: While marinating the shrimp is essential for infusing them with the tantalizing Baja flavors we're after, be careful not to over-marinate. The acid in citrus juice contains enzymes that can break down the proteins in shrimp, resulting in a mushy texture. Aim for a marinating time of around 15-20 minutes to strike the perfect balance of flavor and texture.
Perfectly Grilling or Sautéing: When cooking the shrimp, aim for getting them *just* opaque before removing them from heat. Once they turn pink, they're done — don't let them curl up into tight "O's" or you risk them being tough and dry.
Fresh and Crunchy Toppings: To enhance the vibrant flavors and add delightful textures, load your tacos with creamy avocado, crumbled cotija cheese, and crunchy cabbage, or swap in your favorite taco toppings.
The Art of Assembly: To the full restaurant experience with your Baja shrimp tacos, assemble them with care and attention. Start by warming the tortillas, then layer the marinated shrimp, creamy lime crema, and your choice of toppings.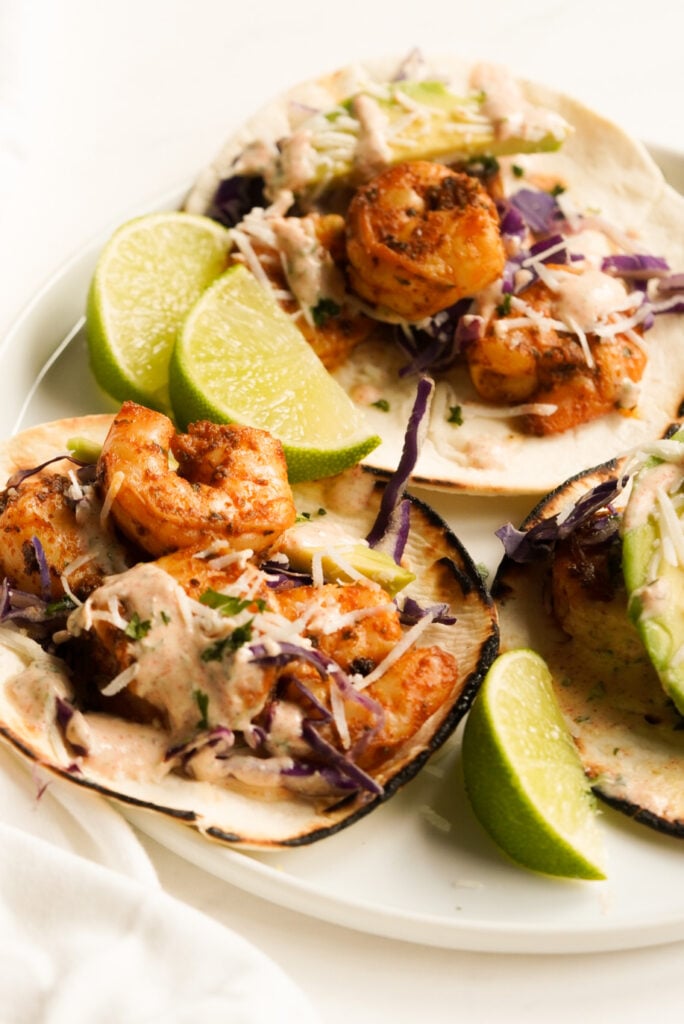 Serving Suggestions
The possibilities for serving these Southwest shrimp tacos are nearly endless. Here are some of my favorite ideas:
Shrimp Taco Bowl: For a twist on the traditional presentation, create a vibrant Baja Shrimp Taco Bowl. Start with a base of cilantro-lime rice or cauliflower rice for a low-carb option. Top it with grilled shrimp, sliced avocado, cotija cheese, crunchy cabbage, and drizzle it all with the creamy lime crema sauce. Garnish with fresh cilantro and a squeeze of lime, plus a few tortilla strips for crunch.
Lettuce Wraps for a Keto Twist: If you're following a keto or low-carb diet, swap out the tortillas for crisp and refreshing lettuce wraps. Butter lettuce leaves work well as a sturdy base. Fill each lettuce wrap with cilantro lime-spiced shrimp, creamy avocado, crunchy cabbage, and a generous dollop of the yogurt lime crema sauce. It's a guilt-free way to enjoy all the flavors of Baja shrimp tacos without the carbs.
Serve-Yourself Taco Bar: Hosting a party? Set up a vibrant and interactive DIY taco bar. Lay out a variety of tortillas (both corn and flour) and let your guests choose their favorite. Offer an assortment of toppings such as grilled shrimp, diced avocado, crumbled cotija cheese, shredded cabbage, pico de gallo, sliced jalapeños, and extra lime wedges. Don't forget to include different sauces like the creamy lime crema and a spicy salsa.
Did you come up with an amazing way to serve these Baja-style shrimp tacos? Let me know in the comments below!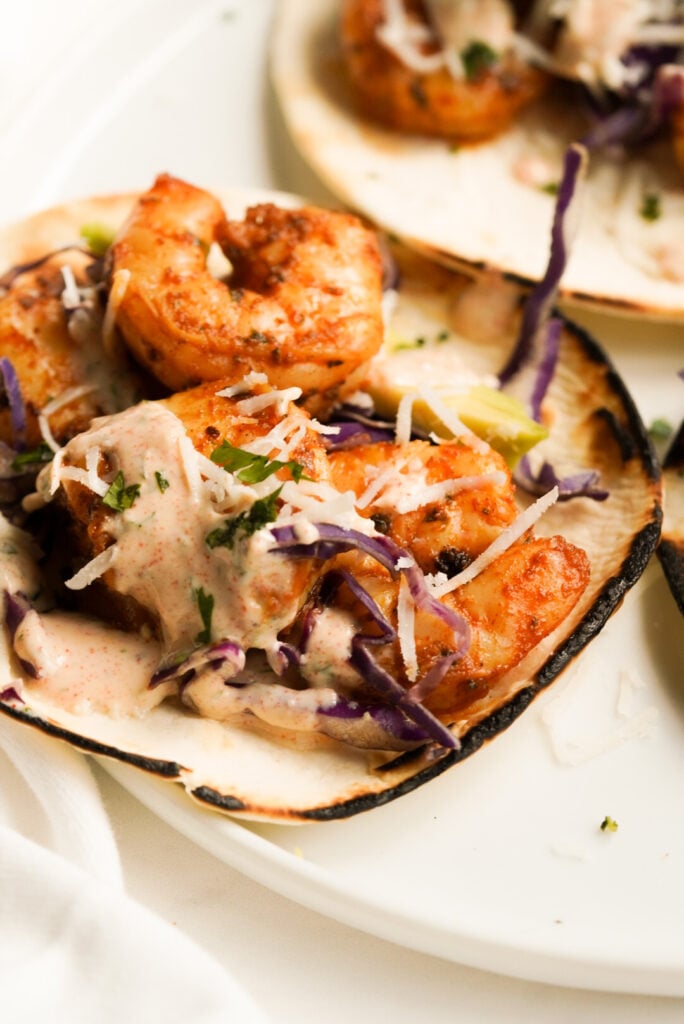 FAQs
What are baja shrimp? What does "baja" mean?
Baja shrimp refers to a specific style of cooking that is commonly found in the Baja California region of Mexico. If you've never been, Baja California is a beautiful coastal area located on the western side of Mexico that's well-known for its delectable seafood dishes (among other things).

"Baja" is a Spanish word that means "lower" or "below" in English. When we're talking about Baja California, it refers to the fact that the region is located on the southern end of the California peninsula. All that's to say that when we talk about Baja shrimp, we're referring to shrimp that are cooked in the manner that folks from Baja California would make them.
How to know when shrimp is done cooking?
Shrimp have an awesome tell-tale sign that they've been cooked to perfection — they turn from a slightly translucent, pale grey to a vibrant opaque pink! As soon as the flesh becomes opaque white and pink, remove them from heat.
Flour or corn tortillas — which is best for shrimp tacos?
Ah, the eternal question: flour or corn tortillas for shrimp tacos? Well, it ultimately comes down to personal preference.

For a softer texture and milder flavor, flour tortillas are your best bet. They have a slightly chewy texture and can be more pliable, making them a great choice if you prefer a tortilla that doesn't overpower the delicate flavors of the shrimp. Flour tortillas also work well if you like to go nuts with your toppings — they can handle being packed to the brim better than their corn brethren.

Corn tortillas, on the other hand, have a slightly sweet and nutty flavor and a more rustic texture that's prone to tearing. (That's why street tacos usually have 2 tortillas!) They're also the traditional choice for the street tacos you'd find in Baja California. They are also a gluten-free option for those with dietary restrictions.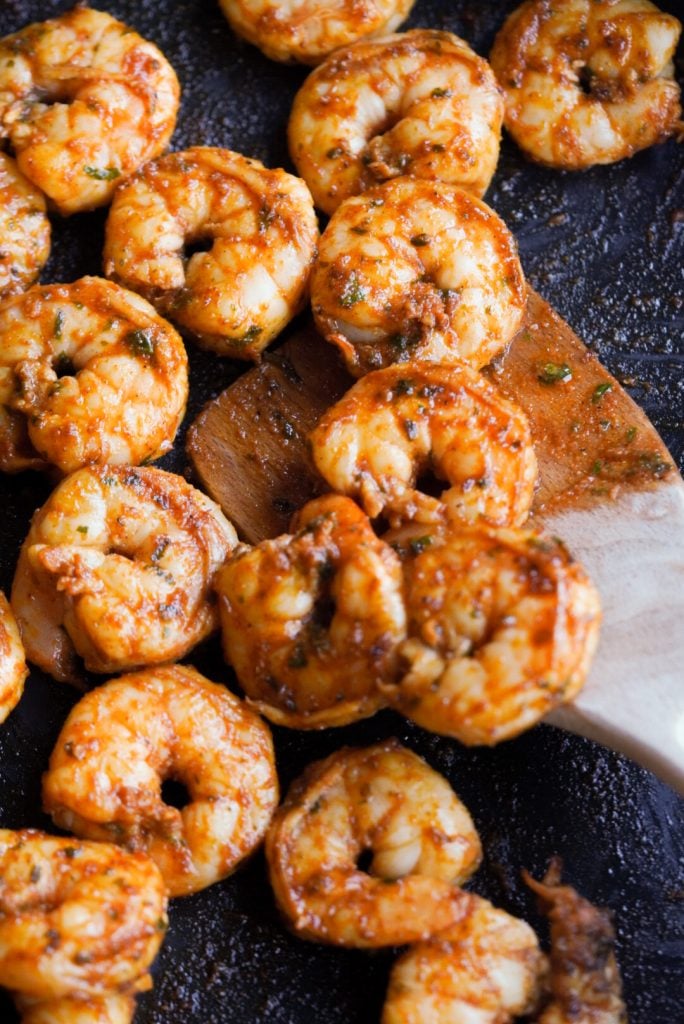 Related Recipes
Mexican Inspired Recipes
Seafood Recipes
Connect With Me!
If you make this baja-style taco recipe or any of my other recipes, I would absolutely love to know! Tag me @wellnessbykay on Instagram so I can see and share your recreations.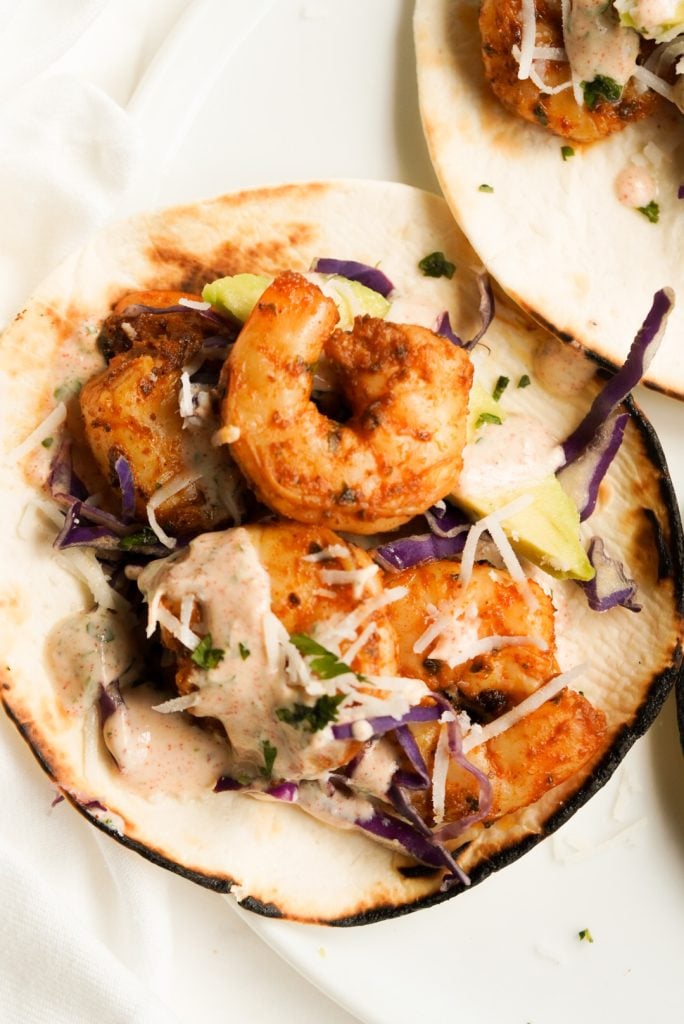 Love this recipe? Leave a comment and a rating! I love to see and it helps me continue to develop delicious recipes for this blog.
Print
Baja Shrimp Tacos
Give your Taco Tuesday a major upgrade with this deliciously quick recipe for Baja Shrimp Tacos! Ready in just 30 minutes and dressed in a bright and zesty yogurt lime crema sauce, these easy shrimp tacos are certain to become part of your regular rotation. They're colorful, flavorful, and restaurant-quality good!
Author:
Prep Time:

25 Minutes

Cook Time:

5 Minutes

Total Time:

30 minutes

Yield:

4

Servings

1

x
Category:

Dinner

Method:

Stovetop

Cuisine:

Mexican
Shrimp
1

lb shrimp, cleaned, shelled, deveined, tails off

2 tbsp

olive oil

1

lime, juiced

1 tbsp

chopped fresh cilantro

1 tsp

chili powder

1 tsp

garlic powder

1 tsp

paprika

1/2 tsp

cumin

1/2 tsp

salt

1/4 tsp

black pepper
Cooking spray
Yogurt Lime Crema Sauce
1/2 cup

whole milk yogurt

1 tbsp

mayo

1

lime, juiced

1/2 tbsp

honey

1 tbsp

chopped fresh cilantro

1/2 tsp

garlic powder

1/2 tsp

paprika
Salt, to taste
Black pepper, to taste
Tacos
Tortillas
Purple cabbage, shredded
Avocado
Fresh cilantro
Cotija cheese
Instructions
Add the shrimp, olive oil, lime juice, fresh cilantro, chili powder, garlic powder, paprika, cumin, salt, and black pepper to a large mixing bowl. Combine thoroughly. Cover and place in the refrigerator to marinate for 15-20 minutes.
Meanwhile, make the lime crema sauce. In a small bowl combine the yogurt, mayo, lime juice, honey, fresh cilantro, garlic powder, and paprika.  Add salt and pepper to taste.  Set aside.
Next add cooking spray to a large pan or skillet on the stove over medium-high heat.  Once hot, add the marinated shrimp to the pan.  Cook on each side for about 2-3 minutes.
Then assemble the tacos.  Warm up your tortillas.  Layer on the lime crema sauce, shrimp, shredded purple cabbage, avocado slices, Cotija cheese, and fresh cilantro.
Serve and enjoy!
Keywords: baja shrimp tacos, baja shrimp taco, baja shrimp, baja shrimp taco recipe, baja shrimp tacos recipe, baja style shrimp tacos
This post may contain affiliate links, which if a product is purchased through I may recieve a small compensation. I only recommend products I love and use in my life and cooking! Thank you for supporting wellnessbykay.